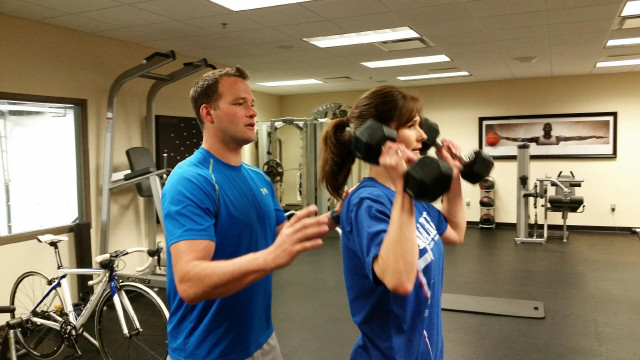 When it comes to exercise, fueling and refueling can be almost as important as the workout itself. The powerful connection between eating and exercise goes a long way not only towards maximizing your results, but can strongly affect how you feel physically.
Ryan Von Rueden, trainer to NASCAR driver Kasey Kahne, also serves as Strength and Conditioning Coordinator for Kasey Kahne Racing. With such vast professional responsibilities he truly has a lot on his plate. Ryan is major athlete himself, and we were curious about his own workout diet. He shared with us what he eats before and after his workouts.
Ryan's Pre-Workout Meal: Two servings of beef jerky; 16 ounces 50/50 mix of sports drink and water
Why: Beef jerky is a low-calorie, protein-packed all natural snack, according to Ryan. Two servings has 160 calories which packs 22g of protein with only 2g of fat. Studies have shown that the best way to maintain lean muscle tissue while losing weight and also to add lean muscle tissue is to consume 15-25g of protein pre and post workout. For people who don't like beef jerky, two spoonfuls of peanut butter offers a good substitute.
Ryan uses the 50/50 sports drink plus water mix to add carbohydrate to his pre-workout because carbohydrates are the energy source for muscles. Anyone exercising needs carbohydrates in order to workout efficiently. He adds the water because the sugar content of most sports drinks can upset the stomach during a workout. This prevents any GI irritation by diluting the sugar content, yet allows him to get enough carbohydrates to fuel his workout. One can also eat a piece of fruit such as an apple, orange or banana as a carbohydrate source.
Ryan's Post-Workout Meal: Post workout shake, chocolate milk, or lunch with 4-6 oz of chicken, 1-2 servings of fruit, 1-2 servings of green vegetables and water
Why: Ryan says that a post-workout shake is different than a protein shake. The main difference is that a post-workout shake will have more carbohydrates and sugar than a normal protein shake. He's a big fan of chocolate milk, which has a similar composition with carbohydrates and protein. If it is time for lunch, Ryan advises a lean source of protein, fruit for carbohydrates and vegetables for vitamins and digestive fiber. Recent studies have shown better recovery results with carbohydrates and protein together; more so than either one of them by themselves. The reason for this, Ryan says, is that a workout depletes stored glycogen, which is what muscles use first for energy during exercise. Carbohydrates ingested immediately post-workout helps boost glycogen stores. Workouts also cause small micro-tears in muscles, and protein helps repair them. The protein will help reduce soreness and speed up recovery time in order to be prepared for the next workout.
Ryan Von Rueden C.S.C.S.is the Strength and Conditioning Coordinator for Kasey Kahne and Kasey Kahne Racing. He has been training in the motorsports industry since 2006 and has worked with professional race car drivers in NASCAR, Indy Car, NHRA, Indy Lights, World of Outlaws, All Stars, and USAC. Ryan has also worked with traditional athletes at the college, high school and middle school level. Prior to becoming a strength and conditioning coach, he obtained a Bachelor's Degree in Exercise Science at the University of Wisconsin – Oshkosh, where he also played football. He has coached football, basketball and track at the varsity level for high school as well as AAU.
Ryan also offers personalized online fitness programs through his company Second 2 None Fitness.
Comments
Leave a Comment