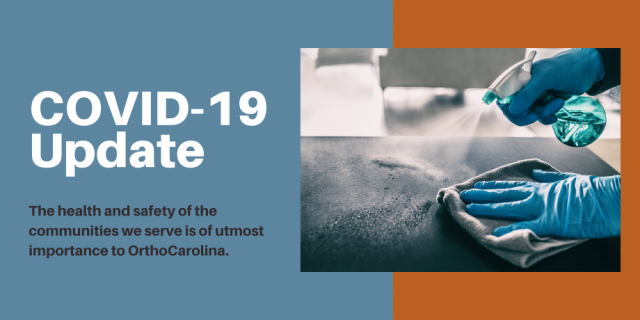 Seeing patients in our offices safely remains our top priority. As you prepare for your upcoming appointment, know that OrthoCarolina implements rigorous disinfecting measures between visits in all of our clinics.

To provide the safest environment for our patients and care team, we have implemented the following measures:

Patients can bring one (1) visitor with them to their appointment.

Pediatric patients (under 18) may bring two (2) visitors with them to their appointment.

Masks are not required for patients, visitors or staff.


If a patient tests positive for Covid or they have an illness that hasn't been diagnosed by a physician, they need to schedule/reschedule their appointment for at least 5 days from their positive test result.

By the day of their appointment, they must have been fever-free for at least 24 hours, and their symptoms must be declining. If a patient does not meet all of these criteria, they will need to reschedule again.

---
The Centers for Disease Control recommends that you reschedule your appointment if you have any of these symptoms:

Fever

Cough

Shortness of breath
Should the need arise, please contact our office and we will work with you to reschedule your upcoming appointment.
---