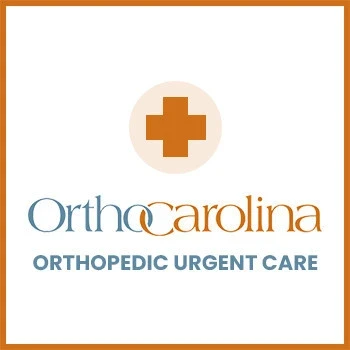 Providing same day urgent care, OrthoCarolina is here for you when you need it.

When it comes to treating orthopedic injuries, visiting an OrthoCarolina orthopedic urgent care center is like taking a shortcut on a long journey. Instead of navigating through the crowded and often overwhelming emergency room or getting multiple referrals before seeing a provider, OrthoCarolina orthopedic urgent care centers provide a direct and efficient route to specialized care when needed.
Orthopedic urgent care clinics provide only orthopedic care. Orthopedic-related injuries or pain involving bones, joints, ligaments, tendons, and muscles. At OrthoCarolina Orthopedic Urgent Care centers, you will have a shorter wait time to see a provider than a trip to your local emergency department. By saving time and costs, this streamlines your care. OrthoCarolina Urgent Cares provide you with the better choice for your orthopedic needs.
When you start orthopedic journey with an OrthoCarolina Urgent Care, all of your orthopedic needs can be handled in-house. This means that not only are your records readily available, but your OrthoCarolina urgent care provider can consult directly with other OrthoCarolina orthopedic specialists to maintain continuity of your care.

TYPES OF CONDITIONS WE TREAT AT ORTHOCAROLINA ORTHOPEDIC URGENT CARE
---
At OrthoCarolina Orthopedic Urgent Care centers, we treat a wide range of acute orthopedic injuries. Our team of experienced providers is specially trained to diagnose and treat a variety of conditions including:

Sprains

Strains

Fractures

Dislocations

Ligament injuries
WHAT WE DO NOT TREAT AT ORTHOCAROLINA ORTHOPEDIC URGENT CARE
---
Providing you with better care when you need it includes knowing when to divert your care to emergency experts. Go directly to your local ER if you're experiencing any of the following:

Stroke

New onset chest pain

Abdominal pain

Actively, bleeding wounds

Bites

Cough, upper respiratory infection symptoms
Urgent Care Locations


APPOINTMENTS AT ORTHOCAROLINA ORTHOPEDIC URGENT CARE
All appointments at OrthoCarolina Orthopedic Urgent Care centers are on a walk-in basis.
FIND AN ORTHOCAROLINA ORTHOPEDIC URGENT CARE LOCATION NEAR YOU
OrthoCarolina is proud to offer a better choice in orthopedic urgent care across the Carolinas. Select the location nearest you to see up-to-date hours of operation.

WHAT TO EXPECT AT YOUR ORTHOCAROLINA ORTHOPEDIC URGENT CARE VISIT
In an effort to make visiting an OrthoCarolina orthopedic urgent care center a seamless shortcut on your orthopedic journey we've put a list together of what you can expect at your visit:
Upon arrival, you'll check-in with the front desk staff, notifying them of what you wish to be seen (ex: "Hi, I'm here for my left knee [with any additional detail you wish to share]")
Payment will be expected at time of service, at intake. We encourage patients to consult with their insurance carrier for the best, most up-to-date, out of pocket costs associated with your visit.
An OrthoCarolina provider will perform a physical examination of the injured area, and likely order x-rays on site, if appropriate. Once you have been diagnosed, your OrthoCarolina provider will initiate a treatment plan (i.e. Physical therapy, scheduled MRI, etc.) and arrange a follow-up appointment with an OrthoCarolina specialist when needed.
WHY CHOOSE ORTHOCAROLINA?
Your health is our priority. So, when things look bad, choose better. OrthoCarolina is one of the nation's leading independent academic orthopedics practices serving the Southeast since 1922. OrthoCarolina provides compassionate and comprehensive musculoskeletal care including operative and non-operative care, diagnostic imaging, and rehabilitative therapy. Widely known for musculoskeletal research and training, OrthoCarolina physicians have specialized expertise in foot and ankle, hip and knee, shoulder and elbow, spine, sports medicine, hand, pediatric orthopedics, and physical medicine and rehabilitation. Over 300 OrthoCarolina providers see more than one million patient visits across North and South Carolina each year, committed to delivering compassionate, personalized treatment for the whole family – no referral needed – at a location near you.