---
Fast, Free Advice for Orthopedic Injuries
Don't waste time searching for answers when you or a loved one is injured. Use the HURT! app to find the better choice of next step for your injury. Whether it's scheduling an appointment at orthopedic urgent care or arranging an office visit with an orthopedic specialist, the HURT! app has you covered.
Free Orthopedic advice: Using the HURT! app is completely free, so you can get expert advice without worrying about any additional costs.
Convenient: You can access the HURT! app from your smartphone, so you can get advice on-the-go and from anywhere.

Better decision-making:

The HURT! app can help you make better decisions about your injury and treatment options. By speaking with a HURT! Navigator, you can get more personalized advice that takes into account your unique situation.

Peace of mind:

Knowing that you have access to a HURT! Navigator and can get advice quickly can give you peace of mind during a stressful time.

No referral needed:

You don't need a referral to use the HURT! app, so you can get advice and without any additional steps or delays.


---
DOWNLOAD THE HURT! MOBILE APP TODAY

Set up your free account so you'll be ready if you or your athlete is injured.
---

Open the app and connect with an orthopedic specialist in your area.
---

Send pictures and messages back and forth securely to assess the injury.
---

Determine the next, most appropriate steps based on your situation.
---

Avoid unnecessary, costly and time-consuming ER visits.
---

Get on the road to recovery with peace of mind. All for free.
---
What to Expect
At the very core, OrthoCarolina's partnership with HURT! App provides access to the better choice in orthopedic care at the sign of acute orthopedic injury. Whether you need to rest ice and elevate, head to orthopedic urgent care, or schedule an appointment in the clinic with an orthopedic specialist, HURT! App is helping you get one step closer to that better choice for you.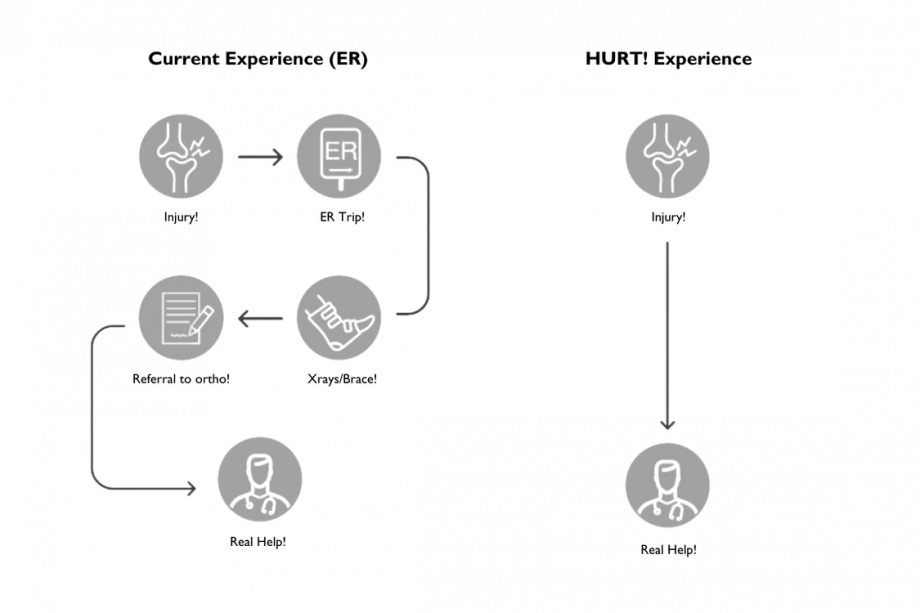 As the user, when you engage with the HURT! App, you are messaging HURT!'s team of navigators. They will take information regarding your injury and provide guidance for the next best step for you in the instance immediate action is necessary. From that information, HURT! navigators create a case report to send to OrthoCarolina. Then, if visiting an orthopedic urgent care is not the answer for you, you'll receive communication from OrthoCarolina on scheduling an in-office appointment with a specialist.
---
Why OrthoCarolina
Your health is our priority. So, when things look bad, choose better. OrthoCarolina is one of the nation's leading independent academic orthopedics practices serving the Southeast since 1922. OrthoCarolina provides compassionate and comprehensive musculoskeletal care including operative and non-operative care, diagnostic imaging, and rehabilitative therapy. Widely known for musculoskeletal research and training, OrthoCarolina physicians have specialized expertise in foot and ankle, hip and knee, shoulder and elbow, spine, sports medicine, hand, pediatric orthopedics, and physical medicine and rehabilitation. Over 300 OrthoCarolina providers see more than one million patient visits across North and South Carolina each year, committed to delivering compassionate, personalized treatment for the whole family – no referral needed – at a location near you.