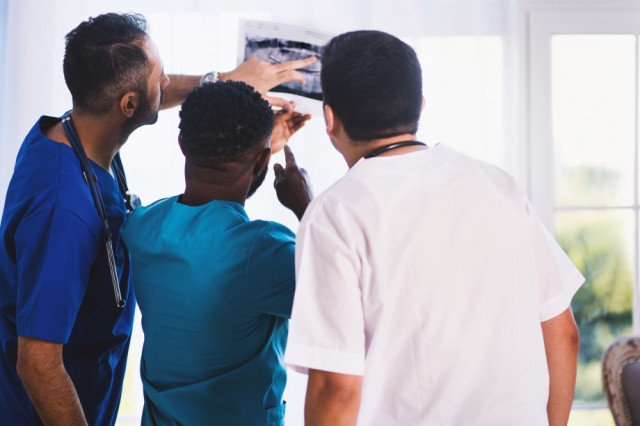 The Specialty
Physiatrists are physicians who specialize in Physical Medicine and Rehabilitation and are trained to diagnose, treat and direct a rehabilitation plan that provides the best possible outcomes for their patients. Physiatry not only employs the usual tools of medicine but also uses physical agents and therapeutic exercise in the prevention, diagnosis, treatment and rehabilitation of disorders that produce pain, impairment and disability.

Nationwide there has been a rise in demand for rehabilitation services, brought on by an increasingly aging population and improved survival rates after disease and injuries due to advancing medical care and technology. Patients also seek treatment from physiatrists for musculoskeletal pain syndromes.

From the temporarily injured to the severely impaired, patients are increasingly turning to the diagnostic and treatment expertise of the physiatrist. The specialty is growing rapidly, and the number of resident physicians has doubled in the last decade. Despite this growth, physiatry is one of the few medical specialties in which there is a relative shortage.
---

The Physiatrist
Physicians who specialize in Physical Medicine and Rehabilitation are called "physiatrists," pronounced fizz-eye-a-trist. Physiatrists are specialists in the diagnosis and treatment of patients of all ages in three major areas of medical care.
Diagnosis and treatment of musculoskeletal injuries and pain syndromes
These include sports and/or work injuries to degenerative conditions as common as arthritis or low back pain.
Electrodiagnostic medicine
Physical Medicine & Rehabilitation is the only specialty of medicine in which special training in electromyography (EMG) and nerve conduction studies are required. These procedures are used for the evaluation of various neurologic disorders.
Rehabilitation of patients with severe impairments
The physiatrist directs a comprehensive rehabilitation team of professionals that may include physical therapists, occupational therapists, recreational therapists, rehabilitation nurses, psychologists, social workers, speech-language pathologists, and others. Physiatrists treat neurologic rehabilitation conditions including stroke, brain injury, and spinal cord injury. Many other disabling conditions such as amputations, multiple trauma, burns, and sports injuries are treated as well.
---

Physiatric Patient Care
Patients referred to a physiatrist for treatment can have a single disorder or multiple problems, many of which require a broad range of physiatric skills. Physiatrists treat patients of all ages for conditions ranging from the developmental disabilities of childhood to the acute injuries of adulthood and finally to the chronic diseases associated with aging.

Advances in medical care have increased the number of patients who now survive conditions that were once fatal. These patients are often challenged by physical impairments and emotional responses that require dramatic changes in everyday life and produce a need for both immediate treatment and long-term rehabilitation. For example, spinal cord injury was almost universally fatal before World War II, but now with proper care, almost all survive and most have a normal lifespan.

Patients are referred to physiatrists by a wide variety of healthcare professionals including primary physicians, medical specialists in all fields, vocational counselors, social workers, and insurance companies.

Did you know that you do not need a referral to see an OrthoCarolina Physiatrist?


WHAT TO EXPECT WHEN SEEING A PHYSIATRIST AT ORTHOCAROLINA FOR BACK PAIN

For this section, we sourced information from Dr. Michael O'Connell, Physiatrist at OrthoCarolina.
Common causes of neck and back pain include muscle and ligament strains, bulging or ruptured discs, and arthritis. These conditions may also result in a pinched nerve in your lower back, commonly known as sciatica.
A physiatrist will perform a comprehensive in-office evaluation to identify the cause of your neck and back pain, which may include an X-ray and MRI.
Utilizing a multi-faceted approach, a physiatrist will develop a treatment plan specific to each patient's diagnosis and functional goals.
Initial treatment options may include physical therapy, medications, and injections to directly target the source of your pain.
An important aspect of physiatry is promoting a healthy and active lifestyle. A physiatrist will design an individualized approach in reducing risk factors, incorporating lifestyle modifications, and encouraging the development of a regular exercise program in order to prevent recurrence of pain and optimize long term spine health.
We interviewed another OrthoCarolina Physiatrist, Dr. Swaroop Gonchikar on the Between the Bones Podcast, listen here.
---

Physiatric Practice
Practice and career opportunities available to physiatrists are wide-ranging and rewarding. Choices include practice in outpatient settings, rehabilitation centers, and hospitals. Most physiatrists divide their workday between hospitals and private offices. In addition to caring for patients, the physiatrist frequently performs administrative functions, such as being the medical director of a rehabilitation facility. Academic positions in Physical Medicine and Rehabilitation allow interested physiatrists the opportunity to contribute to higher education and medical research.

Physical Medicine and Rehabilitation is a relatively new medical specialty, becoming a member of the American Board of Medical Specialties (ABMS) in 1947. It had its beginnings in the 1920s and grew rapidly during the 1940s when thousands of young people were left paralyzed by polio epidemics and thousands more returned from World War II with limb amputations and other disabling injuries.

The specialty offers increasing rewards for physicians who find value in developing in-depth and long-lasting relationships with patients. While pursuing the primary goal of restoring functional independence, the physiatrist experiences the unique privilege of helping people with disabilities acquire years of renewed potential in life and society.
---

Physiatric Training
A physiatrist completes four years of medical school and then obtains a minimum of four years of specialized residency training in PM&R.

To earn Board certification, a physiatrist must pass certifying written and oral examinations administered by the American Board of Physical Medicine and Rehabilitation. Physiatrists receive training throughout their careers via continuing medical education, membership in professional organizations and participation in academic teaching and research.

For specific information about PM&R training programs nationwide, the AAP publishes the Directory of Physical Medicine and Rehabilitation Residency Training Programs in the spring of each year. The directory offers additional information about fellowships, medical student electives, resident demographics, and an extensive reading list.

Physiatry special interest groups permit academic physiatrists with similar interests to enhance their expertise and to help disseminate it to the entire physiatric community.
Comments