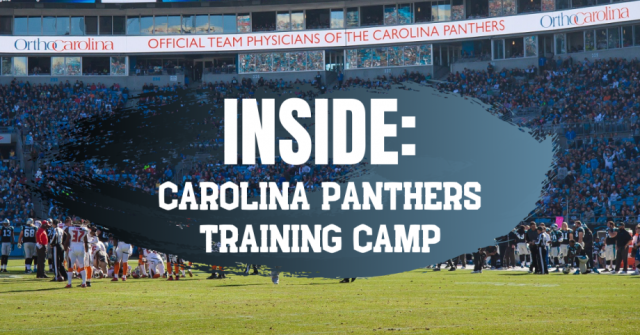 With Dr. Patrick M. Connor
OrthoCarolina's Dr. Patrick M. Connor sees a variety of patients each day both in the office and on the field. Going into his twenty-third season with the Carolina Panthers, the head team physician gives some insight into what happened during the offseason and how he builds relationships with the players and staff.
Listen to the full interview on the Roaring Riot's Riot Report podcast:
Here are a few things we learned from Dr. Connor's interview:
---
1,000 MRIS REVIEWED AT THE COMBINES
Dr. Connor called this year's NFL Combine "typical from a medical standpoint." The medical team reviewed about 1,000 MRIs on nearly 350 players. Reports back to the Panthers organization are then used during the draft.
---
RELATED: Six Things We Learned About the NFL Combine from the Panthers' Head Team Physician
---
INSIDE THE DRAFT WAR ROOM
Though Dr. Connor says 99% of his work for the draft is done during the combine, he's still in war room as picks are being made. What's his role? If the team is considering several players for an upcoming pick he can speak to any medical concerns. This information, he says, is one small component of many that come into play when the team makes decisions.
---
IN LOCKSTEP WITH THE HEAD ATHLETIC TRAINER
Even during the offseason, Dr. Connor is in constant communication with Panthers Head Athletic Trainer Ryan Vermillion. Between Dr. Connor and Panthers Assistant Team Physician Dr. Durham Weeks, one of the two are personally at training camp each day.
Connor and Vermillion have worked together for 19 seasons now. "It's great to have that symbiotic relationship where we come at things from a different angle but clearly we have the same goal and that's to take care of the players," Dr. Connor says.
Vermillion and his staff even join Dr. Connor in the operating room to observe. Dr. Connor says this offers them perspective on rehab and therapy.
---
WHAT'S NEXT
- Go behind-the-scenes at Panthers training camp with Dr. Connor.
- Be treated by the same physicians who keep our highest-level athletes healthy. Learn about OrthoCarolina locations near you or call 704.323.2778 to make an appointment today.
Comments
---
Back