"I dream of painting and then I paint my dream." – Vincent Van Gogh
Gilbert Hunter has always loved to paint…portraits to be specific. He's retired now, but he'd like to get back to doing it more often. The brushstrokes created by his hand reveal the snapshots of his mind as his perspective takes shape on canvas.
He also loves cars. Cars in many ways are like art; paint, chrome and a mix of pieces, style and beauty waiting to come to life. Getting under the hood of a car and doing work is another way that Gilbert brings new life to the ordinary with his hands.
---
Surgery for the Holidays
Over the winter, Gilbert was working on a car and the hood slammed down on his hand, hitting his thumb. He saw that it was bent at an angle, and he knew something was wrong. He was alone at the time, and despite the injury drove himself to the emergency room. After an X-ray and stitches, Gilbert's fears were confirmed; it was an open fracture and would require surgery.
"I had the surgery right after Christmas," Gilbert said. "Dr. Christopher Chadderdon explained to me what he was going to do, which was helpful. I also talked with an anesthesiologist. My thumb was put in a cast."
---
When Painting Becomes the Therapy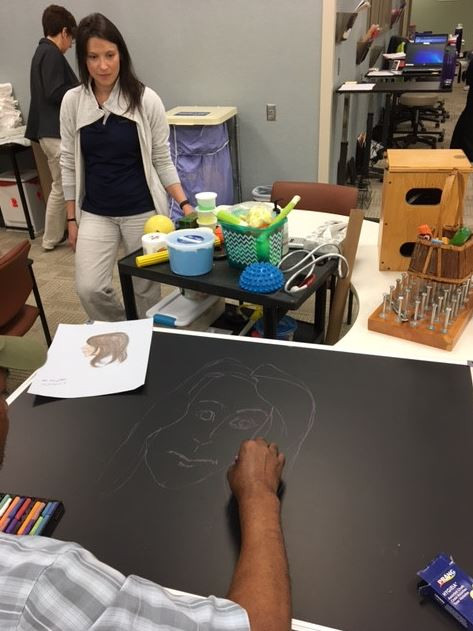 Gilbert started occupational therapy (OT) at OrthoCarolina Gastonia three weeks after his cast came off. The pins in his thumb when he began therapy were removed three weeks later. He realized quickly how much he had relied on his right hand his entire life. To be without it was tough, and limited what he could do. Gilbert couldn't drive, sign his name, or pick up anything. He had to learn to eat with his left hand. His main goal in therapy was to recover and get the motion in his thumb back.
"We were doing mostly motion exercises, moving my thumb," Gilbert said. "It hurt some especially when pins were in it. I knew it was something I had to do because I couldn't move the thumb joint. Stacy Rumfelt [OTR/L, OTD, CHT, CLT] and Sarah Rahman [OTR/L ] manually worked, massaged and exercised it first until it was able to move on its own."
What surprised Gilbert was how often his thumb would 'lock up'. Doing occupational therapy work helped his thumb with range of motion including moving from side to side. He had lost the strength in his thumb after the accident, and therapy helped build strength again. Besides instrument-assisted soft tissue massage, strengthening and range of motion, Gilbert also began to draw during his OT sessions; simple drawing on a chalkboard and using pastels on his sketch pad. Gripping the chalk and pastels with his tenuous thumb muscles as he drew flowers, objects, and even portraits of his therapists helped his thumb get stronger.
---
Road to Recovery
Gilbert is on the road to recovery, though he still has work to do. Being able to draw gives him something to focus on and is important to him. Like other occupational therapy patients, his goal of drawing and eventually painting again gives him something to work toward, something functional. This is truly the essence of occupational therapy.
Occupational therapy's distinct value is to improve health and quality of life through facilitating participation and engagement in occupations, the meaningful, necessary, and familiar activities of everyday life. Occupational therapy is client-centered, achieves positive outcomes, and is cost-effective (AOTA, 2015).
Besides the critical role of his therapists, there is also someone else who has played a big role in helping Gilbert with many things during his recovery and therapy process…his wife.
"I realized how much I rely on her," Gilbert said. "I couldn't feed myself or cut my own meat. She became my right hand. She has been for a long time anyway, but throughout this whole thing she truly became my right hand."
---
What's Next

- April is National Occupational Therapy Month. Learn more about how our OTs make lives better each day.
- Get back to doing what you love, pain-free. Find an OrthoCarolina location near you.
- We know that things don't always happen during regular business hours. That's why we have orthopedic urgent care locations to care for you and your family no matter what time of day an issue arises.
---
Back