Sara Macknin, OTR/L
What is occupational therapy?
Occupational therapy is a unique profession that works with people across the lifespan to help them engage in activities and occupations that are meaningful to them.
As the result of illness, injury, disease or disorder people may have difficulty participating in these meaningful activities. Occupational therapists work with patients to build and restore the skills they need to engage with their environment. This is accomplished through various interventions that may include adapting or modifying activities, manual therapy techniques, neuromuscular re-education, custom orthotic fabrication and therapeutic exercises and activities.
---

The American Occupational Therapy Association's 2025 vision states: "Occupational therapy maximizes health, well-being, and quality of life for all people, populations, and communities through effective solutions that facilitate participation in everyday living."

---
What are occupations?
Occupations are "meaningful activities" that we engage in throughout our day. Although people often think of occupations as jobs, there are also many others types of occupations. For example:
-Activities of daily living (ADLs) include eating, dressing, bathing, grooming, and toileting.
-Instrumental activities of daily living (IADLs) are not necessary for fundamental functioning but allow individuals to live independently within the community. Some IADLs include cooking, shopping, cleaning, managing money, and taking care of others such as family, children and pets.
Other important occupations that help lead a balanced life include play/leisure and social participation. These activities are often affected when someone has a hand injury. As occupational therapists specializing in hand therapy, it is our job to help restore patients' abilities to do what is important and meaningful to them.
---
How do we infuse occupation into hand therapy at OrthoCarolina?

During the initial visit, occupational therapists complete an occupational profile that paints a picture of the patients' mechanism of injury or illness, defines their roles and outlines what activities are most important to them. The therapists analyze this information in order to create a client-centered intervention plan.
Subsequent treatment sessions may focus on range of motion (ROM), strength, sensory deficits, task analysis, functional activities, and simulation of work or ADL tasks. At OrthoCarolina, we feel it is critical to identify and incorporate meaningful activities in our treatment sessions to empower patients to actively participate in the rehabilitation process.
---
Fly fishing in Argentina: getting patients back to doing what they love.
Recently a patient attended therapy with deficits in strength, ROM and coordination. His main goal was to get better so he could participate in the fly fishing trip he had planned to Argentina. The therapist took this information and created a treatment plan that focused on increasing range of motion in his wrist and fingers while improving his strength and coordination. He was able to carry over gains made in therapy, enabling him to tie all of his fishing flies independently using both hands.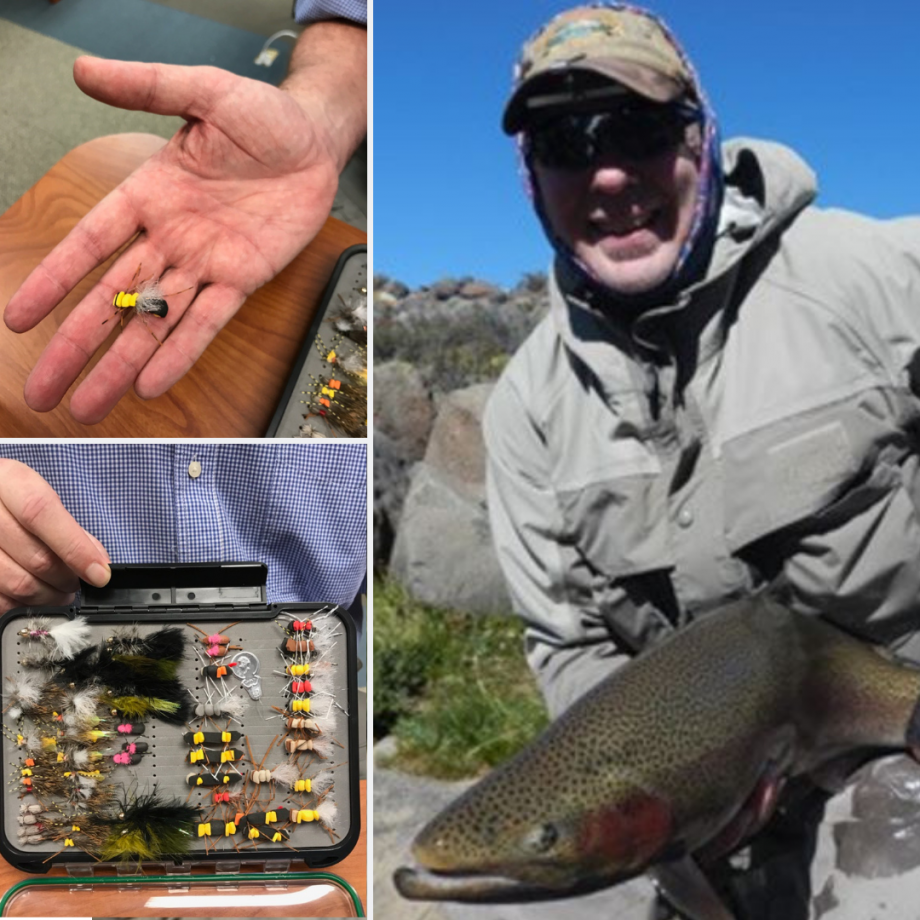 Another example includes a patient that came to the hand therapy department with a thumb amputation, making it difficult to grasp, pinch and manipulate items. The thumb is a critical part in being able to engage in all activities. In order to restore hand function, a silicone prosthetic thumb was fabricated and incorporated into therapeutic activities in the clinic making it easier to complete her ADLs, IADLs, and work tasks using her right dominant hand.

Although different patients may have similar limitations, it is important to focus on activities that are meaningful to the individual patient. No two treatment plans are alike. Ultimately, patients are more motivated and engaged if they are working on functional activities that are important to them.
---
What's next?

- After a traumatic hand injury, occupational therapists get a patient back to creating art

- Find an OrthoCarolina occupational therapist near you

---
Sara Macknin OTR/L, is an occupational therapy fellow at the OrthoCarolina Hand Center. The aspects of the job she enjoys the most are meeting people from all walks of life and seeing the look of satisfaction on their faces when they achieve a goal they have been striving for throughout the therapy process. When she's not at work, Sara enjoys traveling, hiking, going to the movies and the theatre.
Comments
---
Back