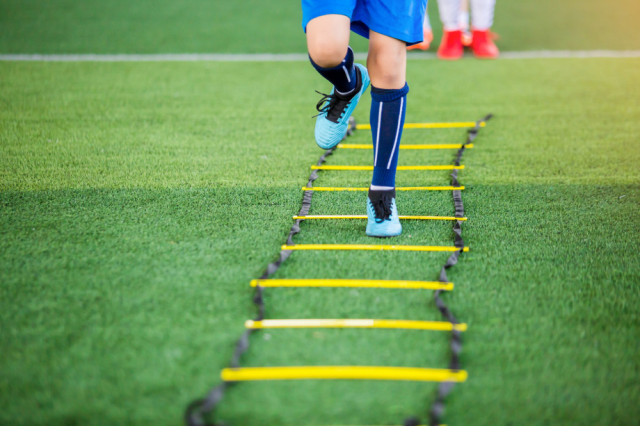 With fall sports around the corner, summer is a great time to get a leg up on the competition.
At OrthoCarolina's Sports Training Center summer camps, your child will learn from our experienced personal trainers and strength and conditioning coaches who train not only young athletes but our region's elite, professional athletes. They'll also benefit from our state-of-the-art facility with indoor/outdoor turf field and top-of-the-line equipment.
---
SPEED & AGILITY CAMPS
Our speed and agility camp is designed for athletes 12 and older who are seeking improvement in foot speed, explosiveness, acceleration/deceleration/lateral speed, efficient sprinting stride and linear speed.
Our goal is to provide quality instruction in the techniques, form and training that are necessary for young athletes to reach their full potential. Each camp session lasts 2 hours and includes a full warm-up, event instruction, and a cool-down.
LOCATION: OrthoCarolina Sports Training Center | 1205 Mann Drive, Matthews, NC28105
COACH: Katie Ognovich, Former Collegiate Rower and Strength & Conditioning Coach

UPCOMING DATES:
July 12-14 | 10 am- 12pm
July 21-23 | 10 am - 12 pm
July 26-28 | 10am - 12 pm
August 4-6 | 10 am - 12 pm
PRICING:
$125 per each three-day session
---
REGISTRATION


Email wellness@orthocarolina.com or call 704-323-2701 for registration details.

*Due to COVID restrictions and the safety of our athletes, our spots are limited, so call now to save your spot!​*
---
This article was originally published on February 7, 2020, and has been updated on June 16, 2021.