In 1991 the airbag was invented, the internet became available for unrestricted commercial use and Nirvana's Nevermind album was released. That same year, Michael (Mike) Long began working at OrthoCarolina as a physician assistant. Though he was new to OC, Mike wasn't new to the profession have come off a 20-year career in the United States Air Force as a Pararescueman and PA.

This year, we celebrated Mike's retirement after 27 years of him being an incredibly valuable member of the OC team. With such a successful career during which he's impacted so many lives, we asked Mike a few questions about being a PA, his fondest memories and the advice he'd give someone who is just starting out.
---

"I have gone to OrthoCarolina to see Mike Long, PA, for my back problems for 10 years. I found out that he was moving on and I almost cried. I have had such a great experience with this funny and compassionate man all these years."
-Sheila, patient

---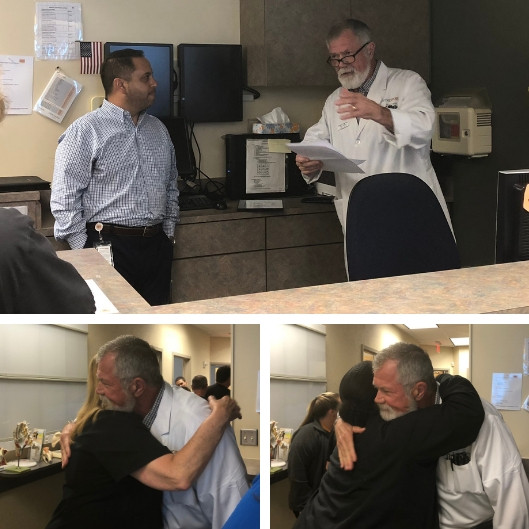 ---
You started your career at OC in 1991. What is special about OC that kept you here throughout the years?
The work atmosphere and environment were extremely receptive to having PAs involved in the delivery of orthopedic care.
As years went by, I witnessed some physicians who were initially skeptical about utilizing PAs, become advocates for our career.
I also witnessed many physicians who set sterling examples of going above and beyond to help patients. That is a contagious trait that reaches out and brings everyone up.
---

What kinds of interesting things that have happened at OC during your tenure?
The gradual transition to the one-on-one Doctor/PA team has been fun to watch. We have been utilized in a myriad of ways over the years and the Doc/PA team concept has proven itself over time. The inclusion of PAs into various committees and project planning has been a very welcome change to witness.
---
What advice would you give someone who has just started their career at OC?

Always do what is right and best for the patient. Trust your gut. If ever in doubt, ALWAYS consult your supervising MD or other MD available.

Treat every encounter/patient like it was a member of your family or your best friends family.

If and when you are having problems or concerns, don't sit on them and let them fester.

Go to your supervisors and peers and get things cleared up early on.
---
What is a memory from your career that you will always look back on fondly?

The patients that have gone out of their way to thank me for the way I treated them and the help I gave them.
The pats on the back and the expressions of respect and gratitude I have received from many of my supervising physicians. It means a lot.
---
Why do you think the PA field is so unique?
We fill a needed and essential bridge between the PT and the surgeon. Our contribution at OC is palpable. From Call to OUC and just the day to day evaluation and treatment of orthopedic patients in all related subspecialties is stellar. Not only us, but OC as a whole should be very proud of the Physician Assistant force they have accumulated over the years. I am proud to be a part of it.
Comments
---
Back