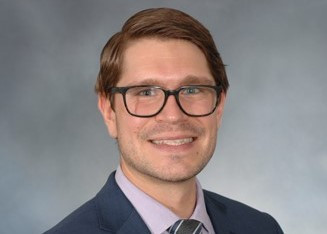 Describe your past briefly, education, etc. and what lead you to your current position at Atrium/OCRI.
I was born and raised in Ann Arbor, MI. For undergrad I attended the University of Michigan where I majored in cellular and molecular biology. I knew I enjoyed science but also loved working with people so a future in medicine seemed like the natural next step. After undergrad I took a couple of years off and applied to medical school eventually ending up at the University of Cincinnati College of Medicine. I really took an interest in orthopaedics while learning about the musculoskeletal system, this was further solidified when I did a 4 week rotation with the orthopaedic surgery department in Cincinnati. Orthopaedics is a very competitive specialty to match into for residency so after talking to a few of my advisors I decided to take a year off and do a year of research. I was very interested in this position after reading about it and once I interviewed with Christi Cadd and Dr. Saltzman it was clear it would be an incredible opportunity to learn more about orthopaedics and research with some of the leaders in the field. I jumped at the opportunity when I was offered the position!
What does/did a 'typical' (ie non COVID-19 day…) day look like for you?
One of my favorite parts of this position is the variety in my day to day work. I am always working on multiple projects ranging from shoulder arthroplasty to multiligamentous knee reconstruction to Tommy John surgery. Throughout the past year with the help and guidance from everyone at OCRI and the Sports Attendings and Fellows I have become a sort of jack of all trades in terms of research. I am often working on retrospective chart review projects where we review the records of patients who have had the procedure of interest for a specific project and gather data to be analyzed. I help with the writing, editing and revising of manuscripts we submit for publication. Multiple projects have me contacting patients to complete surveys that look at the outcomes of their surgery and rehabilitation. Depending on the day and what projects I am doing at the time I may be doing one or all of these.
Describe your thoughts on the unique collaborative efforts with OC and Atrium.
The collaborative efforts between OC and Atrium are a really productive and innovative approach to conducting research. The ultimate goal of research is to further the field of orthopaedic surgery therefore increasing the available options and improving the outcomes for our patients. Being able to take 2 large health systems and coordinate research between them is an incredible way to do that. Both OC and Atrium have so many resources at their disposal, combining those only increases the validity and strength of the research we can produce and distribute. By collaborating we are able to have studies with large numbers of patients strengthening the results we get from them and the conclusions we arrive at. I see this as a huge plus not only for the 2 systems but for the field of orthopaedics as a whole. From what I have seen thus far in my time here I think this collaboration will only get stronger and continue to produce high quality research.
What has been the most rewarding part of your research work?
I think the most rewarding and interesting part of the research I've been involved in is how applicable it is to daily clinical life. I have been able to work on multiple projects where I can immediately see how the information we found can be applied to a physicians clinical decision making process or how it can help to inform and mold the pre and /or post-op conversations they have with their patients.
Which Core Value of OC (Quality, Service, Community, Teamwork) do you feel you identify the most with at OCRI and why?
As with most I think it's hard to choose only one, but I'll limit myself to two, teamwork and quality. Research is a team sport and there are so many people working behind the scenes to help put everything into place so that we can produce quality research. So many different hands touch every research project from the coordinators and research staff working in the clinic to the registry team building massive data sets that will be invaluable to current and future projects to the data and stats team that do that analysis plus so many more! This seamless teamwork enables OC to produce such high quality research in the volume that it does!
As a 3rd year medical student, what are some of your goals and aspirations?
I am currently between my third and fourth year of medical school at the University of Cincinnati College of Medicine. In July I will be heading back to Cincinnati to finish my final year and then off to residency somewhere. I absolutely wouldn't say no to returning to Charlotte in the future! This year my research focus has been in Sports Medicine but I am also interested in hip and knee arthroplasty, trauma and pediatric orthopaedics but thankfully those decisions are a long ways off for me.
Outside of work, what do you like to do?
I enjoy going to the many breweries in Charlotte and trying new and interesting beers. I've started collecting pint glasses from different breweries I've visited. I've got a ton of plants in my apartment that I take care of and am even trying my hand at growing some peppers and jalapenos right now. A little known fact about me is that I also really enjoy baking and decorating cakes.
What would you say to someone considering the field of work you are in or applying for a position with OC or OCRI?
Research is such an important and often underappreciated aspect of medicine. Without research, no field would progress as it is able to now and we wouldn't see the new and unique treatments and therapies nearly as quickly. It is an incredibly interesting and dynamic field to be involved in and you get to work with a lot of great people. Being involved in research at OC highlights all of this. I have enjoyed working with the incredible doctors at OC and the amazing researchers at OCRI. Being involved in research with some of the leaders in the field only adds to the pride I can take from my work.

We are proud to have you on our team, Nick, and wish you all the best in your 4th year of medical school!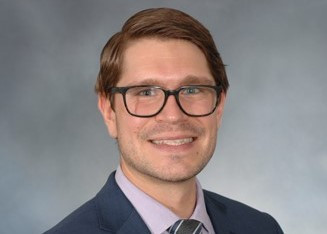 ---
Back