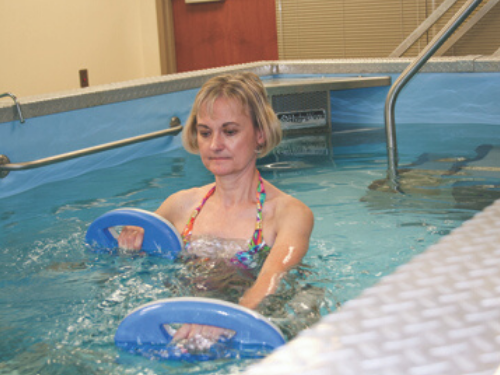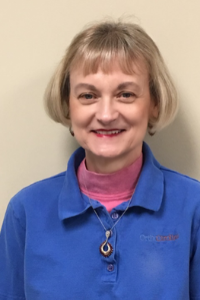 Carol, tell us about your past and what lead you to OrthoCarolina.
Growing up as a gymnast and dancer, I believe I was destined for this career! My first degree was from UNC Greensboro in Physical Education with a Biology minor. I was the physical education teacher and athletic director for a private school in Memphis, TN. After four years of teaching, I went back to school at the University of Tennessee and earned my degree in Physical Therapy. In 1988, one of my friends called me to interview for a job at Gaul Orthopedic Group (now OrthoCarolina). At the time, the company had seven doctors and I was hired as the second physical therapist for the company. We now have over 150 doctors/PA's and physical therapists!

What does a 'typical' day look like for you?

Four days a week, I see a full caseload of patients with a variety of diagnoses ranging from spine problems to shoulder, hip, knee and ankle problems. I will consult with the physicians/PAs as needed regarding any issues with the patient. In 2008, I was appointed as the Chairperson for the Quality Assurance and Electronic Medical Records Committee for PT/OT departments. I enjoy working with all of our PT/OT clinics regarding coding and compliance issues as well as consulting with our Coding and Compliance Officers at OrthoCarolina. Through the years, I have written physical therapy articles for the Physical Therapy Advance Journal, Occupational Therapy Advance Journal as well as PT Products Magazine, and the Charlotte Observer. I have done several articles and videos on ergonomics and texting for the Dr. Oz Good Life Magazine, North Carolina Business Journal, Charlotte Parent Magazine, Matt and Ramona Radio Show as well as many of our OC media partners.
You've had a long career with OC/orthopedics. How do you feel about the changes that have taken place in healthcare and also because of Coronavirus?
Healthcare has definitely evolved since I started. It has become more technology-based regarding documentation, more evidence-based regarding treatment/protocols and techniques and more person/individual based regarding interaction with the healthcare team. I feel the patient is able to have more of a voice in determining their plan of care now.
Since the Coronavirus, I think people have become super vigilant regarding health and safety in our city and our country more than any other time in history. Our company has stepped up to the challenges and made decisions to protect our patients and employees as best we can in these unprecedented times. I'm proud to work for a company with great leaders.
What is the most common problem you see with your patients? What do you feel has contributed to this condition?
The most common problem is the patient's fear of their diagnosis as to what it is going to mean right now, in the near future, as well as long term. Lack of patient education and communication is what contributes to this condition. It can be remedied easily by sitting down with the patient and carefully explaining their condition and the rehab process. This interaction will help them overcome their issues and what modifications, if needed, can be made to help get them back to where they want to be. Our motto at OrthoCarolina is Make Lives Better, and we truly live that every day.
What do you like most about your position? What inspires you?
I enjoy working with the patient, teaching and working with the great teams that we have at SouthPark, Park Road and all of the clinics. Seeing patients get well and return to their normal lifestyle and activities is always my biggest reward.
Which Core Value of OC (Quality, Service, Community, Teamwork) do you feel you identify the most with and why? :
Quality: If you focus on the highest standards of service, safety, well-being and product/outcome everything else follows. Patients know when they are receiving high standards of care and your teammates also know when you are striving to perform at your highest level. You should expect nothing less of yourself and everyone else.
What are some of your goals and aspirations – personally or professionally?
Continue to work with the Quality Assurance and Electronic Medical Records committee and Clinical Specialist Group to continue a high level of care and commitment to learning.
Outside of work, what do you like to do?
Dancing, swimming, sailing/boating, and spending time at Lake Wylie with family and friends.
What would you say to someone considering a career in Physical Therapy or applying for a position with OrthoCarolina?
Physical Therapy at OthoCarolina is the best job you will always love. It is very challenging mentally and physically. It is never boring as there is always a new patient, a new diagnosis, a new procedure, a new protocol, or a new technique yet to be developed right around the corner. You can be a part of that team. Strive to be the best therapist you can be. I always tell my students, I will not train you to become a "good" therapist, I want you to be an" expert" therapist. I want the student to be the one that doctors and other therapists send all of the difficult and complicated patients to because that student (therapist) will try to figure out a solution. Anyone can help the easy patients. Be the best of the best!
Throughout Carol's entire career she has demonstrated her commitment to Make Lives Better! Thank you, Carol, for your dedication to excellent care and continuing education.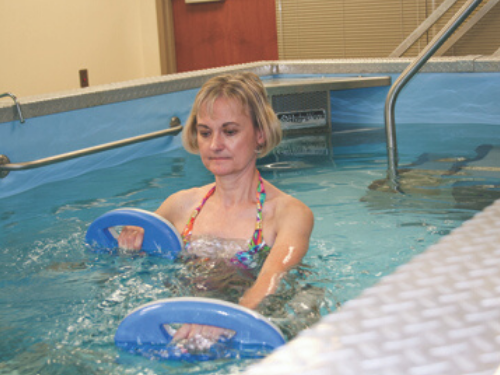 ---
Back