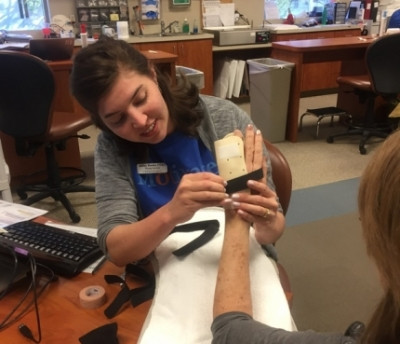 1.) You worked a regular, full-time therapy job before deciding to enter the residency program at OrthoCarolina. What's different?
I worked in a private practice with an emphasis in hand therapy for four years prior to starting my residency. As a resident in this program, I work with physicians to help map out a specific course of care for each individual patient. This opportunity is great because I learn a lot of different skills and work with many different people on therapeutic interventions to help return patients to their best level of function. I also get the opportunity to participate in and design research projects.
2.) What might people not know about your position and hand therapy?
Structured residency programs for all specialties (including hand therapy) are actually new to the field of occupational therapy; only a few have been established. They range from six months to 18 months and everything in between. OrthoCarolina truly is a pioneer of this type of residency.
3.) Tell us about a typical day for you at work:
A lot of our days start very early, normally 6:30 a.m. or so. We are often sleepy-eyed wandering in! We have classes with the hand surgery fellows in the morning. The morning conferences are a good opportunity to learn about each other's fields. Interacting with the physicians and hand fellows affords us, as hand therapy residents, the opportunity to learn about hand surgery and practice, not just about therapy.
Afterward, I return to the clinic where I have my own caseload. I evaluate and treat patients, make splints and participate in one-on-one mentoring sessions. Being here affords me the opportunity to have back up when needed and continue to learn. I never feel alone. Most OTs here have 20+ years of experience so there's a wealth of information and people to learn from.
At lunchtime, I may get the chance to more casually interact with other therapists and discuss our cases of the day. It's not structured but it's crucial to be able to bounce around and exchange ideas.
In addition to treating patients, I have weekly coursework that includes lecture, PowerPoint presentations, article analysis, case studies, and assignments.
Structuring the day is important for a resident to make sure you get everything in while staying balanced; making sure to carve out time for rest and fun during the week.
4.)What are some of your outside hobbies or interests?
Lately I have been spending a lot of my free time preparing for my certification examination (CHT) in May. However, when I'm not hitting the books I enjoy cooking, camping, and doing yoga. My husband and I have a ton of cooking gadgets and we love spending weekend afternoons preparing delicious and complex meals. Our favorite dish to make together is homemade pasta and Bolognese sauce.
5.) What's your favorite movie?
"Mean Girls" will always be one of my top favorites. Tina Fey is such a dynamic writer and comedian. I just love her work.
6.) What's your favorite restaurant in the Charlotte area?
This is a tough question! I love trying different restaurants in the area. Seoul Food and Meat Company is probably my current go-to favorite. It's a fun fusion restaurant of Korean food and American BBQ served family style. The kimchi fries are a must try!
7.) Finally, what's your favorite part of working at OrthoCarolina?
My favorite part of working at OrthoCarolina would have to be the amazing people I get to work with every day. Everyone I come in contact with from my fellow therapists, to the doctors and PAs, nurses and assistants, and all of the support staff make the busy days enjoyable. The people I work with are smart, kind, funny, and passionate. You can't ask for a better team to be a part of each day.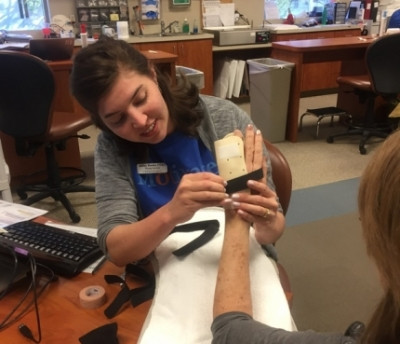 ---
Back