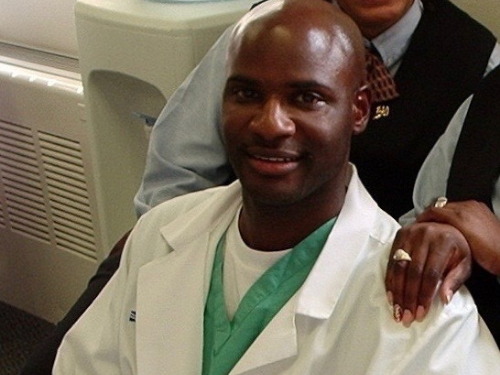 Describe your past and what lead you to OC.
I worked at Medstar Washington Hospital Center in Washington, DC, where I gained valuable Orthopedics experience. I worked for the Chairman of Orthopedics and his partner, who was a trauma specialist. My first two months working for them consisted of going to surgery once a week to see the different types of surgery they performed. Thirteen years ago, my wife (Vannette), and I moved to Charlotte, NC; we wanted to get away from the fast pace of city life. I knew I wanted to continue to work with Orthopedic patients, and everyone told me that the place to work is OrthoCarolina.
What does a typical day look like for you?
I have the privilege of working with eight providers. Typically, I will see, along with a provider, approximately 25-35 patients a day. Every day is always exciting because I work with a different provider daily. Each provider has their specialty (shoulder, hip, knee, etc.). I get to see a variety of orthopedic problems. Recently, I began working with the physiatrist, where I have learned to run the c-arm for fluoroscopy injections.

What do you like most about your position? What inspires you?
As an orthopedic technician, you get to see the progress of the patient as they improve (from the time you cast them to the heeling part where there is no need for even a brace). I love learning all new things in Orthopedics. When I think I have learned all that I can do within Orthopedics, there is always a new innovative way to improve patient care.
Which Core Value of OC do you feel you identify the most with and why?
Teamwork. It takes a team to care for a patient. Everyone in the office is needed to care for our patients from the scheduler, radiologist, therapist, etc. everyone plays a part in making their lives better.
Outside of work, what do you like to do?
Traveling with my wife (Vannette)
Spending time with my Chow-Chow dog (Sasha)
Going to live jazz concerts
What would you say to someone applying for a position with OC?
I would tell them the same thing that I was told the day I put in my application. I remember the young lady at the welcome desk said to me, "They are a fun group of people to work with." Thirteen years later, I am still having fun.