What is occupational therapy?
Occupational therapy is based on the premise that that people should live life being able to do the things they want and need to do, regardless of age.
Throughout life, people may have trouble participating in meaningful activities as the result of illness, injury, disease or disorder. Occupational therapy practitioners enable people of all ages to live life to its fullest by helping them promote health, and prevent—or live better with—injury, illness, or disability.

Occupational therapy is the only profession that helps people across the lifespan to do the things they want and need to do through the therapeutic use of daily activities (occupations).

"Occupational therapy maximizes health, well-being, and quality of life for all people, populations, and communities through effective solutions that facilitate participation in everyday living." – American Occupational Therapy Association's 2025 Vision
---
What are "occupations"?
Occupations are "meaningful activities" that we engage in throughout our day. Although people often think of occupations as jobs, there are also many other types of occupations.
Activities of daily living (ADLs) include eating, dressing, bathing, grooming and using the restroom.
Instrumental activities of daily living (IADLs) are not necessary for fundamental functioning but allow individuals to live independently within their community. Some IADLs include cooking, shopping, cleaning, managing money and taking care of others such as family, children and pets.
Other important occupations that help lead a balanced life include play/leisure and social participation. These activities are often affected when someone has a hand injury.
---
How do occupational therapists evaluate & treat patients?
Occupational Therapists specialize in restoring a person's ability to participate in the "job of life" – enjoying what you do every day.
An occupational therapist's work to support patients can take many forms, such as:
Focusing on fine motor coordination and dexterity activities to help a patient interact with their environment,
Providing adaptive equipment to a patient who has suffered a stroke so that they may dress independently,
Helping an orthopedic patient regain essential hand and upper extremity strength.
Occupational therapists work with a variety of injured or disabled patients across the lifespan using numerous therapeutic techniques to enable them to engage in activities that they find meaningful.
They formulate individualized patient care plans after completing a thorough evaluation. For each patient, they customize interventions, or programs, that ultimately will enable patients to return to their maximum level of function depending on their disability.

Common OT interventions may include:
Adapting or modifying activities
Recommendation of adaptive equipment
Joint mobilizations
Soft tissue techniques
Manual therapy techniques
Therapeutic exercise & activities
Functional activity analysis
Neuromuscular re-education
Sensory integration
Custom splinting
Custom orthotics
Occupational therapists treat patients in a variety of settings that may include inpatient, sub-acute or out-patient hospital-based programs, private practice, psychiatry, skilled nursing, school-based therapy and physician-owned clinics.
---
8 things to know about OT
Occupational therapy is an evidence-based, science-driven career and course of study.
The holistic approach of occupational therapists focuses on overall wellness.
OTs provide habilitation and rehabilitation services.
Therapists work to identify and minimize environmental factors that might hinder patient progress.
Psychological, environmental and social issues treated by occupational therapy can affect people of all ages.
Common orthopedic and overuse injuries that are treated in our clinics include: tendonitis, carpal and cubital tunnel, fractures, amputations, crush injuries, hand reconstructions, joint replacements, sprains and strains.
Supracondylar fractures are commonly experienced by children, as the result of trampoline injuries. These injuries can be treated post immobilization to restore motion and function with the help of occupational therapy.
Occupational therapists must have a master's degree for entry-level practice, and OT assistants must have an associate's degree. Both must pass National Board Certification exams. OrthoCarolina upper extremity specialists hold credentials (CHT) for advanced study and competency in hand and upper extremity rehabilitation.
---
WHO IS OCCUPATIONAL THERAPY RIGHT FOR?
An occupational therapist's role is to help restore a patient's abilities to do what is important and meaningful to them, whether you've suffered an acute injury, endured a lifelong disability or experience recurring pain from overuse.
Although different patients may have similar limitations, it is important to focus on activities that are meaningful to the individual patient. No two treatment plans are alike.
Ultimately, patients are more motivated and engaged if they are working on functional activities that are important to them.
OrthoCarolina's upper extremity and hand specialists are specially trained to help you get back to doing what you love most and live life to the fullest.
---
Occupational Therapy Month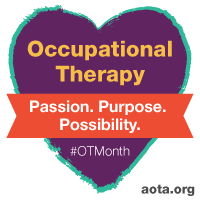 Every April, we join the American Occupational Therapy Association in celebrating Occupational Therapy Month to showcase how OT changes lives. Occupational therapy is a vitally important profession that helps people of all ages participate in the activities most meaningful to them.
At OrthoCarolina, our occupational therapists enrich the lives of our patients, helping them get back to doing what they love with the ones they love.
---
Back