FIFA World Cup 2018 - an entire month dedicated to the best of soccer. From the first match June 14 to the final July 15, you can find all the best World Cup information here on OrthoCarolina's World Cup Hub. From brackets to watch guides by group, visit us here to stay informed and prepared for all the action.
Are you a soccer newbie wondering to yourself how teams are even selected for World Cup play? Check out Macaroni Kid's World Cup Watch Guide. They interview OrthoCarolina Physician Assistant and former professional soccer player Andy Hylton to learn all the ins and outs, including which players and teams to watch.
Ready for all things World Cup? Keep reading!
---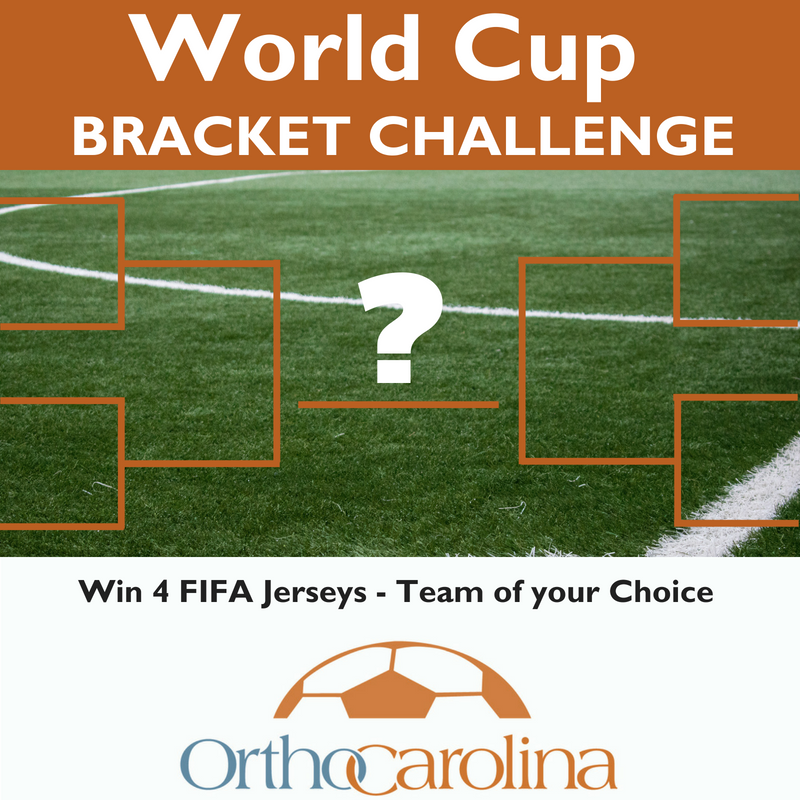 BRACKET CHALLENGE
Show off your World Cup knowledge and be entered to win four FIFA jerseys of your choice in OrthoCarolina's World Cup Bracket Challenge hosted by FOX 46. We'll begin with the round of 16 teams at 8 AM June 29, so mark your calendar and get in on the fun!
---
WHERE TO WATCH
Charlotte Agenda has your complete list of everywhere to watch in Charlotte and check out Soccer 'n' Sweet Tea's rundown of everywhere to take in a game across the Carolinas.
---
TEST YOUR WORLD CUP KNOWLEDGE
We worked with our friends at FOX 46 on this World Cup quiz so you can test your soccer acumen. Not quite ready to be quizzed? Keep reading to learn about the different teams and groups.
---
WORLD CUP GROUP GUIDES
With 32 teams, it can be tough to keep up with the who's who. Andy Hylton dished to Macaroni Kid about all eight groups.
Our friends at Soccer 'n' Sweet Tea have created group guides that also focus on connections to the Carolinas so you can find your new team to pull for and get your bracket ready to rock!
GROUP A - Egypt, Russia, Saudi Arabia, Uruguay
GROUP B - Iran, Morocco, Portugal, Spain
GROUP C - Australia, Denmark, France, Peru
GROUP D - Argentina, Croatia, Iceland, Nigeria
GROUP E - Brazil, Costa Rica, Serbia, Switzerland
GROUP F - Germany, Korea Republic, Mexico Sweden
GROUP G - Belgium, England, Panama, Tunisia
GROUP H - Colombia, Japan, Poland, Senegal
---
SOCCER AND ORTHOPEDICS
As we watch the best soccer players in the world take the field and show off their unprecedented athleticism, it's easy to wonder how they deal with injuries.
FROM TWO ACL TEARS TO WEST POINT
As a soccer player at Weddington High School, Charlottean Caroline Horne experienced two ACL tears in just seven months. Injuries like this can keep the best athletes down, but between Caroline's hard work and great attitude she not only recovered - she thrived. Today, Caroline has finished her first year at West Point and her knee has withstood the rigors of PT, club soccer and her SCUBA involvement.
EVEN WORLD CUP PLAYERS GET HURT
As a former international professional soccer player, OrthoCarolina Physician Assistant Andy Hylton has experienced soccer injuries on the field and in orthopedics. Learn more about what goes into successful rehab for a soccer injury.
SOCCER INJURIES: WHAT TO DO
Soccer players often play through the pain or minimize their injuries in order to keep playing. OrthoCarolina Athletic Trainer and former Division I Soccer Player Jennifer DeRosa understands this from not only doing it herself, but in seeing these injuries in the clinic. Jennifer talks what to do as an injured soccer player and why waiting to address the problem isn't the best bet.
---
YOUNG ATHLETES - INFO FOR COACHES & PARENTS
The World Cup is a great time for teams and families to watch professional soccer together. It's also a great time to learn more about keeping your young soccer athlete safe.
WHY WARMING UP IS A CRUCIAL PIECE IN YOUR SOCCER TRAINING PLAN
There are many excuses for not warming up before soccer practice or a game. But Athletic Trainer Kevin Thornton of OrthoCarolina Randolph Physical Therapy says no excuse for not warming up is a good one! Having worked with several college and professional soccer teams, Kevin shares best practices for warming up to prevent injuries.
MINIMIZING INJURY RISK IN YOUNG SOCCER PLAYERS
From concussions to proper equipment and overuse injuries, Dr. Barrett Little of OrthoCarolina Rock Hill shares ways we can keep our youngest soccer players safe.
THREE CORE STRENGTHENING SOCCER EXERCISES
By strengthening core muscles, soccer players can improve performance on the field and reduce their risk of injury. OrthoCarolina Pineville physical therapist Jillian Maguire shares core exercises that aren't typically part of soccer practice.

---
---
Back