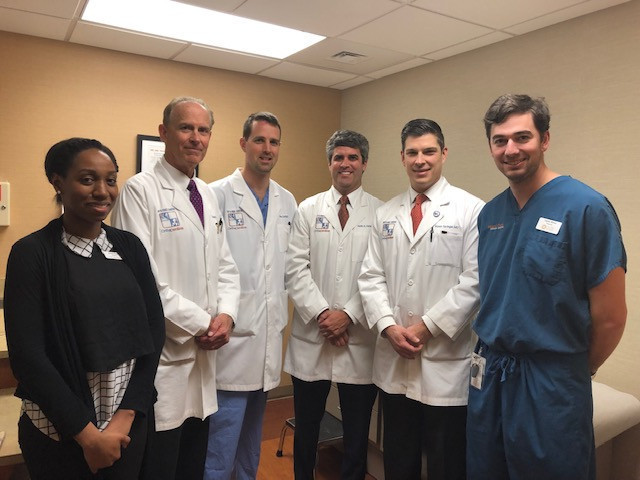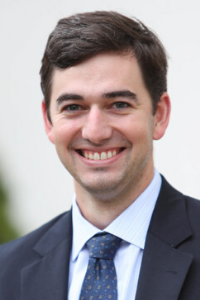 Taylor, describe your past and what lead you to your current position at the OrthoCarolina Research Institute (OCRI).
I grew up in Charlotte (one of the few) and graduated from Washington & Lee University. I started as a summer intern at OCRI when I was taking some post-baccalaureate classes at UNCC, and I was fortunate to be offered a coordinating position at the end of my internship. I have been with OCRI since beginning my internship in May of 2016.
When most people think 'Clinical Research' they think you are stuck in a lab all day – boring! What does a 'typical' day look like for you?
A typical day for me is anything but boring! I tend to be a morning person, so I am one of the first people in the office and use that time to get my administrative work done. Once our physicians start clinic, I spend the majority of my time in the Hip & Knee and Sports clinics working closely with our physicians and patients. Many of the studies that I am responsible for are prospectively enrolling, which means I enroll patients at the time they sign up for surgery and at their post-surgical follow up visits as well.
What do you like most about your position?
I have been fortunate enough to work on a handful of projects that have made a significant impact on our patients' lives in a positive way! It is uniquely fulfilling to see the outcomes many of our studies have and provide a level of care that has previously been unavailable to the general orthopedic community through our research studies! I have been able to spend a good amount of time in the operating room and have really enjoyed observing the world-class abilities of our surgeons.
What's the coolest project you've ever worked on or are working on at OCRI?
The coolest project I have worked on during my time at OCRI is a total joint infection clinical trial with Dr. Bryan Springer. We are looking to improve our ability to cure joint infections through a novel surgical and antibiotic treatment regimen. I got a crash course in infectious diseases as well as some hands-on experience with each of the patients during their hospital stay.
Which Core Value of OC (Quality, Service, Community, Teamwork) do you feel you identify the most with at OCRI and why?
I feel that the "Teamwork" Core Value is probably what I most identify with working at OCRI. Given the large number of physicians who are interested in conducting research at OC (and the list keeps growing), our group is relatively small and each of our staff routinely covers for each other to make sure those physician's needs are met. As OrthoCarolina grows as a company and new locations are added, our research team works together on a daily basis to make sure all of our patients and physicians needs are met. Our group must work as a cohesive unit to conduct each of the active studies.
What are some of your goals and aspirations? Do you think you will stay in the Hip/Knee discipline?
I have always wanted to work in a field that provides a tangible impact on the community at large. I can't think of a better way to do that than to be a physician! I would love to be able to eventually work in orthopedics as a provider after spending the last few years working from a research perspective. If given the opportunity, I think would end up working in either the Hip & Knee or Sports disciplines.
Outside of work, what do you like to do?
Outside of work I love to be outside! I spend much of my free time fishing, playing golf and basketball with friends, along with other outdoor activities. I picked up golf after my college baseball career ended and it's been quite the challenge! As a "retired" athlete, I love to be active.
What would you say to someone considering the field of work you are in or applying for a position with OC?
If there was one thing that I could tell someone who was pursuing a career working in research it would be perseverance. Take advantage of any opportunity that arises because you never know where it will take you. It may not seem so at the time, but any opportunity can lead to great things if you embrace it!
Thank you, Taylor, for your commitment to research in this ever changing field. For more information about the OrthoCarolina Research Institute visit: orthocarolinaresearch.org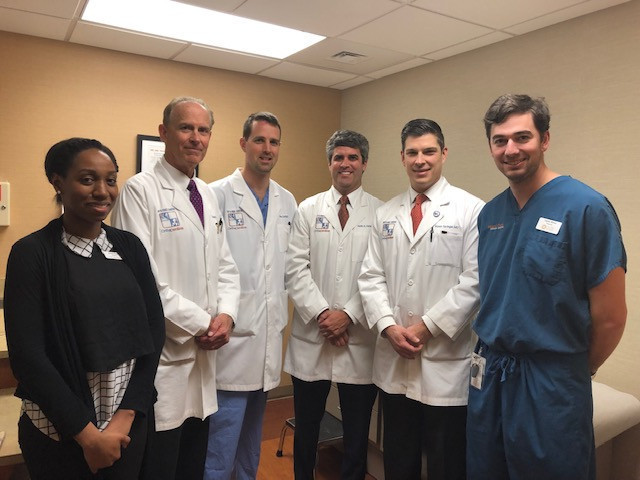 ---
Back