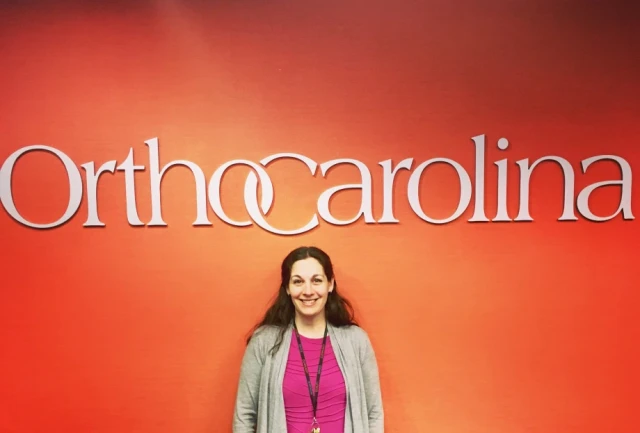 1.) What led you to your position at OrthoCarolina?
I have had a long career in logistics and service. For 20 years, I was mostly in the hospitality industry. I have had many different jobs in restaurants, hotels and convention centers From bar manager at a supper club in San Francisco, to being catering and events manager at convention centers on both coasts, to serving as a F&B director at a country club, all allowed me to serve people and use logistics.Through those years I had scattered some administrative positions in between my service industry jobs. One of those admin jobs was at an orthopedic practice in Wilmington, NC. I loved it there and got to see many aspects of the practice. I also had a wonderful job as the admin for the VP of Specialty Hospitals and Administrator of the Orthopedic Hospital of New Hanover Regional Medical Center in Wilmington. In 2015 our family moved to Charlotte. I was so very lucky that 2 months after I got here the operations coordinator role opened up. I could not have been more excited and the position could not have been a better fit.
2.) What do you like most about your job?
The day to day activities are so diverse. I literally have no idea what I am store for when I walk in the door! We are not stagnant but ever changing. Whether the transformations are coming about organically, from our drive for process improvement, or those changes have a catalyst (such as the modifications in the National Health Care environment) we strive to ensure those advancements are implemented correctly.
3.) What's something someone might not know about your job?
I get the privilege of getting to see the evolution of a lot of the process developments here. Each change, or new procedure, has a life cycle. The moment a need or service is presented the leaders are truly analyzing all the aspects of the adjustment. There are meetings to discuss the need, who will be affected and whether the benefits will outweigh the time it will take to make the change. They then have to break down how to operationalize each change by determining out who has a stake in the process and outcome. People do not realize all of the things that are going on behind the scenes prior to rolling initiatives out in the clinics. We try to work out questions and pilot things ahead of time, when possible. A change does not end at the implementation stage. I have been at many meetings where managers, and employees from different areas are giving feedback on what is working with the process. We also discuss openly what may need to be adjusted in order to make that operation function better across the many departments.
4.) What are some of your outside hobbies or interests?
I like to read books, travel and spend time with my family.
5.) What's your favorite movie?
There are so many. I do love "A Bronx Tale" and "Immortal Beloved" to name a couple.
6.) What's your favorite restaurant in the Charlotte area?
I like Thai 1st and Vine American Kitchen. If you can't tell, I really need to get out more. HA!
7.) Finally, what's your favorite part of working at OrthoCarolina?
There are 3 things that I like most about working at OC. I must be able to tell each of them because they are all so very important.
1. OC is a forward thinking company. We try to be ahead of the curve and make sure that we raise the bar for Quality Care, Technology, Research and patient care. That is something to be very proud of. I am excited when I get to tell people I work here.
2. The leaders are driving a movement to bring our "You.Improved" motto/slogan to life here at the company. They are very focused on our inward and outward culture through employee engagement and patient care. I can truly say that I know that their major goal is to make the lives of everyone who works here, practices here, gets care here and lives in our community better.
3.This is by far the most compassionate and giving place I have ever worked. Every single month we have volunteer opportunities and giving opportunities. Multiple years we have had school supply drives where we have supplied a whole school with the supplies they needed for the year. We do Christmas gifts for Children, the Ronald McDonald House, CareRing events and many more. We can also proudly see our Doctors and staff use their gifts globally to help people in other countries with Operation Walk. What most people (outside of OC) will not know is how much we come through for each other internally. When something happens to any employee a call will go out for others to help. I have never seen people jump to action and band together to help each other out like we do here at OC. Whether it is giving donations to a Go-Fund-Me page, gathering boxes of clothes or writing heart-felt messages, we build each other up.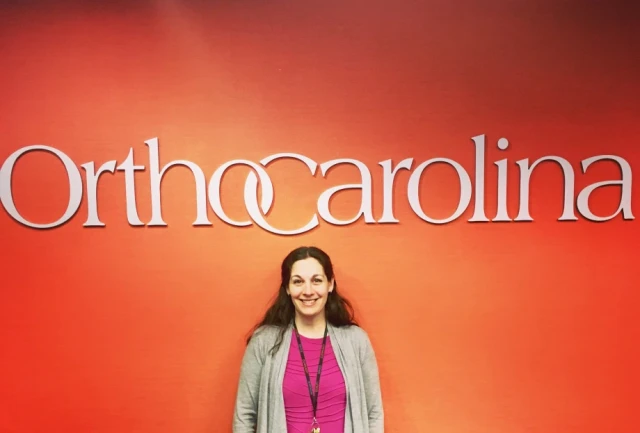 ---
Back