The Meghan Bradshaw Story
How does a perfectly healthy and active 28-year-old woman quickly change into a bionic woman in less than three years? For Meghan Bradshaw, this became her life. Growing up in New Jersey, Meghan had a happy and healthy upbringing and was a dancer and cheerleader before she attended college at UNC-Charlotte in the fall of 2012. After graduating in 2015, Meghan prepared to make the cross country move to Seattle, Washington to start a new job. However, the problems that came next, she never saw coming.
Meghan recalls it being "like a switch went off" in her body. She became overcome constantly by extreme fatigue, persistent ringing in her ears, and brain fog. Her life in an instant became completely debilitating. She started visiting as many doctors and specialists as she could, from her primary care to the emergency room and even sports medicine doctors, but no one had an answer. Her pain had moved from her knees to her ankles, hands, and shoulders and the only thing she was told to do was ice them and rest.
"It felt like I was in the body of an 85-year-old woman, but I was 23," Meghan states in a recent interview.
The "Diagnosis" That Changed Her Life
Meghan had recently moved to Nashville when her body completely collapsed in 2017. Her mother had to move out with her as she could barely get out of her bed to walk to her bathroom. While she was in Nashville, she visited a Rheumatoid Arthritis (RA) doctor and was finally diagnosed with RA. Meghan was started on prednisone and low-dose chemo drugs to try and suppress her immune system. Though this helped her symptoms to improve over the next two years, she still knew that something was not correct. She referred to it as "almost like being like a Band-Aid."
In 2019, Meghan finally got the real diagnosis that she had been needing to hear over the past few years. After visiting the Cleveland Clinic and having a CD57 test performed to see if there was a live disease present, the results came back positive for Lyme disease along with Babesia and Barytonesis.
The History of Lyme Disease
Lyme disease was originally discovered in the 1970s in Lyme, Connecticut when a group of children began having debilitating health issues after being bitten by a tick. Today, Lyme disease has over 500,000 new diagnoses each year. While it was a huge relief for her to find out that she had a diagnosis, what was to come were health concerns and surgeries that no one, especially in their 20s, should experience.
OrthoCarolina Positively Pivots Her Life
One of the most physically destructive parts of Lyme disease is the deterioration of joints. Every three to four months, Meghan goes in and has another joint replacement, and this is when she turned to OrthoCarolina. By May of 2022, Meghan had had seven surgeries to replace various joints. Dr. Durham Weeks III replaced her meniscus in October of 2017 before she had a bilateral hip replacement with Dr. John Masonis. Meghan referred to Dr. Weeks' PA Jeff Dabkowski as "such a light in all of this" as he helped figure out the best steps for each surgery.
After she woke up from her bilateral hip replacement surgery, she felt the best that she had felt in years. She was clearheaded and knew that they were onto something. While she was still in the hospital, they called in a Lyme specialist to help her determine the next steps of her diagnosis, however, much to her disappointment there was nothing the specialist could do since her diagnosis was at such a late stage. The misdiagnosis of RA worsened the progression of her Lyme disease as treatment had been continually put off. She was told she would need long-term IV antibiotics and had a central line put in her chest in which her parents had to administer.
This central line helped with her inflammation and helped to keep her clear-headed, however, her joints were still messed up, so she returned to OrthoCarolina. In 2020, she had both of her shoulders replaced by Dr. Shadley Schiffern and for the next, three to four months after that she went in to have another joint replacement. Her joints became a domino effect with one after another needed to be replaced. Dr. Glen Gaston helped to fix both of her hands as they got fixed in a fist due to the deteriorating cartilage from arthritis.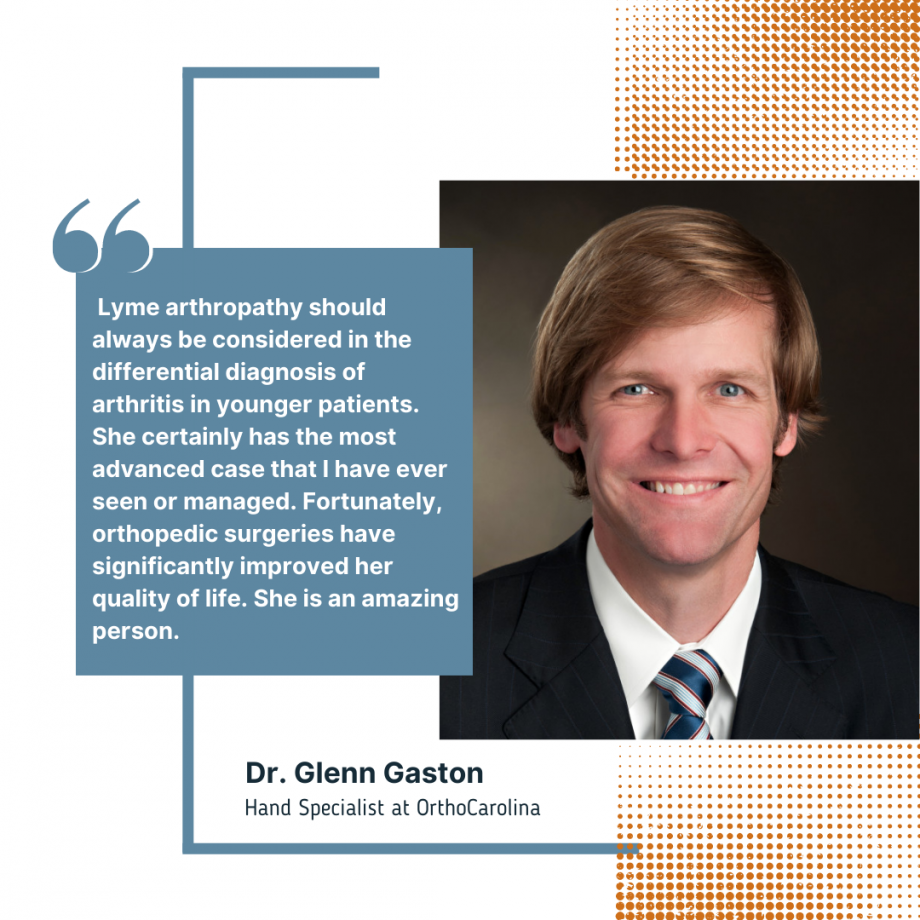 After all these surgeries, her joints feel amazing, and she is so thankful for all the OrthoCarolina staff and doctors for making this process so smooth. Meghan was lucky enough to have all her procedures done at the Pineville location, making her care very accessible, which other people do not have.
While Meghan's journey is long from over, she has continued to improve mentally and physically and feels immensely better thanks to her OrthoCarolina care. Within the next year, she will be breaking the record for the number of joint replacement surgeries she had at her age with 11 all in the past three years.
Giving Back as The Bionic Woman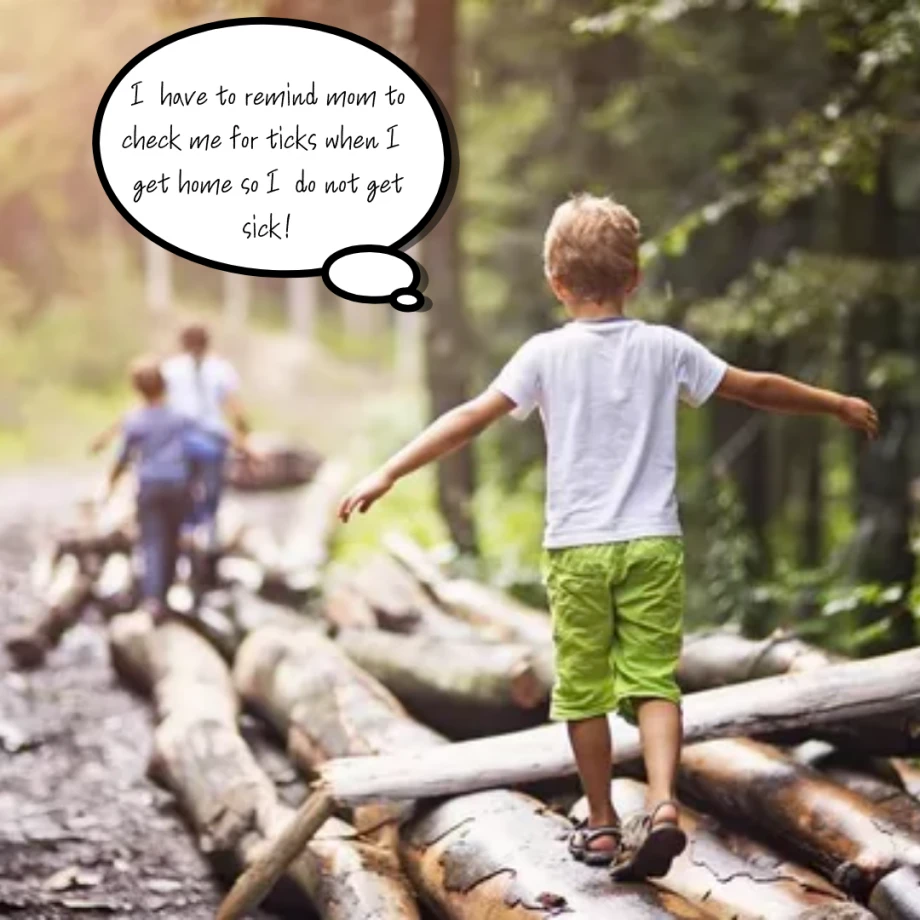 Not only has Meghan helped to draft reports on neurological and neuropsychological parts of tickborne diseases but has been a living donor for the national research interchange biobank by donating three of her joints to research, she has also been a key partner for LymeTV and the Tick Jedi Coalition. She is currently in graduate school at UNC-Chapel Hill getting her master's in Public Health to help others go through tough journeys, like hers. Throughout Meghan's journey, she has been an amazing advocate for federal workgroups trying to bring awareness and research on tickborne illness.
"This is a group of patients who have been marginalized for a long time because there is not a lot of investment in research"
All these partnerships offer tips for checking for ticks and keeping you and your family safe. This is especially relevant since Covid has encouraged everyone to get outside. Ticks can be as small as a poppy seed and are heading down south due to Climate change. Meghan wants to make a change in the tickborne illness community and preaches "If I can help one other person not go down the road I am in, then I did good."
Main takeaways
Lyme Disease can show up as arthritis – be aware of the additional symptoms (https://www.lymedisease.org/lyme-disease-symptom-checklist/)
It is ok to seek second opinions when you know something just isn't right
Education is a form of prevention, so bookmark this article and save the resources shared below.
Resources
Here are some helpful sources for learning more about tickborne Illness:
Comments
---
Back