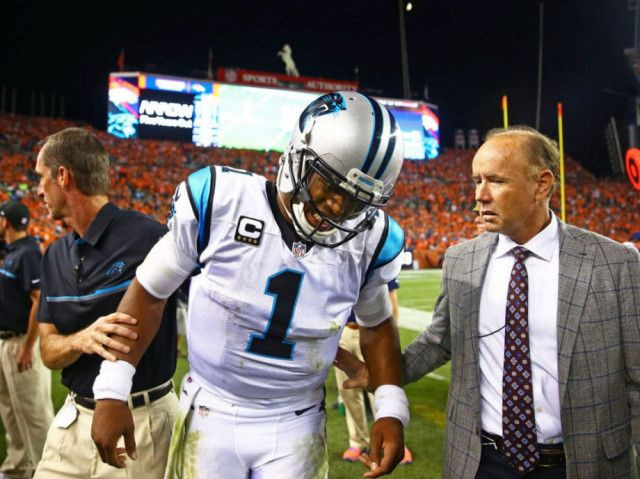 Injuries happen. Unfortunately, they are an all-too-common scenario in football. Despite the countless hours of dedicated training, it can take milliseconds for an injury to sideline a player, sometimes for the rest of the season. Given the size and speed of these athletes, it should be no surprise that football has the highest rate of injury of any other American sport.

Most football injuries occur in the knee. The three most common types of injury are the MCL sprain, the meniscus tear and the ACL tear. Luckily, sports medicine-trained orthopedic surgeons like those at the OrthoCarolina Sports Medicine Center have developed various techniques to help our players get back on the field as soon as possible. Here's a closer look at these three big injuries, how they are treated, and their potential impact to return-to-play.
---
THE MCL SPRAIN
The medial collateral ligament (MCL) is a strong ligament located on the "inside" portion of the knee. It is made up of two bands and connects the femur and tibia bones. The primary job of this ligament is to prevent side-to-side motion of the knee, along with the lateral collateral ligament and other structures. This is the most common knee injury in football players at the high school, collegiate and professional level, typically in offensive and defensive linemen. These injuries are graded from minor (grade I) to severe (grade III). Grades I and II injuries are typically treated non-surgically with physical therapy, activity modifications and sometimes bracing. Anti-inflammatories and icing can help with pain and swelling. Typical return-to-play occurs anywhere from several weeks to two months, whenever symptoms improve. Grade III injuries typically occur with other injuries, such as an ACL tear, and so treatment of these injuries varies.
---
THE MENISCUS TEAR
Almost everyone has a friend or relative that has had a "knee cleanout" because of a torn meniscus. These are common injuries in the general population and are also common in football players. The meniscus is a crescent-shaped piece of cartilage located between the tibia and femur bones. There are two crescents, one on the inside (medial) and one on the outside (lateral) parts of the joint. These injuries typically occur when the knee is flexed and twisted, which puts the greatest amount of stress on the meniscus. They can be relatively minor, causing discomfort and swelling, to relatively major, causing mechanical knee problems such as locking on instability. Treatment is based on symptoms but often includes surgery. Meniscus tears often occur with other knee injuries, so treatment must be tailored to the circumstances. Surgery is done by arthroscopy (a "scope"), where small tools are used through two small poke holes in front of the knee to trim away the damaged meniscus. Following surgery players can gradually return to play when symptoms improve, usually after three to four weeks.
---
THE ACL TEAR
Last but certainly not least, ACL tears occur often in both football players and other athletes. The most common major knee injury to occur in football is a rupture of the ACL (anterior cruciate ligament). The ACL is the most important structure preventing the tibia bone from moving too far forward of the femur bone. These ruptures are the result of both contact and non-contact injuries. Running backs and linebackers are the highest risk positions. When these injuries make the news, we know a player will be out for the season. That's because ACL tears are usually reconstructed with surgery and the rehab from these surgeries is lengthy. Return to play make take anywhere from six to nine months, sometimes up to a full year. Surgery itself involves reconstructing the ligament with another ligament either harvested from somewhere else in the body, from a cadaver donor or a combination of both. As mentioned these injuries often occur with other injuries, so treatments are tailored to the individual. When players do go back, a brace may be worn to help protect the new ACL. In some locations, bracing may be required for certain positions to help prevent ACL injuries. This practice remains controversial.
---
WHAT'S NEXT
- Panthers team physician Pat Connor has performed crucial surgeries. But one repair in his career stands out.
- Six things we learned about the NFL Combine from the Panthers' head team physician.
---
Sal Rondinelli, PA-C is a physician assistant with OrthoCarolina's Sports Medicine Center.
Comments
---
Back