With Dr. Pat Connor, OrthoCarolina Surgeon & Head Team Physician for the Carolina Panthers
The general public may know the NFL Scouting Combine for the public feats of each athlete's physicality, but it's not all about jump height and 40 meter run times. During this week's combine, OrthoCarolina's Dr. Pat Connor will evaluate hundreds of potential players orthopedically.
As a sports medicine-trained orthopedic surgeon, Dr. Connor sees everyday patients at OrthoCarolina, but he's also well known for his position as Head Team Physician for the Carolina Panthers. Heading into his twenty-third combine with the Panthers, Dr. Connor sat down for a podcast interview with the Riot Report.
Listen to the full podcast below and check out the six things we learned from Dr. Connor about the NFL Combine.

---
1. THE COMBINE WAS ACTUALLY STARTED BY PHYSICIANS
In the 1970s, New York Jets physicians began having players travel to see them for evaluation before the draft. Since players were already there to be evaluated medically and orthopedically, teams decided to begin evaluating them physically and the event which is today's NFL Scouting Combine was born. Dr. Connor calls the combine an "overwhelmingly comprehensive assessment of the players" that now even includes interviews as the team gets to know the players on a personal basis.
---
2. THE COMBINE INFORMS THE DRAFT
The entire purpose of the NFL Combine is for teams to gather information to prepare them for decision making in the NFL Draft. After the combine, Dr. Connor sits down with the Panthers' head coach, general manager, college scouts, athletic trainers and other physicians to go through each player.
There are questions for Dr. Connor along the way like: "Tell me about this knee. What's the longevity, what's the history, what might happen?" Teams include that information into the big equation where they look at all a player's facets.
Come draft day, if the Panthers are close to their next pick and between multiple players, Dr. Connor is there to weigh in specifically on the medical components.
---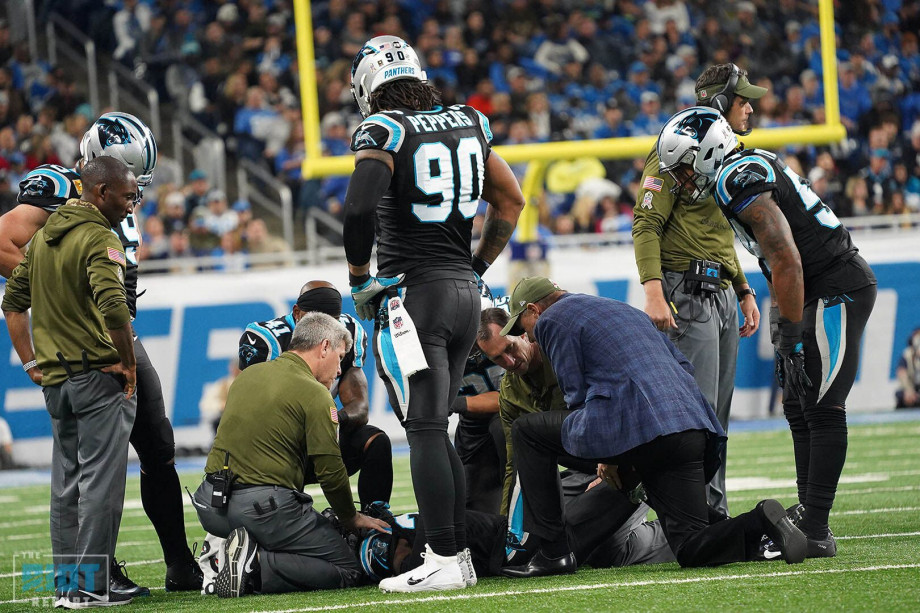 3. AT THE COMBINE, PHYSICIANS ARE EVALUATING…EVERYTHING
During the combine, team physicians will evaluate every player – about 350 per year. Dr. Connor reviews data from athletes' college playing days, a history of injuries and how they were resolved and he collects new information about joints, concussions, knee problems, etc.
"Sometimes they're laying on the table and their arm is getting pulled one way and their knee is getting pulled the other," Dr. Connor says. "It's very comprehensive."
If physicians run across any issues or have questions they order MRIs. Of last year's nearly 350 evaluated players, over 1,000 MRIs were taken.
---
4. PLAYERS ARE EVALUATED BY FIVE TEAMS AT A TIME
Five randomly chosen NFL teams will group together to evaluate players in the same room. Within that room are separate areas to evaluate two athletes at a time. Dr. Connor positions himself in one area with fellow OrthoCarolina surgeon and Panthers Assistant Team Physician Dr. Kenneth D. Weeks in the other area. Drs. Connor and Weeks work closely together, bringing one another in to make determinations if any questions arise. At the end of the combine, every team has evaluated every player.
---
5. PLAYERS PROBABLY AREN'T GAMING THE SYSTEM
A frequently asked question Dr. Connor receives is whether players aren't completely forthright about their medical history to downplay any potential issues. And sure, when an MRI comes back looking worse than anticipated, the immediate thought is that the player is trying to hide something but that's not always the case.
Dr. Connor says these potential NFL players are such good athletes and so finely tuned that they may not experience all the symptoms or their performance just doesn't indicate the extensiveness of an issue.
"Sometimes it's just a reflection of how good of athletes these guys are and how much they can put up with," Dr. Connor says.
---
6. TECHNOLOGY AND PLAYER HEALTH HAS IMPROVED
Over his years of experience at NFL Combines, Dr. Connor has seen positive changes and medical advances along the way. Physicians are able to see more MRIs than in years past and MRI technology results in a much better product.
At the combine, physicians meet as a group to discuss the best ways to care for players. What they've noticed over the years is that the health of the players coming from all different parts of the country is better than it used to be. Dr. Connor sees this as a reflection of the education, experience and dedication of sports medicine doctors across the country.
"Players who had their ACLs done 20 years ago, those ACLs are better done now," Dr. Connor said. "It's more consistent and the results are better and that's reflected in the players' health. We used to say an ACL injury was a career-ender and now we say it's a season-ender."
Not only are players entering the NFL healthier, but Connor says the league has gone through extraordinary measures to make it as safe as possible given the inherent nature of the game and trying to balance that with player health and safety. There has been a myriad of research and development initiatives done around conditions from concussions and helmet safety to knee injuries and turf toes.
---
WHAT'S NEXT
- Listen to Dr. Connor's full interview on The Riot Report.
- Go behind-the-scenes at Panthers training camp with Dr. Connor.
- Be treated by the same physicians who keep our highest-level athletes healthy. Learn about OrthoCarolina locations near you or call 704.323.2778 to make an appointment today.

---
Back