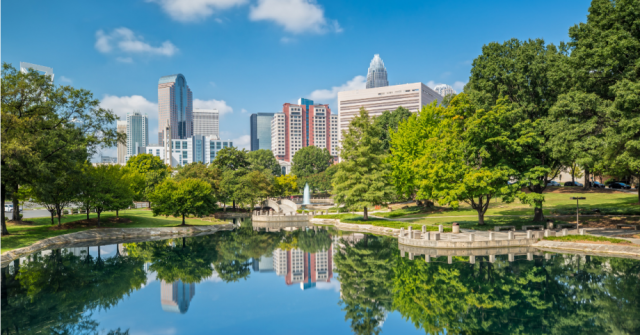 Having the right scenery is important for having a good run. It can fuel you to want to explore more and can generally put you in a better mood. We talked to some of Charlotte's top runners about what spots in the Queen City they frequent.

---
"During the summer months to get out of the heat or just get off the pavement, Backyard Trails in SouthPark is absolutely my favorite place to run. When I'm alone, I tend to run through the SouthPark, Myers Park and Eastover neighborhoods close to home. I have been running for 8+ years with the same running crew, a group that originally grew out of the Run For Your Life training programs. Our group has since grown and named itself "Trails and Beers," because well, we like to run the trails and meet on weeknights at breweries for organized group runs all over Charlotte."
---
"My favorite place to run is through Uptown, looping through Romare Bearden Park, the Knights Stadium and Bank of America Stadium!"
---
"I like running the Booty Loop"
---
"I love trying new routes but in the same sense, I'm a sucker for routine when it comes to race-specific training. For those that live in the Huntersville and Cornelius area, I highly recommend the 1.8m Reese Blvd/.5m Pond loops. There is plenty of shade, and a huge running and biking lane. When work takes me into Uptown, Little Sugar Creek Greenway is a good bet. It's another great location with plenty of shade and many fellow active "feeters" to wave to in route. I usually park by the Metropolitan and run the length to Freedom Park and back. Charlotte has so many great routes I'm looking forward to exploring in the near future."
---
"I enjoy running through Freedom Park."
---
"You can usually find me running along the Light Rail, Freedom Park, East Blvd, and the greenways!"
---
Ready to check out these spots? Use this map to find your new running oasis.
What's Next:
- Get some training tips to get the most out of your run
- Download a running playlist for extra motivation
---
Back