You can find him at nearly every race, hauling a large backpack full of supplies, walking like he's on a mission. Over the course of a race he'll walk a total of seven or eight miles. He's there because he knows the sport inside and out. He can offer up NASCAR history, facts and trivia on demand. But he's not who you might think.
Known throughout NASCAR as "Dr. Bill", Bill Heisel, PA-C leads the OrthoCarolina Motorsports program. Almost every weekend he boards a plane with NASCAR teams and heads of to one of 23 tracks across the country on the NASCAR circuit. At the track he and his team of physical therapists and athletic trainers provide care for NASCAR teams, their families and race officials who are part of NASCAR. Between races, they spend time at individual race shops mitigating injuries and working with pit coaches to keep athletes in top condition.
Running from February to November, NASCAR has the longest season in professional sports and can be grueling in particular for pit crew. As the sport has developed, athleticism and human performance have skyrocketed in importance. Pit crew train just like team members of any other professional sports team, and with less than a week between races, they have little time to rehab before they travel again. Constant air travel can also trigger issues such as back pain.
Most of Bill's job at the race track happens before the drop of the green flag. He shared a few insights into how he works:
---
GIVE US THE OVERALL SCOPE OF WHAT YOU DO FOR NASCAR
Bill: We have around six motorsports staff. Some provide care in the race shops during the week and some travel to track with teams on weekends. The overall scope of care ranges from preventative medicine to rehabilitation to minor and major injuries and surgeries.
---
HOW DID ORTHOCAROLINA GET INVOLVED WITH MOTORSPORTS?
Bill: Years ago we'd see pit crew guys come into the clinic with injuries they didn't want their teams to know about. Like any pro sport, they didn't want to lose their starting spot. I considered the idea that you could take the sports medicine principles you apply to stick-and-ball sports and with a few tweaks, make them work for the racing industry. Joe Gibbs and Joe Gibbs Racing gave me an opportunity to start that and it exploded from there. OrthoCarolina Motorsports is now the medical provider to most NASCAR teams, including Hendrick Motorsports, Stewart Haas Racing, Joe Gibbs Racing, Roush Fenway and Richard Petty Motorsports.
---
WHAT IS YOUR DAY LIKE AT THE TRACK?
Bill: I get to the track when the garage opens, get into rounding mode and walk out to pit road to see where the pit boxes are for the teams we take care of. I walk up and down pit road and check in on with anyone we've treated or nagging injuries we're following. A lot of pit crew like to be stretched out before the race so we make sure that happens. Pit crew members don't want to have to come out of the race for any reason. Around the time of the drivers' meeting, I check on drivers we are seeing for various issues. Sometimes communication is just a simple thumbs up or down as they walk into the drivers' meeting.
---
ARE OTHER MEDICAL STAFF AT THE NASCAR TRACK?
Bill: We work closely with the NASCAR medical liaisons, a group of nurses who travel with the circuit. They're familiar faces to all the drivers.
---
FROM YOUR PERSPECTIVE, HOW HAS NASCAR CHANGED OVER THE YEARS WHEN IT COMES TO PIT STOPS?
Bill: Back in the earlier days of NASCAR guys working in the race shop were the same ones pitting cars on the weekend. From a historical perspective, Hendrick Motorsports was one of the first teams to have subspecialized pit crews. The Wood Brothers developed the modern-day pit stop with air guns and two pump jacks. Stop times back then were 20 seconds but as cars got faster and technology improved pit crews had to keep up with that evolution. Pit stops now are well under 15 seconds. Some are knocking out 9.8 second pit stops with four tires and fuel in one stop.
---
FASTER PIT STOPS MEAN FASTER PIT CREWS, RIGHT?
Bill: Absolutely. These guys and sometimes gals are athletes. They train during the week and stay in great shape and many are former college and pro athletes. Teams go out and actively recruit at the college level for athletes who may not be going into the NFL or into MLB for whatever reason but still want to continue a pro athlete career. Some pit crew are NFL athletes who want to extend their career in another sport. Many come from baseball and football. You can almost predict what position they're going to be based on what sport they come from. Changers were often football wide receivers or cornerbacks because they're really fast and have great hand/eye coordination. Jack men were often linebackers. Gasmen were often defensive ends as they're quick but can carry the load.
---
ARE YOU DEVELOPING WORKOUT AND WELLNESS PLANS FOR THE TEAMS?
Bill: Most teams have specific strength and conditioning coaches that manage the workout programs and specific pit crew coaches that manage practice and race-day stops. We work closely with those staff to make sure everything we do aligns with what they do to have the best outcome for these athletes.
---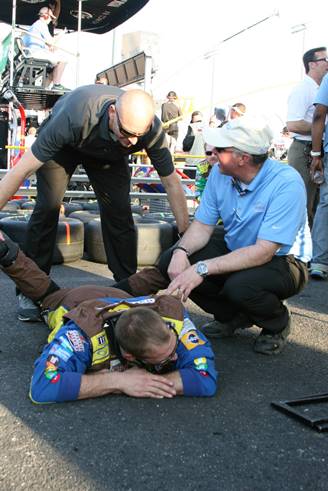 ---
YOU'VE SEEN TRENDS IN INJURED PIT CREW BASED ON POSITION, RIGHT?
Bill: About 10 years ago, carriers and changers had a high rate of tennis elbow so we started them on a yearlong program to track it. We work with their trainers on ways to reduce those instances and prevent it. With most sports we know what injuries are out there because a lot is written on it. In NASCAR you don't have that; in fact, very little research about NASCAR injury trends has ever been done. Dr. Glenn Gaston [Chief Hand Surgeon, OrthoCarolina] and I tracked several injuries based on position over 10 years. Some things we weren't surprised by, but
some things we were.
One issue we started noticing was a right hip impingement problem in tire changers who'd been in that position seven to 10 years. We studied that to understand reasons why it was occurring. As the car comes into the pit box the rear changer comes off the wall and is physically chasing the car. As they hit the ground on their knees to take off five lug nuts and put five more on, they are rocking on their right hip over and over again. They are developing a consistent impingement pattern that after 10 years becomes pathologic and can lead to early arthritis issues.
Femoral acetabular impingement injuries have also increased among rear tire changers and hook of hamate fractures in the palm of the hand have increased among changers and carriers.
---
WHAT WILL YOU DO WITH THIS MEDICAL INFORMATION?
Bill: OrthoCarolina has created a database looking at NASCAR injuries for research purposes and we work closely with the NASCAR Research & Development Center on safety and other key initiatives.
With teams, we're working from a preventative standpoint to see how we can fix these issues. With the hip impingement issue, for example, limiting repetitions is a big part of it but also something as simple as going the opposite way around the car in almost a reverse pit stop scenario, using muscles but in another direction to balance things out.
---
HOW DO YOU MAKE SURE A PIT CREW MEMBER DEALING WITH A NAGGING INJURY DOESN'T HAVE THAT FLARE UP DURING A RACE?
Bill: We monitor it closely but we also do a lot of position-specific bracing. A brace is molded just to that body part they will be using for their job. For example, a gasman will have his brace molded to fit exactly the way it will when he's gripping a gas can.
---
HOW CAN A RACE IMPACT DRIVERS' BODIES?
Bill: If you're a driver you're dealing with G-forces, fighting the weight of that car for 500-600 miles. The vibration in the car is so intense that for drivers it often feels like their hands are going numb. You'll see drivers take their hands off the wheel and shake them. Over time this can lead to high rates of carpal tunnel syndrome. We've also seen compression injuries to the nerves of some of the fingers on the hands with drivers because of their hand position on the wheel.
Something else many people don't realize is that it can get up to 150 degrees inside the car on a summer day. Drivers get significantly dehydrated and may lose up to nine pounds in a race. We have to actively think about fluids and hydration.
---
DO SURGERIES TAKE PLACE DURING THE SEASON?
Bill: Dozens of surgeries happen every year for NASCAR athletes, both pit crew and drivers. We used to do around 40+ surgeries at the end of the season, but trends have changed. Many are now getting surgery earlier in the season so they can be available for the playoffs. Last year we did about 60 surgeries total throughout the season.
---
WHAT ABOUT NON-ORTHOPEDIC ISSUES?
Bill: We work very closely not only with the doctors not only at OrthoCarolina but also other specialty medical practices. For example we'll send NASCAR folks to Sanger Heart & Vascular Institute for cardiac issues, Carolina Neurosurgery & Spine for things like concussions and traumatic brain injuries and Atrium Health - Carolinas Medical Center General Surgery for hernia repairs. It's a communitywide effort using subspecialists from all over.
---
William "Bill" Heisel, PA-C is Director of Motorsports for OrthoCarolina and a physician assistant (PA). He has spent over thirty years in medicine including more than 11 years in Motorsports medicine and has an athletic training background prior to becoming a PA.
Comments
---
Back