Nordic walking, or pole walking, is a low-impact, full-body exercise originally developed to help cross-country skiing athletes train in the offseason. While Nordic walking may be unfamiliar to some, more than 10 million athletes and non-athletes across the globe practice the sport today.
Like many other Finland natives, Arja Owens, PTA, is a natural at Nordic walking. Here, she walks us through the basic techniques, benefits and history of Nordic walking. All you need to get started is a pair of comfortable shoes and Nordic walking poles.
---
What do you need to get started?
Nordic walking is appropriate for people of all ages and fitness levels. More accommodating than higher-impact cardiovascular exercises, Nordic walking is an effective alternative for people who have joint or balance issues, lack energy or are overweight. Athletes can use the poles with hill bounding and longer distances to increase their anaerobic interval training.
To begin Nordic walking, all you need are comfortable, supportive athletic shoes and Nordic walking poles.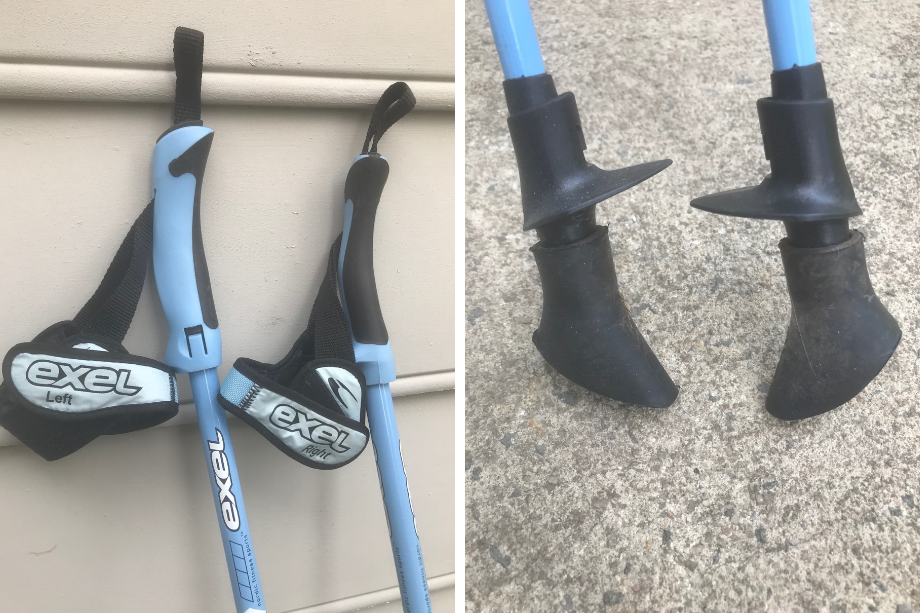 When choosing your poles, keep these points in mind:
The appropriate pole length is 0.68 x your height in centimeters.
Look for poles that are comprised of lightweight aluminum or carbon fiber.
Nordic walking poles are either fixed or adjustable. Fixed poles tend to feel more stable, but the convenience of adjustable poles can be a plus.
The walking poles can be tipped in either rubber or metal. Rubber boots are best for walking on the sidewalk or asphalt. Metal tips, which are angled to prevent slipping, are better for walking on trails.
---
Technique and benefits
When you first start walking, you may want to drag the poles alongside you until you find your rhythm. Lean forward slightly, and follow a normal walking gait, with opposite arms and legs in motion. Increase the swinging motion of your arms.
The poles will naturally move forward and plant themselves alongside your feet as your arms swing. When you feel the pole tip plant into the ground, gently grip the pole handle and propel yourself forward.
Your forward arm will be slightly flexed, and the pole tip should be level with your opposite heel. The pole tips should not come in front of your body.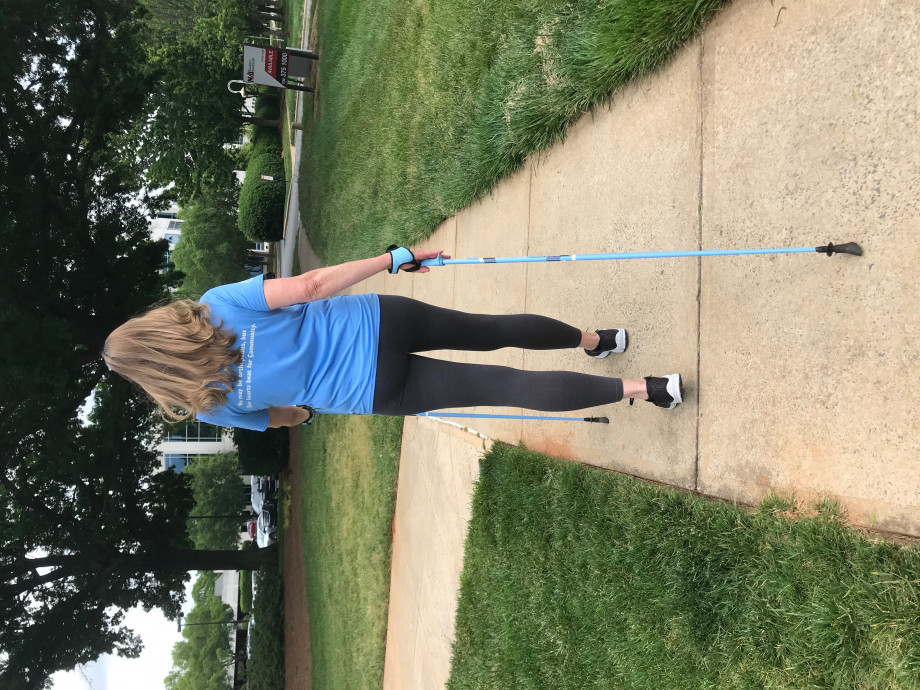 The safe and effective Nordic walking technique includes:
Feet forward
Heel strike, toe-off
Keep your abdominal muscles tight and lean slightly forward
Look straight ahead and keep your shoulders down and relaxed
Upper body slightly rotates as you walk
Keep a light grip and open your hand at the end of the stride
---
Because of its multifaceted technique, Nordic walking improves aerobic conditioning, strengthens overall musculature, decreases strain on the joints and promotes coordination and endurance.
Combining strength and cardiovascular exercise, Nordic walking burns up to 40 percent more calories than regular walking, on average. Using 90 percent of the body's muscles, pole walking activates the abdominal, back, neck, shoulder and forearm muscles in addition to the lower body.
Since Nordic walking distributes the workout throughout the entire body, it decreases strain on any one area and reduces the chance of injury. Nordic walking also develops core stability and strength to support good posture, which in turn can alleviate neck and back pain. The load on joints, muscles and tendons is decreased, reducing the chance of injury. Moreover, Nordic walking is a great method to exercise outdoors and enjoy your surroundings.
---
A brief history
Nordic walking, originally called sauvakavely, was developed in Finland. For decades throughout the 1900s, athletes trained for winter cross-country skiing by walking with only the poles during the summer months. Several individuals are credited with helping Nordic walking to grow from a conditioning method to a globally recognized sport.
In the 1960s, a Finnish physical education teacher named Leena Jaaskelainen began incorporating the walking poles into her students' PE lessons. She continued to promote the exercise by using the poles publicly for the first time at the 1987 Finlandia Walk-in Tampere, Finland.
In the mid-1990s, longtime director of the Finnish Outdoor Association (Suomen Latu) Tuomo Jantunen worked to develop special poles for his competitive skiers. Marko Kantaneva, a renowned Finnish sports instructor and professional coach, taught pole walking at the Sports Institute at Vierumaki, Finland and authored the first educational programs for the exercise.
When the Finnish Outdoor Association celebrated its 60th anniversary in 1997, the celebration program included an insert about pole walking. Once Helsingin Sanomat, one of the largest newspapers in the Nordic region, recognized Nordic pole walking, the new sport got its start with a bang.
In 1998, 160,000 people practiced Nordic walking regularly, and more than 500,000 people had tried it. The sport has grown immensely since then. It is practiced by 10 million people all over the world today.
---
Arja Owens, PTA, is a physical therapist assistant with OrthoCarolina's South Park Physical & Hand Therapy office.
---
Back