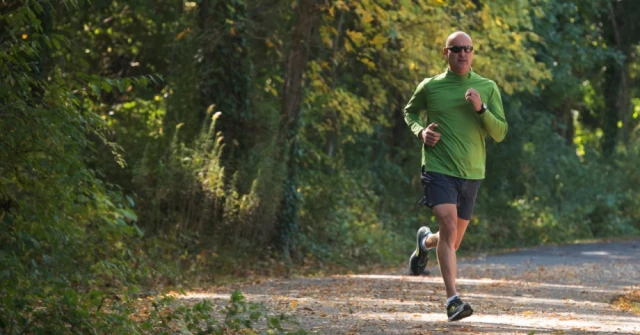 This marks a tale of two journeys, each defined by inspiration and triumph. Like all great odysseys, it involves unlikely heroes: an anesthesiologist and endurance athlete who overcame harrowing injuries, the OrthoCarolina surgeons who brought him farther than anyone thought he could go and the U.S. Navy SEALs who united them all.
---
"I'VE ALWAYS BEEN DRAWN TO A LIFE OF SERVICE"
We begin with Dr. Glenn Paige, who for nearly two decades worked as an anesthesiologist in Hickory, N.C. While medicine can demand feats of stamina, Glenn's career has been matched by countless marathons and triathlons, two 140.6-mile Ironman® competitions and a staunch commitment to the Navy SEAL Foundation. If we include his most recent endeavor, skydiving, Glenn could be likened to a modern-day Superman.
Born in New Orleans, Glenn completed his medical degree at Louisiana State University and residency at the University of Florida in Gainesville, where he encountered his future wife and fellow anesthesiologist, Dr. Michelle Brown. He laughs, "When we first met, we were like oil and water. But we're both competitive, so we bonded over softball." In 1995, after completing his first marathon, Glenn proposed to Michelle on the spot. They married in 1996, and after a few years working in Sarasota, the pair visited Hickory for a wedding and found their new home.
Both athletes and avid runners, Glenn and Michelle have traveled the United States for races but perhaps none so consequential as St. Anthony's Triathlon in St. Petersburg, Fla. At the race in 2010, Glenn was introduced to one of Michelle's grade-school classmates, Rory O'Connor, a former U.S. Navy SEAL. Rory was organizing a budding athletic event, the Tampa Bay Frogman Swim, which would invite 175 participants to swim 3.1 miles across Tampa Bay, benefiting the Navy SEAL Foundation. One of the Foundation's primary fundraisers, the Frogman Swim generates awareness and resources to improve the lives of the Naval Special Warfare and their families. Rory asked Glenn if he'd be interested in getting involved, and the decision would literally change his life.
The next two years, Glenn participated as an advisor for the Frogman Swim and in 2013, he swam the Bay for the first time, raising over $10,000. "My dad was a U.S. Navy commander, retiring after 21 years," Glenn says. "I've always been drawn to a life of service, and this was a way to honor him as well." Each year, the Frogman Swim begins with a roll call of the Navy SEALs whom have fallen since September 11, 2001, a solemn reminder of why the swimmers brave the 50-65°F open water. Swimmer/kayaker teams enter the Bay together, each honoring a fallen SEAL. Transformed by the experience, Glenn made the annual Swim an indelible part of his life.
---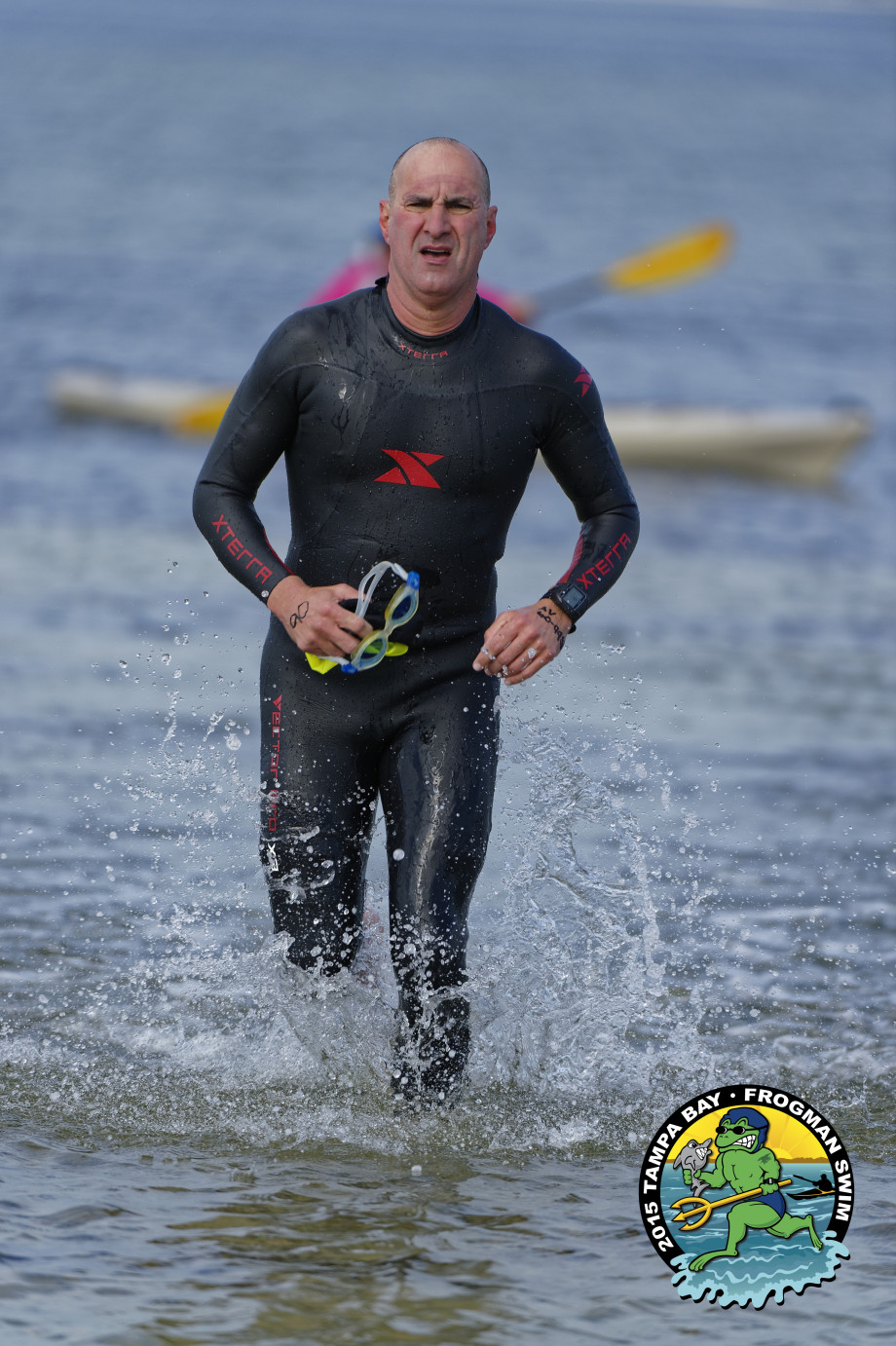 ---
"HOW AM I GOING TO BE READY?"
On April 12, 2015, fresh from January's Tampa Bay Swim, Glenn was cycling while training for the Boston Marathon, where he would guide close friend Scott Rigsby, whom he originally met at St. Anthony's Triathlon in 2008. Having fallen from a truck at age 18, Scott suffered a traumatic brain injury and lost both legs. He not only recovered from his injuries but emerged as an ardent runner, triathlete, and the first double-amputee to complete a full Ironman Triathlon®, inspiring Glenn with every step. It was on this day that Glenn's path would intersect that of OrthoCarolina.
"It was a beautiful day for a ride, just eight days before the Marathon," Glenn recalls. "A friend and I were cruising downhill going 25 mph when my front tire caught gravel on the side of the road. When I tried to correct, I hit a rut and flipped over the bike." Immediately, he noticed he had crushed his left hand and dislocated his right shoulder. Medical training kicked in, and he pulled his fingers into place, removed his wedding band to avoid it being cut off, and pushed his shoulder back into position. Before even calling his wife, he notified the emergency room at the medical center where he worked.
Dr. Mark McGinnis, an OrthoCarolina hand surgeon in Hickory, was on call and operated on Glenn that evening, using three titanium plates and 15 screws to stabilize multiple broken hand bones. "I had known Glenn for years through work at the hospital," Dr. McGinnis begins, "and knew he was a runner. He did much better than most people given the extent of his injury. People who are motivated tend to recover more quickly, and Glenn was very motivated to get better."
Instead of general anesthesia, Glenn requested a regional block, which leads to faster recovery. He grimaces, "The hardest part was being awake and laying there with an excruciating shoulder. The pain from that was far worse than hand surgery." Unfortunately, a broken hand was the least of Glenn's problems. Although he had successfully reduced his shoulder dislocation, X-rays revealed the shoulder socket (glenoid) was fractured and essentially split in half. Glenn said all he thought was, "How am I going to be ready for the Boston Marathon and next year's Frogman Swim?"
---
"I KNEW I WAS IN GOOD HANDS"
During residency, Glenn had torn his rotator cuff playing softball, leaving scar tissue that further complicated the acute injury. Concerned about the extent of damage, both Dr. McGinnis and a colleague orthopedic surgeon, Dr. Jeremy Johnson, recommended the OrthoCarolina Sports Medicine Center in Charlotte and specifically, Dr. Patrick Connor, a specialist in complex shoulder injuries. Two days later, Glenn, his mom, and Michelle made the trip.
"I didn't know Glenn before we met," Dr. Connor said. "I told him, 'I know you're a high-functioning guy, but there's a good chance you won't be able to swim again.'" Glenn explained he was injured days before he planned to run the Boston Marathon with a double-amputee and needed to swim for the Navy SEAL Foundation in January. At that point, Dr. Connor was determined to find a balance between the severity of Glenn's fracture and his goals. "For this type of injury," he told Glenn, "a good result is being able to raise the arm above 90 degrees and return to activities of daily living with little to no pain. We can stabilize your shoulder, fix your fractured glenoid and prescribe physical therapy, but you can't use your arm for three months. And, I'm sorry to say, you won't be able to run the Boston Marathon in five days."
Despite the setback, Glenn was all in. "I didn't know Dr. Connor, either, but when I saw he was the head team physician for the Carolina Panthers, I knew I was in good hands. He made us feel like he had all day to spend with us. My mom asked about 100 questions, and he was so patient." Three hours of surgery later, it was time for the biggest hurdle. Therapy.

---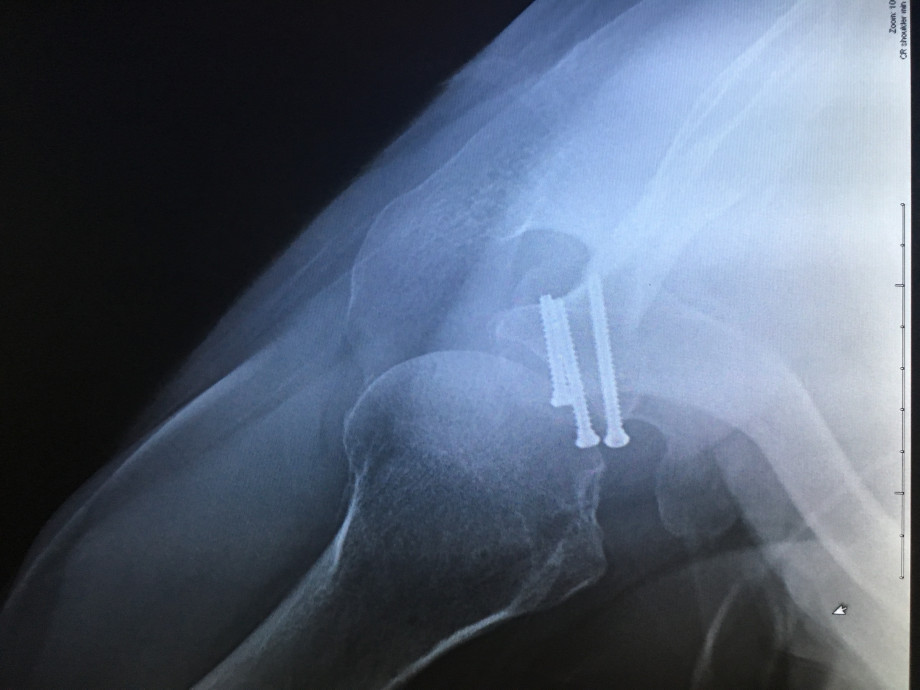 ---
"DON'T TELL ME THE MINIMUM I CAN DO. TELL ME THE MAXIMUM I CAN DO."
Often, doctors can be reluctant patients. Glenn proved the exception. On Monday, just three days after surgery, he started hand rehabilitation with OrthoCarolina occupational therapist Meredith Bumgarner in Hickory. Within a week, he was back to work, supervising the anesthesia team in the operating room plus meeting Meredith three times weekly for the next month.
"Glenn's healing was amazing," Meredith says. "Usually, we see a patient for six to eight weeks, but we saw him only four weeks. Then he continued strengthening and fine motor coordination on his own." She adds, "Glenn's a great guy to work with. There's pain with therapy. But that's how you get better—working through the pain."
Glenn embraces that philosophy. "Don't tell me the minimum I can do. Tell me the maximum I can do."
As soon as X-rays verified Glenn's glenoid fracture was healing properly, Dr. Connor prescribed therapy, saying, "If you can handle the pain, go for it." Ready to move forward, Glenn sought Todd Bohemier, PT of OrthoCarolina.
"His injury was so bad, we couldn't even start working with him for eight weeks," Todd begins. "By that time, we had to teach his muscles to work again. At first, therapy was hands-on, and then we moved to strengthening, modifying exercises so we wouldn't disrupt the healing process. That's what we do in PT. We customize therapy for each patient's goals."
Todd continues, "People take for granted how often they use their shoulders, just for daily activities. Glenn's injury was so grueling, I wondered if he'd ever return to swimming. In fact, a glenoid fracture often becomes a permanent disability. But Glenn wanted to succeed and return to the highest level, so he had a wonderful outcome. It's fun to work with people who want to get better. He was a great motivator for other patients around here."
Glenn beams upon hearing the compliment. "One day Todd was working on me, and it hurt so badly, I had tears in my eyes. An older woman beside me yelled, 'Stop hurting that boy.' And I told her, 'Ma'am, I'm here for 40 minutes, and if I'm not crying, I'm not getting my money's worth.'" Ironically, Glenn was the anesthesiologist assigned when that same patient needed knee manipulation weeks later. He reminded her, "Ma'am, you don't remember me, do you? I was the guy next to you in therapy, screaming in pain. The only reason I'm here doing what I do is I let those guys do what's needed to make me better. And the reason you're here is you didn't let them do that to you.' And she said, 'Wow, I never thought of it that way.'"

In all, Glenn completed nine months of therapy and officially was released in February 2016, just after the Tampa Bay Frogman Swim had been cancelled due to inclement weather. "I can't say enough about OrthoCarolina's surgeons, nurses and therapists," he says. "I had two different injuries, two different surgeons in two different cities, and they accommodated my schedule to make it easier to keep working in anesthesia. As busy as OrthoCarolina can be, I never felt rushed, and they answered every question. I've heard other patients say this, but it's true. 'They treated me like I was the only patient they had.'"
---
THE MAN WHO "NEVER MET A STRANGER"
After two successful surgeries and an impressive recovery, Glenn was primed for competition, leading to the second half of our story. Cancellation of the 2016 Tampa Bay Frogman Swim disappointed him, particularly since he had trained so diligently to return to the event. However, it gave Glenn another year to condition for the 2017 Swim. That year, he would be swimming for Navy SEAL Danny Dietz, killed in Operation Red Wings in Afghanistan on June 28, 2005. Part of an elite team of SEALs and subject of the film, Lone Survivor, Danny and three members of his team were killed during the mission, along with 16 other men aboard a helicopter that crashed during the rescue. It signified the worst single-day loss of the Naval Special Warfare until 22 members of SEAL Team 6 were killed when Extortion 17 was shot down in Afghanistan on August 6, 2011.
For his return, Glenn asked pal Hunt Broyhill to be his accompanying kayaker. Hunt, whose grandfather started his family's namesake furniture business, shares both military and social connections with Glenn. "My dad served in the Army during WWII," Hunt says, "and I have a friend who's a Navy SEAL. I played tennis with Glenn, but more recently, we became friends. When he asked me to be his kayaker for the Frogman Swim, I said, 'I'd love to.'" A proficient cyclist, he adds, "I had kayaked in my youth, but it had been years since I tackled the sport. Guess that showed because I led him off course!"
Easing Hunt's burden, Glenn says, "My goggles were new, and I couldn't see the last buoy along the route. So, I swam an extra 20 minutes and had to return against the tide. It was like swimming on a treadmill. But that's the farthest I ever swam, and I knew I had completely come back from my injury." His goal was to raise $15,000 for the event, and he raised almost $20,000. Elated with the results, Glenn was overwhelmed when Cindy Dietz-Marsh, Danny's mother, presented him with Danny's dog tag bearing his fingerprint. "I bawled like a baby," he says. Later that year, Glenn visited Danny's burial site in Denver and left his Tampa Bay Swim challenge coin on Danny's grave.
Hunt remembers the Swim as one of his greatest experiences. "The entire weekend honors the Navy SEALs, their families, and all they've given up. They say we do so much for them, but it's really the other way around." Glenn agrees. "The SEALs have a true brotherhood and consider it an honor to die for a brother. It's our honor to represent them and all they give our country. When you sit and listen to the names of the fallen, it gives you chills. It's so important to never forget them, and each Friday, I wear a photo of the SEAL I swam for that year."
The 2017 Swim confirmed Glenn had fully healed and unexpectedly altered the course of his life. Since 2015, he had served as a Navy SEAL Foundation ambassador and a blue and gold officer for the United States Naval Academy. For the 2018 Swim, he upped the ante, forming Team Gratitude, a group of four swimmers including Hunt. Again, Glenn swam for Danny and his teammates lost in Operation Red Wings. In 2019, Glenn swam for U.S. Navy SEAL Neil C. Roberts, killed in Afghanistan on March 4, 2002, during Operation Anaconda at the Battle of Robert's Ridge. Over the past two years, Team Gratitude has raised nearly $250,000 for the Foundation.
Kurt Ott, director of the Tampa Bay Frogman Swim, lauds Glenn's devotion. "Glenn started out as a swimmer but with his enthusiasm, he became part of the Frogman Organizing Committee. As an official ambassador for the Navy SEAL Foundation, he's dedicated to promoting awareness of its mission. I wish we had 175 Glenn Paiges! He's awesome, and I can't say enough good things about him."
Glenn's quest also fostered a lasting friendship with Dr. Connor, equally committed to medicine, athletes and military veterans. "He's such a great guy," Glenn says. "His son is in the U.S. Marine Corps, and my best friend from grade school is a major general for the marines. Pat gets my passion for the military and Navy SEALs, and he understood why it was so important to be ready for the Tampa Bay Swim." Dr. Connor, too, has become involved with the Navy SEAL Foundation, including participating in fundraisers and trips with Glenn.
Recounting their recent excursions, Glenn says, "I've tried to take Pat skydiving twice, but both times the jumps were canceled due to cloud cover. The last time, his wife said, 'Two strikes, you're out.' I told him I might be the most costly patient he's ever treated!" He continues, "Pat's one of my best supporters and a terrific friend. He's also very connected with Gold Star families. I couldn't be more grateful to have him in my life."
---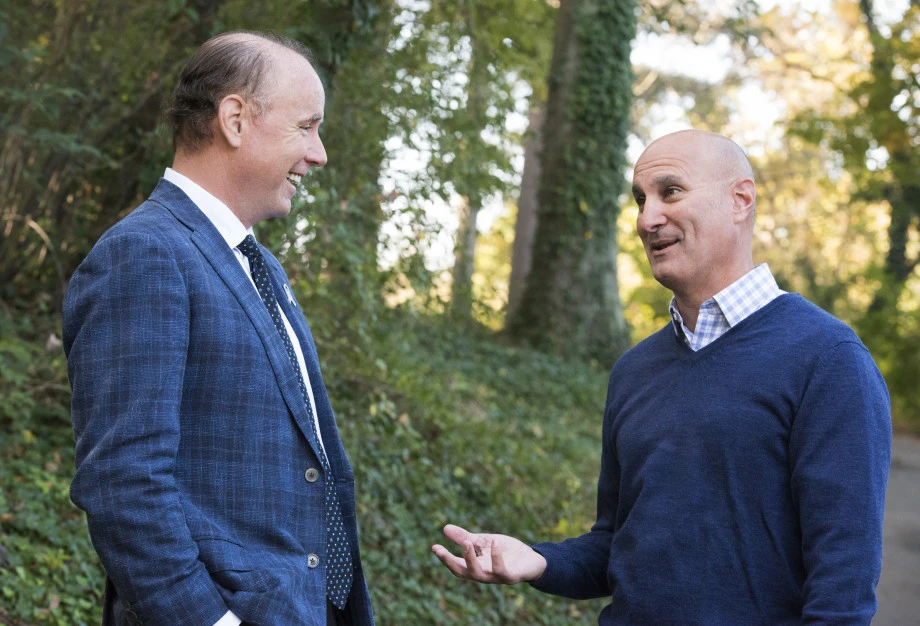 ---

Dr. Connor echoes the praise. "Glenn's sense of service is so infectious. You can't talk about him without talking about the Navy SEAL Foundation. It's as much a part of him as being a physician."
Dubbed by his wife as the man "who never met a stranger," Glenn has followed a path paved by fortuitous events and extraordinary individuals. Men like Harry Lockhead, a WWII veteran who served in the Pacific as one of the original UDT20 Frogmen, dubbed the "Naked Warriors" (logo drawn by none other than Walt Disney) and predecessors of the Navy SEALs. And, T. Fred Harvey, WWII U.S. Marine parachutist and author of Hell Yes, I'd Do It Again. Like Harry, Fred survived bullets and grenades, fighting at the Battle of Iwo Jima.
On a training race and later at the St. Anthony's triathlon, Glenn ran alongside Hines Ward, legendary wide receiver and Super Bowl MVP for the Pittsburgh Steelers, whom Glenn bested by one second. He has leapt from airplanes with Ricky Nelson, Navy SEAL and BUDS classmate of Danny Dietz. To lecture at one of his fundraisers in Charlotte, NC, Glenn welcomed retired Rear Admiral Scott Moore who directed the Navy SEALs mission that rescued Captain Richard Phillips and the crew of the Maersk Alabama. Glenn also forged a bond with Cedric King, a retired master sergeant, army ranger, bronze-star-recipient and prominent public speaker. After losing both legs on his second tour of Afghanistan, Cedric not only returned to marathoning but is now part of Team Gratitude and the Tampa Bay Swim.
On a cruise years ago, Glenn befriended Ray Coussins, a prodigy pianist who played with the Royal Philharmonic Orchestra in Scotland at age 9. Decades later, Ray accompanied legends like Frank Sinatra, Sammy Davis Jr., Dean Martin and Tony Bennett. As a favor to Glenn who serves on the board of Classroom Connections, Ray flew to Hickory in 2018 for a fundraiser supporting the non-profit organization, which distributes school supplies to counties in need. Most notably, Glenn has spent time among scores of military veterans and maintains contact with the families of SEALs he has swam for over the years. "I enjoy the friendships I've made far more than the competition," he says. "These are people who have changed me and my outlook on life."
---
"YOU CAN BE THE VICTIM OR THE VICTOR. I CHOOSE TO BE THE VICTOR."
With that thought, Glenn and Michelle retired from medicine in June 2018 and have transitioned to a philanthropic lifestyle. Since joining the Navy SEAL Foundation, Glenn has been involved in launching two new Frogman Swims in San Francisco and Boston, and he and Michelle continue to participate in triathlons and marathons nationwide. "Each time I run a marathon," he says, "I wear 26 names on my arm, one for each mile, the last being T. Fred Harvey. I also carry Danny's photo with me on every race, along with his dog tag."
Prioritizing time for the Navy SEAL Foundation and the Danny Dietz Memorial Fund, Glenn stays on the road constantly to raise money and recognition for the Navy SEALs. In 2018, Michelle started a travel blog to chronicle their adventures. Most recently, she posted videos of Glenn's interviews with Harry Lockhead; an interview with T. Fred Harvey and the director of the National Museum of the Pacific War in Fredericksburg, Texas; and a tour of the 9/11 Memorial with former New York City Police Commissioner Bernard Kerik.
At his most recent event in March 2019, a Navy SEAL Foundation benefit dinner in New York, Glenn was joined by veteran Navy SEALs and medal of honor-recipients, Thomas Norris who saved two downed pilots in Vietnam and Mike Thornton who saved Norris. Glenn and Michelle also met keynote speaker General James Mattis, acclaimed vocalist and U.S. Navy veteran Steven Powell, and Rear Admiral Apakorn Yuukongkaew, who in 2018 led the extrication of 12 soccer players and their coach from the Tham Luang cave in Thailand.
Yet amidst the famous names and posh events, Glenn keeps things in perspective. "My life, what I've accomplished, isn't heroic. What the SEALs and the military do every day, what they sacrifice—that's heroic. I'm just lucky to honor and get to know them. These are opportunities I never imagined. Many of them fell into my lap, but you also have to put yourself out there. You can be the victim or the victor. I choose to be the victor." And to the victor goes the spoils.
---
WHAT'S NEXT
- Not only did Dr. Patrick Connor care for Glenn, but he is also the Head Team Physician for the Carolina Panthers. Here are six things we learned from Dr. Connor about the NFL Combine.
- Receive the same world-class care - find an OrthoCarolina physician or office near you.

Comments
---
Back