Physical activity is essential for us to live optimally healthy lives. In particular, as we age, inactivity can result in bone loss. By staying active, stronger muscle leads to a stronger bone. Exercise can also help reduce body fat, improve mood and energy, help ward off depression and anxiety, and better regulate the circulatory system.
National Women's Health and Fitness Day, held the last week in September, is an effort to bring attention to the importance of regular physical activity and health awareness for women. National events nationwide encourage women to take control of their health, learn the facts they need to make smart health choices, and to make time for exercise. For women, it can help keep with many health and weight issues, as well as osteoporosis.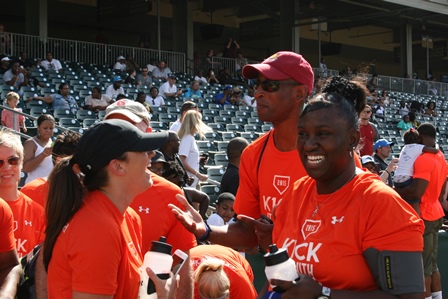 At OrthoCarolina we know that bodies were meant to move, and they even crave exercise! Despite busy schedules, many of our female team members love to get moving whenever they can. Here are some of their favorite ways to be active:
I love the water; so for exercise, I paddleboard three times a week in the evenings. - Christie B.
I enjoy trail running with my dog. I find that she encourages me to stay in shape and it's a great stress reliever. - Laura D.
I love to run and have learned that by incorporating weights and yoga into my weekly routine, my overall fitness level has improved! - Jennifer S.
I recently found a new love in fitness which is running and feel very accomplished at 51 years old to be able to run three miles now continuously at less than 12 minutes after many years of elliptical machines and aerobics classes. - Phyllis B
I play league softball during the week as well as hit the gym several days a week and I play tournament softball on the weekends. I also eat lots of fruits and veggies. – Dee S.
I like to exercise and be active outside. Sometimes I go for a run, and sometimes I just run after my daughter! – Katie W.
I play a lot of golf and to get my steps in I try to be the passenger in the cart so I have to walk the course more. Doing this I can get to my 10,000 steps/day goal pretty quickly! - Mindy B.
I love to ride bikes, riding up to 50 miles per ride. To me, it is the easiest form of exercise & lets me see the world at a slower pace as I ride by. - Kathy G.
I love Aqua Zumba during the summer. - Jennifer E.
Walk with my mom 2-3 days a week, not just for exercise but to also bond with her. But other days walk and jog to keep a strong mind and decrease stress level. – Sharon R.
It is hard to find the time to do consistent workouts at a gym or schedule court time for tennis as a working mother, however doing small bursts of exercise through the day allows for continued strengthening. I include squats or lunges while making dinner or push-ups and planks during commercials. Apps like "Sworkit", that my teenage daughter introduced me to allow workouts together or in whatever time frame I have available. I miss playing regular tennis but find walking with intervals of running effective for cardio training and weight management. - Donna G.
Working out helps me release the stress from the day and helps me to sleep better. There's nothing like the natural energy of an AM workout. – April I.
I love to exercise! Cycling outdoors, running and yoga are ways I keep my body fit and my mind clear!! We only get one body to live in, so treat it right! - Dana D.
To stay healthy, I do not give myself an "out" on the days I slate to exercise. I just get on my bike and start pedaling. No excuses! – Susan A.
---
Back