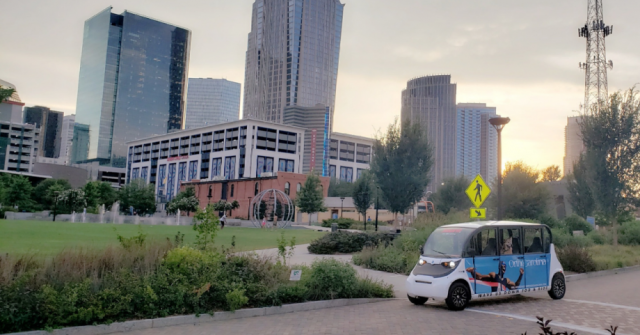 OrthoCarolina loves keeping the community fit and well but sometimes in the Carolina summer heat you just need a ride to your next destination - and we're here to pick you up!
The OrthoCarolina Jaunt cart is just a text away for a free lift when you're around Uptown, Southend, Noda, Plaza Midwood and Metropolitan.
How? Secure your ride in four easy steps:
---
1. YOU UP? JUST SHOOT US A TEXT
Call or text your location to 704.980.2742 to request a ride. Or if you see the cart, just wave them down and hop in! Rides are rollin':
-Monday-Thursday: 11 AM - 8 PM
-Friday-Saturday: 6 PM - 2 AM
-Sunday: For special events (think Panthers games & concerts)

---
2. CONFIRMATION
The driver will confirm they're on the way.
---
---
3. OH HEY! WE'RE HERE!
Your OrthoCarolina Jaunt cart driver arrives. Jump in and enjoy your free ride powered by OrthoCarolina.
---
4. ARRIVE AT YOUR DESTINATION
It's that simple! Now tell us about your journey. Tag @orthocarolina OR #youimproved on social. Plus, drivers love tips.
---
BUT DON'T FORGET THAT 10,000 STEP GOAL
- Try our five ways to get your steps in during the workday.
- Our favorite Queen City runners share their favorite places to hit the pavement in Charlotte.
- Opt outside with the ultimate guide to a Carolinas outdoor adventure.
---
Back