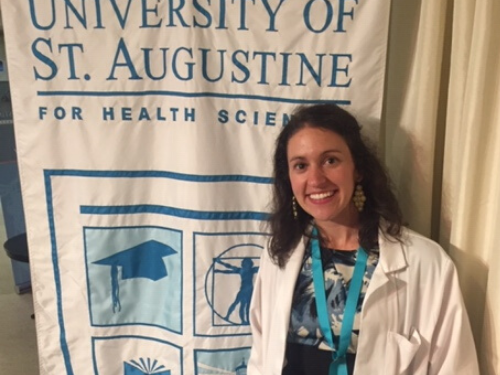 Amanda, describe your past and what lead you to OrthoCarolina.
I am originally from Michigan where I got my undergrad in Allied Health. I moved to Charlotte for a change of pace, and ended up going back to school to get my PTA degree from Central Piedmont Community College; that's how I ended up at OC. I originally did a clinical here and loved it so much I applied for a job after graduating. From here, I decided to go back to school and will be finishing my DPT from the University of St. Augustine in August 2021.
What does a typical week look like for you?
I am in a full-time hybrid program at the University of St. Augustine, which means the classroom portion is delivered all online and then I travel on the weekends to Florida for actual hands-on lab time. Because I travel on the weekends, I have transitioned to working longer days Monday- Thursday. So, after working all day at OC, I will do online school work which can range from listening to lectures, group projects, research, group studying, or taking exams. I try to fit in a workout to stay sane either on my lunch hour or right after work. Finally, I take one day a week for just me and do something fun like exploring Charlotte, hiking, or hanging out with friends.
What do you like most about your position? What inspires you?

What I like most about my position is a hard question; there's so much! I guess it would have to be that I get to have an impact on someone's life. I have the opportunity to get them back to their goals and get them functioning again. What makes it easy is all the inspiration I get from my team. Seriously, I work with some of the best people I know. They're smart, fun, and make it seem like we're a family.
Which Core Value of OC (Quality, Service, Community, Teamwork) do you feel you identify the most with and why?
I feel I identify with quality the most. I try to deliver premier care while making each session personalized. I take the time to form connections with patients and staff, and really try to make an impact.
What are some of your goals and aspirations – personally or professionally?
Professionally, I'd like to finish my degree and then eventually work towards some sort of specialization. Personally, I am running another marathon this October and hoping to qualify for Boston.
Outside of work, what do you like to do?
Besides traveling, you can catch me doing anything outdoors; paddleboarding, hiking, boating, sand volleyball. I like going to sporting events with friends, as well as hitting up some of the local breweries and restaurants.
What would you say to someone considering the field of work you are in or applying for a position with OC?
I would tell them it's the best job in the world. As physical therapists/physical therapist assistants, we are movement experts! That means that we get to analyze and figure out where the impairment is coming from, which is a puzzle that I love. Then we get to use that knowledge and help get people functioning again. What could be better than that?
Thank you, Amanda! You truly embody our mission to Make Lives Better!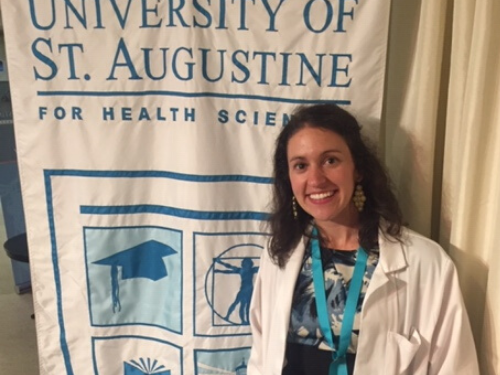 ---
Back