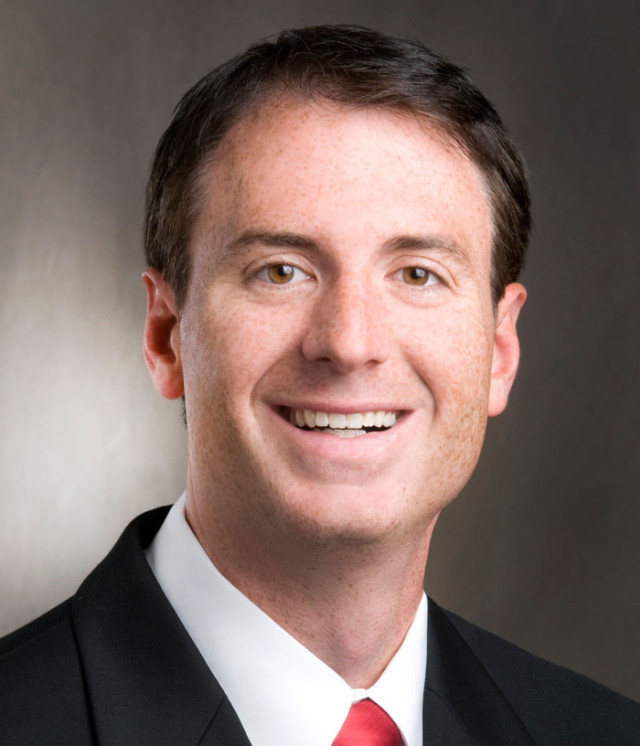 Specialties:
Adolescent and Adult Sports Medicine

Complex Knee Surgery

Elbow

Knee

Knee Ligament Reconstruction

Shoulder

Sports Medicine
Fellowship Trained:
Shoulder & Elbow

Sports Medicine
Biography
Practice Profile

Athletic Knee Surgery: Arthroscopic Ligament, Meniscus and Cartilage Surgery
Shoulder and Elbow Surgery: Throwing Athlete Shoulder and Elbow Surgery, Arthroscopic Rotator Cuff Repair, Shoulder/Elbow Replacement Surgery
Subspecialty Board Certified in Sports Medicine
Board Certified in Orthopedics
Team Physician assignments
Stewart-Haas Racing
Davidson College -- Team Physician, August 2021 - Present
Kannapolis Cannon Ballers --Team Physician
Concord High School -- Team Physician, 2011 - Present
Shrine Bowl of the Carolinas -- Team Physician, 2013 - Present
Wofford College -- Bachelor of Science
Medical University of South Carolina -- Doctor of Medicine
Atrium Health - Carolinas Medical Center -- Residency
OrthoCarolina -- Fellowship, Sports Medicine / Shoulder & Elbow
Member of the American Academy of Orthopaedic Surgeons
Member of the North Carolina Orthopaedic Association
Member of the North Carolina Medical Society
Martin S, Thompson K, Morgan R, Vermillion R, Connor P. Ulnar Collateral Ligament Reconstruction in the Throwing Elbow of an NFL Quarterback: Minimum 2 Year Follow-Up.
Morgan R, Bankston L, Hoenig M, Connor P. The Evolving Management of Clavicle Fractures in the NFL.
Morgan R, Starman J, Bankston L, Peindl R, Fleischli J. A Biomechanical Evaluation of Ulnar Collateral Ligament Reconstruction Using a Novel Technique for Ulnar-Sided Fixation.
Bankston L, Morgan R, Connor P. Two Year Post-Operative Data on the Reverse Total Shoulder Arthroplasty Procedure: Clinical and Radiographic Outcomes.
Hamid N, Morgan R, Bankston L, D'Alessandro D, Nguyen D, Connor P. Effect Effects of Implant Design Upon the Incidence and Severity of Scapular Notching after Reverse Shoulder Arthroplasty.
Kuremsky M, Morgan R, Hoenig M, Peindl R, Fleischli J. Biomechanics of the Knee Before and After Bone-Patellar Tendon-Bone Harvest for ACL Reconstruction.
Morgan R, Kuremsky M, Peindl R, Fleischli J. A Biomechanical Comparison of Two Suture Anchor Configurations in the Repair of Type II SLAP Lesions Subjected to a Peel-Back Mechanism of Failure.
Morgan R, Kuremsky M, Masonis J, Mason B. Diagnostic Accuracy of Magnetic Resonance Imaging and Magnetic Resonance Arthrography in the Evaluation of Acetabular Labral Tears and Chondral Lesions.
Graham J. MD, Dorizas J. MD, Morgan R., Bailey K, Weatherby B. Is Acromioplasty Necessary? Mini-Open Rotator Cuff Repair Without Acromioplasty.
Hartsock L. MD, Dorizas J., MD, Morgan R., Petty C. Causes of Non-Union and Malunion of Fractures.
Barr, S. MD and Morgan, R. Outcomes of Pressure Sores after Instigation of a Patient Criterion for Flap Reconstruction.
Abramovitch, R., Ph.D. and Morgan, R. Cyclic Reactions Performed with Pillared Clays.
Robert J. Morgan, MD Castillo, D., Ph.D. and Morgan, R. Separation Techniques Using Gas Chromatography.
Medical Assistant - Jennifer Drumgold
Surgical and Administrative Coordinator - Jaime Best
I think that Dr. Morgan is an excellent doctor. He takes the time to explain what needs to be done and answers all questions thoroughly. I would highly recommend him to family and friends.