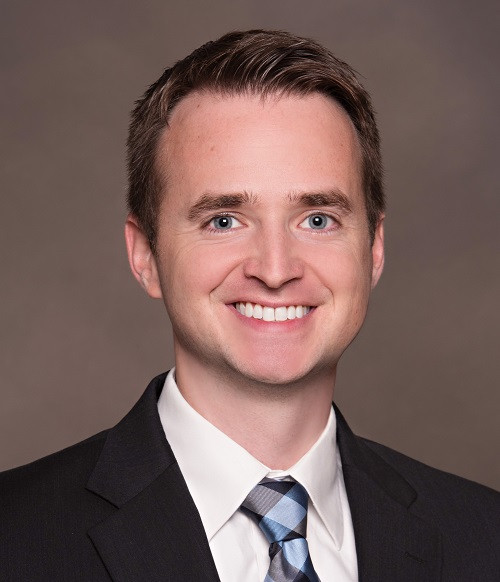 Everyone was very professional and courteous. Dr. Drew Henderson was very good to explain what was wrong with my knee.
Education
The Rothman Institute - Adult Reconstructive Fellowship
Duke University Medical Center - Residency Training, Department of Orthopaedic Surgery
Duke University School of Medicine - Doctor of Medicine
University of St. Andrews - Masters of Science
University of Pennsylvania -Bachelor of Arts, Biology and Economics
Bio
Dr. Henderson enjoys spending time traveling with his family and is an avid golfer. His wife is from Winston Salem and he's enjoyed becoming integrated into the Winston-Salem community. He also enjoys running, biking, and working on his lawn.
Practice
Specializes in Total Hip Arthroplasty, Total Knee Arthroplasty, Partial Knee Replacement, Revision Joint Replacement, and Robotic-Assisted Surgery
Research
Peer-Reviewed Publications
David G., Helmchen L.A., Henderson R.A. "Does advanced medical technology encourage hospitalist use and their direct employment by hospitals?" Health Econ 2009 Feb; 18(2): 237-47
Henderson R.A., Nielsen K.C., Klein S.M., Pietrobon R. "Miscoding rates for professional anesthesia billing: trial results – software solution." Elec J Health Informatics 2010 5(2)
Hambright D., Henderson R.A., Cook C., Worell T., Moorman C.T., Bolognesi M.P. "A comparison of perioperative outcomes in patients with and without rheumatoid arthritis after receiving total shoulder replacement arthroplasty". J Shoulder Elbow Surg 2011 Jan;20(1):77-85.
Kaufman A.M., Watters T.S., Henderson R.A., Wellman S.S., Bolognesi M.P. "Citrobacter koseri as a cause of early periprosthetic infection following primary total hip arthroplasty" J Arthroplasty 2011 Sep;26(6): 978.e13-6
Mather R.C. 3rd, Orlando L.A., Henderson R.A., Lawrence J.T., Taylor D.C. "A predictive model of shoulder instability after a first-time anterior shoulder dislocation". J Shoulder Elbow Surg 2011 Mar; 20(2):259-66.
Hug KT, Henderson RA, Hansen BJ, Wellman SS, Vail TP, Bolognesi MP. "Polished cobalt-chrome versus titanium tibial trays in total knee replacement: a comparison using the PFC sigma system." Duke Orthop J 2012 Jun (1): 5-11.
Lachiewicz P.F., Bolognesi M.P., Henderson R. A., Soileau E.S., Vail T.P. "Can tantalum cones provide fixation in complex revision knee arthroplasty?" Clin Orthop Relat Res. 2012 Jan;470(1):199-204
Henderson R.A., Lachiewicz P.F. "Groin pain after replacement of the hip: aetiology, evaluation and treatment" J Bone Joing Surg Br. 2012 Feb;94(2):145-51.
Lachiewicz P.F., Henderson R.A. "Orthopaedic Advances: Patient-specific instrumentation in total knee arthroplasty." J Amer Acad Ortho Surg, 2013 Sep;21(9):513-8. doi: 10.5435/JAAOS-21-09-513
Mansouri B, Walker GD, Mitchell J, Henderson RA. "The cost of applying to dermatology residency: 2014 Data estimates" accepted to J Amer Acad Derm, publication pending
Grimm N.L., Henderson R.A., Kavolus J.J., Millikan P.D., Lachiewicz P.F., "Case Report: Fracture of an Uncemented Tantalum Patellar Component." Accepted to Arthroplasty Today, publication pending\
Henderson R.A., and Austin M.S., "The Rothman Institute Grand Rounds: Complex Femoral Reconstruction in Revision Total Knee Arthroplasty." Accessible via International Congress for Joint Reconstruction website, ICJR.nethttp://icjr.net/article_2017_02_01_172_txt_revsion... (accessed 3/1/2017).
Henderson R.A., and Austin M.S., "Management of Periprosthetic Joint Infection: The More We Learn, The Less We Know." J Arthroplasty. Accepted for publication
Henderson R.A., Good R.P, and Levicoff E. "Mini-Posterior Approach for Primary Total Hip Arthroplasty." Annals of Joint, submitted, awaiting acceptance
Book Chapters
Henderson R.A., Lachiewicz P.F. "Evaluation of the painful total hip arthroplasty". The Hip: Preservation, Replacement, and Revision. Cashman, Goyal, and Parvizi, ed. Chapter 95. Copyright 2015, Datatrace publishing
Henderson R.A. and Fraser J. Section Co-editors, section 5 "Treatment of PJI" in Periprosthetic Joint Infection: Practical Management Guide (2nd edition). Editor: Parvizi J. Jaypee Publishing, 2017.
Henderson R.A. "Chapter 58 – PJI and Mortality". Periprosthetic Joint Infection: Practical Management Guide (2nd edition). Editor: Parvizi J. Jaypee Publishing, 2017.
Henderson R.A. and Hansen E.N. "Chapter 50 – One-Stage Exchange Arthroplasty for PJI". Periprosthetic Joint Infection: Practical Management Guide (2nd edition). Editor: Parvizi J. Jaypee Publishing, 2017.
Henderson R.A. and Deirmengian G.D. "Chapter 52 – Removal of Well Fixed THA Components". Periprosthetic Joint Infection: Practical Management Guide (2nd edition). Editor: Parvizi J. Jaypee Publishing, 2017.
Henderson R.A. and Deirmengian G.D. "Chapter 53 – Removal of Well Fixed TKA Components". Periprosthetic Joint Infection: Practical Management Guide (2nd edition). Editor: Parvizi J. Jaypee Publishing, 2017.
Henderson R.A. and Restrepo C. "Chapter 55 – Reimplantation". Periprosthetic Joint Infection: Practical Management Guide (2nd edition). Editor: Parvizi J. Jaypee Publishing, 2017
Scientific Presentations

Lachiewicz P.F., Bolognesi M.P., Henderson R.A., Watters T.S., Soileau E.S., Vail T.P. "Metaphyseal fixation in revision knee arthroplasty using tantalum cones for severe tibial and femoral bone loss", Knee Society Members Meeting,2010, New Orleans, LA
Lachiewicz P.F., Bolognesi M.P., Henderson R.A., Watters T.S., Soileau E.S., Vail T.P. "Metaphyseal fixation in revision knee arthroplasty using tantalum cones for severe tibial and femoral bone loss", American Academy of Orthopaedic Surgeons Annual Meeting, 2010, New Orleans, LA
Henderson R.A., Mather R.C., Hambright D., Orlando L.A., Olson S.A., Bolognesi M.P. "Cost effectiveness analysis of the diagnosis of labral tears in the hip" Southern Orthopaedic Association Annual Meeting, 2010, Fajardo, Puerto Rico
Henderson R.A., Mather R.C., Hambright D., Orlando L.A., Olson S.A., Bolognesi M.P. "Cost effectiveness analysis of the diagnosis of labral tears in the hip" North Carolina Orthopaedics Association Annual Meeting, 2010, Asheville, NC *Resident/Student Presentation Award Recipient
Henderson R.A., Mather R.C. 3rd, Beck N.A., Orlando L.A., Ganley T.J., Lawrence J.T. "Cost effectiveness analysis of early drilling of juvenile osteochondritis dissecans lesions", American College of Physicians Annual Meeting, 2011, San Diego, CA
Henderson R.A., Magura L.A., Chudgar S.M., "An anatomic predisposition to venous thrombosis", North Carolina ACP Annual Meeting, 2011, Durham, NC
Henderson R.A., Magura L.A., Chudgar S.M., "An anatomic predisposition to venous thrombosis", Society for Hospital Medicine Annual Meeting, 2011, Grapevine, TX
Henderson RA, Godin JA, Streufert BD, Mather RC III, Bolognesi MP, Zura RD. "Decreasing incidence of hip fracture in the US Medicare population, 2005-2011" Southern Orthopaedic Association Annual Meeting, 2014, Beaver Creek, CO *SOA/OREF Resident Award recipient
Henderson RA, Templeton EL, Lachiewicz PF. "Early complications of titanium modular neck total hip arthroplasty" Southern Orthopaedic Association Annual Meeting, 2014, Beaver Creek, CO
Streufert BD, Henderson RA, Godin JA, Mather RC III, Zura RD. "Repair of intertrochanteric fracture: cephallomdullary nail predominates over dynamic hip screw" Southern Orthopaedic Association Annual Meeting, 2014, Beaver Creek, CO
Watters TS, Godin JA, Henderson RA, Streufert BD, Zura RD, Bolognesi MP. "Is the treatment practice for femoral neck fractures in Medicare patients changing in the united states?" Southern Orthopaedic Association Annual Meeting, 2014, Beaver Creek, CO
Watters TS, Henderson RA, Godin JA, Mather RC III, Berend KR, Bolognesi MP. "Outpatient joint arthroplasty is increasing in the United States." Southern Orthopaedic Association Annual Meeting, 2014, Beaver Creek, CO
Henderson RA, Godin JA, Streufert BD, Mather RC III, Bolognesi MP, Zura RD. "Decreasing incidence of hip fracture in the US Medicare population, 2005-2011" Osteosynthese International Annual Meeting, 2014, Krems, Austria
Streufert BD, Henderson RA, Godin JA, Mather RC III, Zura RD. "Repair of intertrochanteric fracture: cephallomdullary nail predominates over dynamic hip screw". Osteosynthese International Meeting, 2014, Krems, Austria
Godin JA, Henderson RA, Streufert BD, Parekh SG, Adams SB. Trends & Demographics in Ankle Arthroscopy in the United States. Southern Orthopedic Association Annual Meeting, 2014, Beaver Creek, CO
Streufert BD, Godin JA, Kamal RN, Ramalingam S, Henderson RA, Mather RC 3rd, Ruch DS. Decreasing Incidence and Changing Treatment of Distal Radius Fractures among Elderly Adults. Eastern Orthopaedic Association Annual Meeting, 2014, Amelia Island, FL.
McClellan TR, Henderson RA, Godin JA, Bolognesi MP. "Risk factors for periprosthetic infection in young patients after THA." Eastern Orthopaedic Association Annual Meeting, 2014, Amelia Island, FL
McClellan TR, Henderson RA, Godin JA, Bolognesi MP. "Risk factors for periprosthetic infection following TKA in younger patients." Eastern Orthopaedic Association Annual Meeting, 2014, Amelia Island, FL
Henderson RA, Godin JA, Watters TS, Streufert BD, Mather RC III, Wellman SS, Attarian DE, Bolognesi MP. "Outpatient joint arthroplasty is increasing in the United States." North Carolina Orthopaedic Association Annual Meeting, 2014, Asheville, NC
Godin JA, Willimon C, Henderson RA, Streuftert BD, Busch M. "Anterior Cruciate Ligament Injuries in an Adolsescent Population: National Trends for Reconstruction and Conomitant Procedures." Oscar Miller Day Symposium, 2014, Charlotte, NC
Henderson RA, Belay E, Seyler TM, Green CL, Cacciavallo P, Meneghini RM, Bolognesi MP. "External Clinical Validation of the OARA Score for Outpatient Joint Replacement Candidates" AAHKS Annual Meeting, 2016, Dallas, TX
Danoff J, Goyal R, Henderson RA, Fraser J, Sharkey PF. "Periarticular Ropivacaine is Equivalent to Liposomal Bupivacaine in Bilateral Total Knee Arthroplasty" submitted to 2017 AAHKS, Knee society, and 2018 AAOS
Scientific Posters
Mather R.C., Orlando L.A., Henderson R.A., Lawrence T.R., Taylor D. "Treatment of first-time anterior shoulder dislocation: a Markov decision analysis". American Academy of Orthopaedic Surgery Annual Meeting, 2010, New Orleans, LA
Henderson R.A., Mather R.C. 3rd, Beck N.A., Orlando L.A., Ganley T.J., Lawrence J.T. "Cost effectiveness analysis of early drilling of juvenile osteochondritis dissecans lesions" American Academy of Pediatrics Annual Meeting, 2011, Miami, FL
Henderson R.A., Mather R.C., Hambright D., Orlando L.A., Olson S.A., Bolognesi M.P. "Cost effectiveness analysis of the diagnosis of labral tears in the hip" Duke Universtiy School of Medicine, AOA day presentation, 2011, Durham, NC
Henderson R.A., Mather R.C. 3rd, Beck N.A., Orlando L.A., Ganley T.J., Lawrence J.T. "Cost effectiveness analysis of early drilling of juvenile osteochondritis dissecans lesions" Duke Clinical Science Day Symposium, 2012, Durham, NC
Streufert BD, Ramalingam H, Godin JA, Henderson RA, Kamal R, Mather RC, Ruch DS. Decreasing Incidence and Changing Treatment of Distal Radius Fractures among Elderly Adults. Orthopaedic Trauma Association Annual Meeting, 2014, Tampa Bay, FL
Streufert BD, Godin JA, Henderson RA, Wellman SS, Bolognesi MP, Mather RC III. "Trends in Intraarticular Delivery of Corticosteroid and Hyaluronic Acid in a Privately Insured Population, 2007-2011". Southern Orthopaedic Association Annual Meeting, 2014, Beaver Creek, CO
Godin JA, Henderson RA, Streufert BD, Mather RC III. "Trends in stand-alone platelet-rich plasma injection in the United States" Southern Orthopaedic Association Annual Meeting, 2014, Beaver Creek, CO
Godin JA, Henderson RA, Streufert BD, Adams S, Parekh S. "Trends and demographics in ankle arthroscopy in the united states" IFFAS/AOFAS Annual Meeting, 2014, Chicago, IL
Streufert BD, Godin JA, Kamal R, Ramalingam S, Henderson RA, Ruch DS. "Decreasing incidence and changing treatment of distal radius fractures among elderly adults." American Society for Surgery of the Hand Annual Meeting, 2014, Boston, MA
McClellan TR, Henderson RA, Godin JA, Bradley KE, Attarian DE, Wellman SS, Bolognesi MP. Risk Factors for Periprosthetic Infection following TKA in Young Patients. Duke University School of Medicine AOA Day, 2014, Durham, NC
Henderson RA, Watters TS, Godin JA, Mather III RC, Berend KR, Bolognesi MP. Outpatient joint arthroplasty is increasing in the United States. American Academy of Orthopaedic Surgeons (AAOS) 2015 Annual Meeting; March, 2015; Las Vegas, NV. E-poster P165-2015