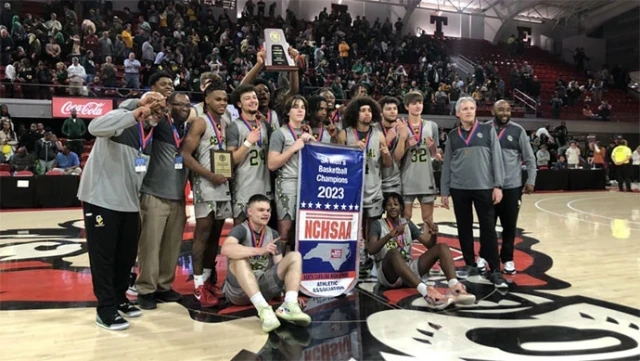 At OrthoCarolina, we're excited to celebrate the outstanding achievements of the Central Cabarrus High School Boys Basketball team this season. With a stellar 30-0 record and a national ranking of 23rd in the MaxPreps poll, the team has demonstrated remarkable grit, talent, and commitment. Yet, their journey to the State Championship game has not been without hurdles, and we're proud to have helped some of the players return to the game after injuries.
Meet OC's Amazing Athletes
Gavin Bullock
Gavin Bullock is a superstar athlete on the Central Cabarrus High School Boy's Basketball team. Throughout his four years at Central Cabarrus High School, he averaged 8.7 points per game. In 2022, Gavin had surgery and rehab with Dr. Robert Morgan. Despite the setback, Gavin's unwavering determination and dedication to rehabilitation paid off, and we're thrilled to see him back in the game this season.
Micah Murray
Micah Murray is a 6'1" forward who averages 75% from the free-throw line and 70% from the court. Off the court, Micah displays leadership in the classroom as well as making sure to keep a high GPA. Micah also underwent surgery and rehab with Dr. Morgan in 2022. Micah's tenacity, hard work, and commitment to his rehabilitation allowed him to make a remarkable recovery and return to the court with flying colors.
Jake Baker
Jake Baker, an up-and-coming sophomore player, faced a tough challenge when he underwent surgery for a significant knee injury. However, with the support and specialized care of Dr. Morgan and our team at OrthoCarolina, Jake's recovery was remarkable. He worked hard every day, followed our advice, and returned to the game within just three months - a remarkable accomplishment that shows his resilience and determination.
Celebrating the Success of Our Patients and the Team
At OrthoCarolina, we're thrilled to have played a role in helping Gavin, Micah, and Jake recover from their injuries and get back to what they love doing. The dedication and perseverance they've shown are an inspiration to us all. We believe that with the right specialized care and rehabilitation, anyone can recover from an injury and return stronger.
We're proud to support the Central Cabarrus High School Boy's Basketball team and are proud of their win at the NCHSAA State Championship game. At OrthoCarolina, we're committed to helping our patients achieve their goals, and we're honored to have helped Gavin, Micah, and Jake on their inspiring journey.
---
Back