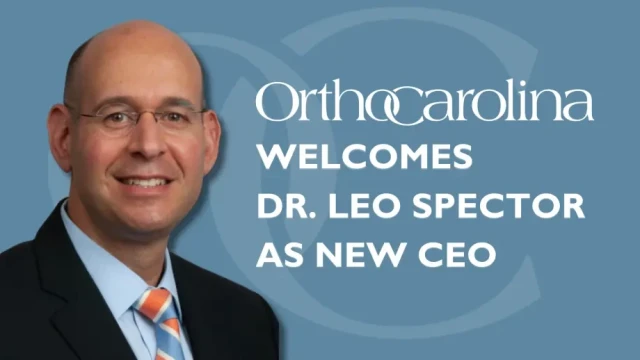 Experienced physician leader in value-based care to accelerate the transformation to high-value, patient-centric care at one of the nation's leading musculoskeletal practices
Charlotte, N.C. (October 2, 2023): OrthoCarolina, one of the nation's leading independent musculoskeletal practices, has appointed Leo Spector, MD, MBA as its next Chief Executive Officer. Dr. Spector is a well-respected orthopedic spine surgeon and a dynamic leader with a strong background in value-based care and quality improvement. OrthoCarolina's current CEO, Bruce Cohen, MD will be stepping down at the end of this year to return to clinical practice through the organization's Foot & Ankle Institute.
Watch the official announcement here:
Dr. Cohen's eight-year tenure as CEO has been marked by significant accomplishments, including expanding access to healthcare through the establishment of new clinics, ambulatory surgery centers, and orthopedic urgent care facilities and successfully navigating the challenges posed by the pandemic. Most importantly, under Dr. Cohen's leadership, significant advances have been made in improving efficiency and transparency through the implementation of the EPIC platform and enhancing access to care.
"It has been an incredible privilege to serve as OrthoCarolina's CEO, and I am immensely proud of what we have accomplished during my time in this role," said Dr. Cohen. "I want to express my deep appreciation for the support, dedication, and hard work that each member of the OrthoCarolina team has contributed to our success. It has been an honor to lead such a talented and committed team, and I look forward to continuing to support our mission of providing quality care and creating a healthier community."
"Dr. Cohen has done a tremendous job serving as CEO of OrthoCarolina over the last eight years. He successfully led the organization through many challenges, not the least of which was the pandemic. Under his guidance, OrthoCarolina has continued to set the highest standard in patient care, education, innovation, and research," said Dr. Spector. "I look forward to working with him as I transition into this new role and build on the many successes he and the OrthoCarolina team helped to achieve."
A board-certified fellowship-trained Orthopedic spine surgeon, Dr. Spector has enjoyed a 17-year tenure with OrthoCarolina, holding multiple leadership positions including Chief Quality Officer ("CQO"), member of the Executive Committee, chairman of the Quality/Value Committee and co-fellowship director at the OrthoCarolina Spine Center. As CQO, he oversaw OrthoCarolina's value-based care team helping to ensure the highest standards of quality and excellence in patient care.
"Dr. Spector possesses a wealth of experience, dedication, and a vision that aligns perfectly with OrthoCarolina's patients' best interests," said Dr. Cohen. "Given his long-standing status as a provider in our Spine Center and his leadership of our value-based initiatives, I have immense confidence that Dr. Spector is well prepared to guide our company into its next phase of growth and innovation."
Dr. Spector earned a BA from Colgate University, and his MD from the University of Massachusetts Medical School where he completed his internship and residency in Orthopedic Surgery. In 2006, he moved to Charlotte to complete a one-year fellowship in spine surgery at the OrthoCarolina Spine Center. For more than 17 years, Dr. Spector has built a successful practice caring for patients throughout the greater Charlotte community. In 2020, Dr. Spector earned his MBA from Duke University Fuqua School of Business and was previously selected to participate in the American Orthopedic Association Leadership Program, conducted in collaboration with the University of Chicago Booth School of Business. Dr. Spector currently serves as a Board Member of the Lumbar Spine Research Society and previously held the position of President of the North Carolina Spine Society.
"My goal is to retain and attract the highest quality individuals and help enable their continued growth and success so that together we can build a great team," said Dr. Spector. "As healthcare evolves, OrthoCarolina will continue to be a national leader in the transformation of musculoskeletal care delivery. OrthoCarolina's commitment to providing the highest quality patient-centric care to the community will remain steadfast, and we will always be the better choice for musculoskeletal care."
In his new role, Dr. Spector will continue seeing patients and operating through the OrthoCarolina Spine Center. He is scheduled to assume the role of Chief Executive Officer at the beginning of 2024.
---


About OrthoCarolina:
Since 1922, OrthoCarolina has been a distinguished and reputable physician-owned and physician-led orthopedic practice that prioritizes delivering exceptional patient-centered care and pioneering solutions. As industry leaders in our respective specialties, we consistently push the boundaries of medical advancements and actively contribute to the training of new specialists. Our mission is to enhance accessibility to unparalleled orthopedic care while simultaneously reducing costs for our valued patients.
At OrthoCarolina, we specialize in foot & ankle, hip & knee, hand, spine, physical medicine, pediatric orthopedics, shoulder & elbow, and sports medicine, catering to athletes of all calibers, ranging from student-athletes to weekend warriors to Olympians. With an extensive network of over 40 locations and nine Orthopedic Urgent Care Centers (OUCs) across the Carolinas, we ensure our patients receive comprehensive and convenient orthopedic access across the care continuum.
From initial evaluation to surgical interventions and therapeutic treatments, OrthoCarolina is the better choice every step of the way.
Comments
---
Back