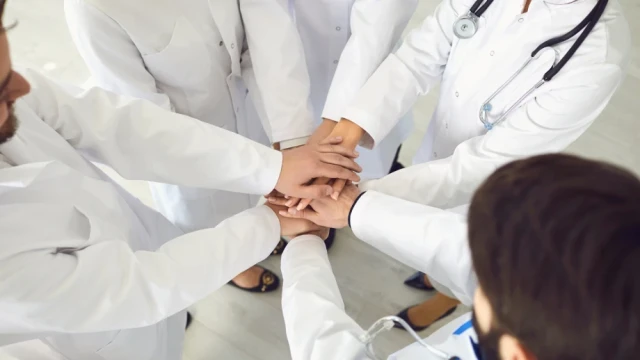 EmergeOrtho and OrthoCarolina are thrilled to announce the formation of HiVE of the Carolinas (Health Innovation Value Enterprise) in the State of North Carolina. This groundbreaking collaboration brings together the State's two largest orthopedic practices and a leading national specialist partner, creating a collaborative musculoskeletal specialist partnership that will transform the landscape of orthopedic and spine care.
Transforming Healthcare Through Partnership
The HiVE of the Carolinas is a significant milestone in our pursuit of creating a high-value healthcare experience, founded on delivering access, experience, and affordability. By combining the expertise, resources, and commitment of these organizations, the HiVE of the Carolinas introduces an innovative framework of data analytics, patient engagement technology, advanced care models, and evidence-based protocols to enhance patient outcomes and reduce healthcare costs across the state.
Both EmergeOrtho and OrthoCarolina are leaders in the field of orthopedics, known for their exceptional patient care, advanced treatment options, and innovative research. With a combined footprint caring for more than one-half of the state's musculoskeletal patients, these practices have joined forces to further their shared vision of delivering outstanding orthopedic care and improving healthcare across North Carolina.
A Patient-Centered Experience
"We are thrilled to announce the formation of the HiVE of the Carolinas partnership and the beginning of an exciting new chapter in musculoskeletal care," said Dr. Bruce Cohen, CEO of OrthoCarolina. "Through this partnership, we will leverage our collective experience to transform orthopedic and spine care by reducing variation and creating cost-effective evidence-based pathways which will set a new standard for musculoskeletal services in North Carolina."
Driving Innovation through Collaboration
The HiVE of the Carolinas is committed to collaborating with insurers, government agencies, employers, and other stakeholders to develop value-based payment models that incentivize high-quality care, reward positive patient outcomes, and reduce healthcare costs.
For media inquiries or more information, please contact marketing@orthocarolina.com.
About OrthoCarolina
Since 1922, OrthoCarolina has been a distinguished and reputable independent physician-owned and physician-led orthopedic practice that prioritizes delivering exceptional patient-centered care and pioneering solutions. With specialties in foot & ankle, hip & knee, hand, spine, physical medicine, pediatric orthopedics, shoulder & elbow, and sports medicine, OrthoCarolina treats all musculoskeletal problems and caters to athletes of all calibers. With over 40 locations and nine Orthopedic Urgent Care Centers across the Carolinas, they ensure comprehensive and convenient orthopedic access. From initial evaluation to surgical interventions and therapeutic treatments, OrthoCarolina is the better choice every step of the way.
Comments
---
Back