From Fellowship to Excellence: A Journey of Dedication, Recognition, and Advancement
Our Hand Therapy Fellowship program at OrthoCarolina has been a great source of inspiration for occupational therapists (OTs). It has empowered them to achieve remarkable accomplishments, both within our organization and in their professional lives.
One shining example is Ashley Brooks, OTR/L, CHT, BCPR, who was an OT/Hand Therapy Fellow from January 2017 to June 2018. After completing the fellowship, Ashley continued as a full-time employee until 2020 when she relocated to the Atlanta area.
We are incredibly proud to announce that Ashley will be receiving the prestigious 2023 American Society of Hand Therapists (ASHT) Emerging Hand Therapist Award. The Emerging Hand Therapist Award recognizes the challenges and accomplishments of Certified Hand Therapists in their early years after obtaining HTCC certification. This award aims to promote engagement and involvement among newly Certified Hand Therapists(CHT), fostering a lasting commitment to the profession.
This recognition is proof of her hard work and dedication. She received honors at the ASHT Annual Conference on September 30th in San Antonio, Texas.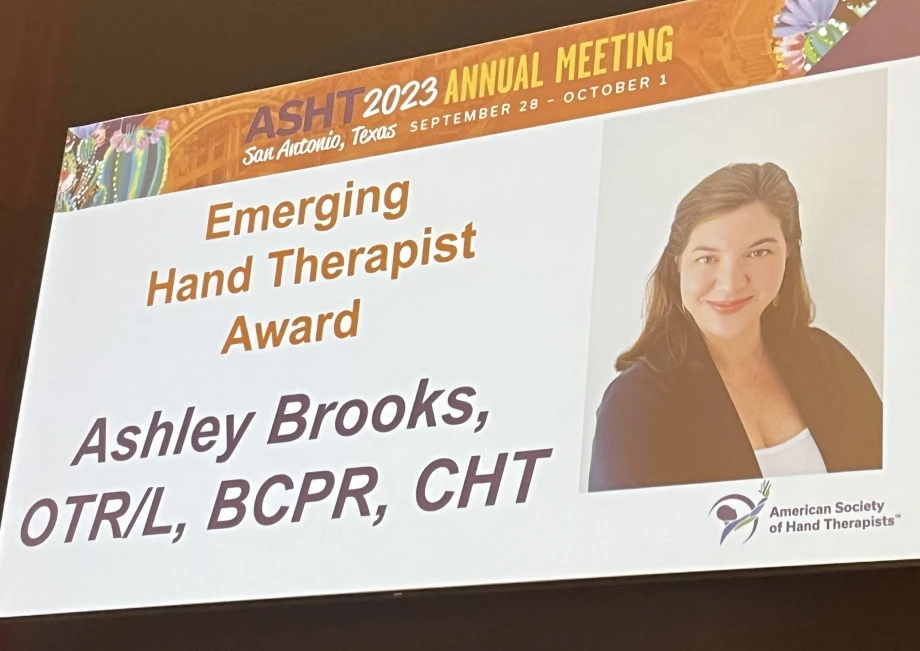 The success of our fellowship graduates, like Ashley, demonstrates the high standards and rigorous training of our program. It also highlights their commitment to advancing the field of Hand Therapy through scholarly activities even after completing our program.
---
Back