Colin Cole has never been one to slow down for anything in his path, but even he admits that 12 years in the NFL have been tough on his joints. Speed and collisions between players who are almost never small in size means the physical nature of the sport can take its toll.
Players often have responsibility for some of their own cardiovascular conditioning, and for Cole, the starting nose tackle for the Carolina Panthers, that means an activity with a high rate of physical output and less bodily impact. When it comes to keeping his conditioning at peak levels, indoor cycling is his go-to and optimal way to maintain his fitness. Cole and wife Kaye go to classes at Flywheel Sports Charlotte, where he says the competitive yet motivating atmosphere paired with a workout that has little to no impact on his joints keeps him coming back for more.
Indoor cycling is an efficient, usually quick workout that focuses on high-intensity cardio and keeping the heart rate elevated; burning fat, building endurance and stamina, and working the whole body as a unit. As added benefits it reinforces core musculature and benefits overall spine health, and also works the glutes, quads, gastrocs, and arms.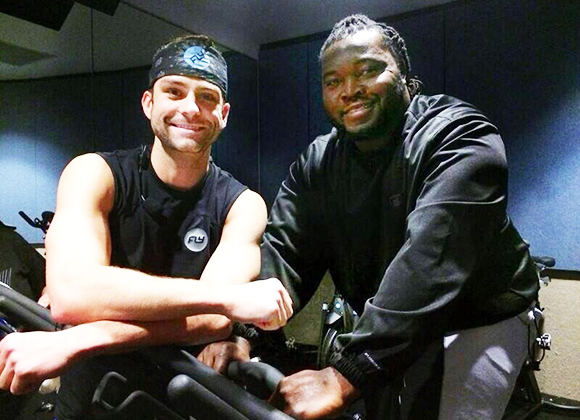 Read Colin Cole's full interview about indoor cycling, cardio exercise and Flywheel Sports.
Dr. David Anderson, spine surgeon at OrthoCarolina Monroe, contributed to this story.
---
Back