As a specialty practice of occupational and physical therapy, hand therapy focuses on orthopedic conditions that affect the upper extremities (hands and arms). OrthoCarolina hand therapists specialize in the treatment of traumatic, orthopedic, acquired and congenital hand and upper extremity disorders.
Common diagnoses that hand therapists treat include:
Arthritis
Tendonitis
Tendonosis
Fractures
Tendon repairs
Nerve repairs
Amputations
Overuse syndromes
Lymphedema
Congenital deformities
Fine motor and gross motor deficits
Sensory and psychogenic hand issues.
We utilize a variety of tools and methods to customize each patient's treatment plan, including modalities such as heat, ice, TENS, neuromuscular electrical stimulation, laser, ultrasound, fluidotherapy and paraffin. Hands-on manual therapy techniques may include soft tissue mobilization, friction/scar massage, desensitization/re-sensitization, myofascial release, neuromuscular re-education, joint mobilization, manual range of motion, manual lymph drainage and kinesiotaping.
Custom splinting is used post operatively for protection/immobilization, preventively for support of bone or soft tissue and also as a mechanism to stretch, mobilize or lengthen soft tissue. Therapeutic exercise and activities are incorporated to strengthen and reinforce normal movement patterns, restore strength and ultimately enable patients to function at their optimal level. Adaptive equipment may be recommended in order to maximize the patient's ability to carry out their normal daily activities. Work simulation and ergonomic assessment may be instituted for those patients whose focus is to return to gainful employment or to prevent overuse syndromes.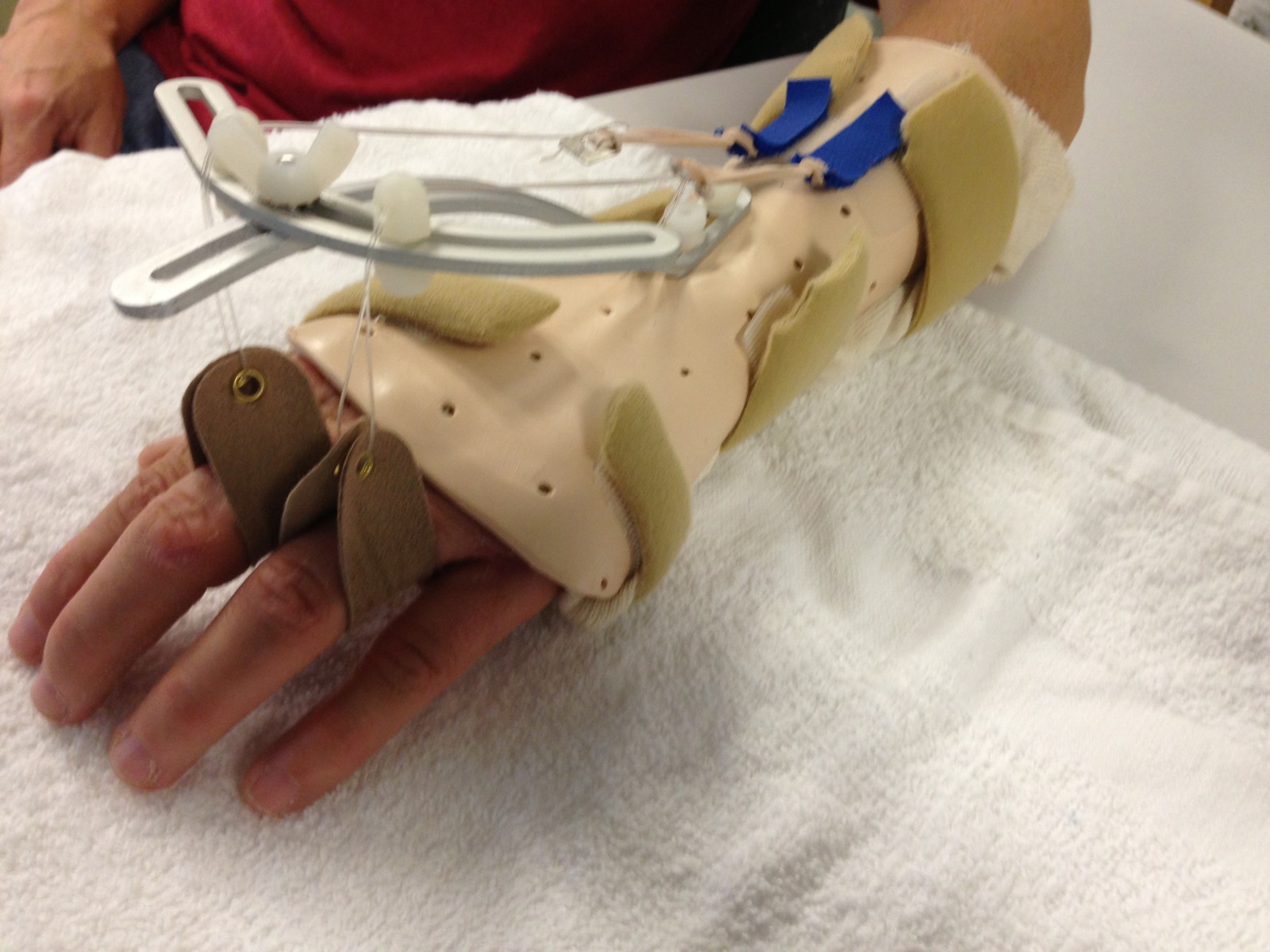 Much study and commitment are required in order to hold the title of Certified Hand Therapist. Hand therapists are specialists with a background in Occupational or Physical Therapy, must have at least 5 years of experience and pass a very rigorous board examination. It is important to hand and orthopedic surgeons that hand therapists be part of their team in order to improve outcomes and optimize the continuum of patient care.
OrthoCarolina employees more than 15% of the Certified Hand Therapists in North Carolina.
Stacy Rumfelt, OTR/L, OTD, CHT, CLT is an Occupational Therapist who is also a certified hand and lymphedma therapist employed by OrthoCarolina. She works in our Gastonia location and can be reached at 704-671-1860 for appointments.
"Hand Therapy is the art and science of rehabilitation of the upper limb, which includes the hand, wrist, elbow and shoulder girdle. It is the merging of occupational and physical therapy theory and practice that combines comprehensive knowledge of the structure of the upper limb with function and activity. Using specialized skills in assessment, planning and treatment, hand therapists provide therapeutic intervention to prevent dysfunction, restore function and/or reverse the progression of pathology of the upper limb in order to enhance an individual's ability to execute tasks and to participate fully in life situations." Journal of Hand Therapy; 2009(22)361-376), ASHT Scope of Practice; 2011
---
Back