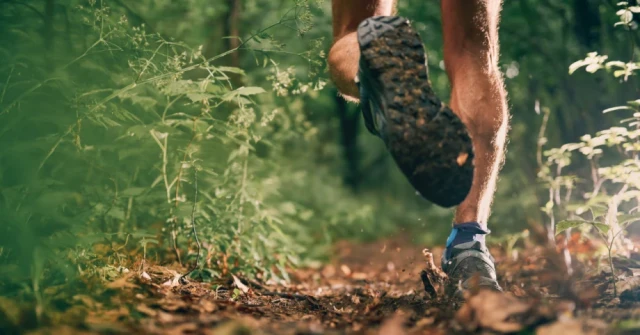 In hot summer months, many runners opt to trave in the heat of the pavement for a shady trail run. Beyond the cooler temperatures when you're out of the blazing sun, trail running can be a new challenge both physically and mentally as you dodge roots and rocks.

Trail running is also a great way for runners to increase lower body strength. Elevation changes challenge the large lower body muscle groups including glutes, quads, hamstring and calves. Though you get a break from the hot sun where you might be feeling the burn is your legs!
Below are a few tips for first time trail running adventures.
---
RUN FOR TIME NOT MILEAGE
Instead of focusing on a mileage goal, focus on a time goal. If your goal is to run 3 miles, and you normally run a ten-minute mile, run for thirty minutes on the trail. Don't be afraid to start with smaller goals as running on a trail will challenge your legs.
---
---
BE VISUALLY AWARE
When trail running, it's important to constantly adjust your eyes. While road racing can make it easy to let your mind drift with the flat terrain trail running is a different game. Look 10-15 feet ahead to avoid roots, rocks and other potential dangers. Sunglasses can also help keep dirt out of your eyes. Unplug from music to stay focused and aware of other runners on the trail.
---
ADJUST YOUR STRIDE
Although a tempo of 160-180 steps per minute is a typical recommendation for road runners, when trail running, it's important to shorten your stride. This adjustment allows you to make quick shifts as terrain changes. There is a lot of lateral movement in trail running that you don't see on paved roadways.
---
PREP FOR THE TRAIL
Here are a few things to consider bringing along on your run.
Trail Running Shoes – Getting dirty doesn't give you an excuse to wear an old pair of shoes. Invest in a pair of properly fitted trail running shoes. Trail running shoes offer stiffer soles, more tread/grip and protective padding and plates to keep you injury-free.
Hydration Pack – Water isn't always as accessible on the trail, so carry what you need. A hydration pack allows your hands to be free while active.
Buddy System – There is always the chance of injury on the trail and you may be further away than normal from help. Consider running with a friend or bringing a cell phone in case of emergency.
Stay Clean Tools – Trail running is messy. Wearing calf sleeves can help keep legs clean. Bring an extra towel to wipe away the dirt and sweat after a great run.
---
WHAT'S NEXT
-Ready for your next running challenge? Check out OrthoCarolina's 10k training plans and upcoming races we're excited about.

-Should you hit the trails with a sports drink or water? Here's the truth about staying hydrated.

Comments
---
Back