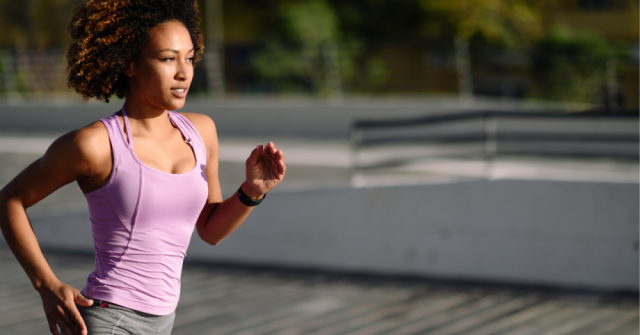 With Carrie Rhodes, PT
Any good training plan for runners includes variety. From first-time racers to experienced runners looking for that new personal record, utilizing a training plan that incorporates a range of workouts achieves the best result.
You'll see that variety in the beginner and advanced 10k training plans authored by OrthoCarolina Physical Therapist Carrie Rhodes. We learned more from Carrie about why each workout type is important to your training and how to get the most out of each day.
---
RELATED: 10k Training Plans From a Physical Therapist
---
LONG RUNS
Longer runs test your endurance and are a great build-up for race day. Keep in mind that they aren't suited for every day of the week. Carrie recommends incorporating these into your schedule weekly to decrease the risk of injury and burnout.
These runs are also meant to build mileage over time. Try increasing your mileage too quickly and that's where you see injuries occur.
Your closest mimic to race day are these longer runs, which offer a great chance to test things out before you get to the starting line. Wear the clothes you plan to race in and try bringing your water bottle if you're planning water stops.
---
EASY PACE RUNS
Pacing is different for each individual runner, but the key here is that you shouldn't be running so fast that you couldn't have a conversation.
Carrie says incorporating easy days into your plan is something she realized she needed the hard way. Go race pace all the time and you'll burn out quickly.
"When you give yourself an easier day you don't look at the clock," Carrie says. "You just enjoy the run and get some miles under your feet."
---
TEMPO RUNS/SPEED WORK
If you've been running slower miles you can't expect your body to suddenly speed up on race day. Tempo runs are intentional and goal-specific. They're designed to help you get faster.
In Carrie's advanced 10k training plan, a tempo day might look like a one-mile warm-up followed by two miles at your 10k pace before wrapping up with a mile cool-down. The goal is to incorporate periods of a faster pace to get your body used to speeding up.
---
CROSS TRAINING
Cross training days are designed to get your heart rate up to still focus on cardiovascular fitness without as much hardship on your legs as a running day. Great cross training activities are things like swimming, rowing and hiking.
Feeling sore? Yoga and Pilates are optimal to get in some more intense stretching. Some studios even offer deep stretching and classes specifically for runners.
Carrie's 10k training plans offer the option to make days either crossing training-focused or all about rest. Intense soreness and pain are indicators that the body could use a good rest day. Taking time to recover now can prevent injury down the road.
---
RUN/WALK COMBO
Many training plans, like Carrie's "couch to 10k", suggest a combination of running and walking. These are designed to build up endurance over time while still getting some distance under your feet. You'll advance to less built-in recovery over time. These are important training tools for beginners and those coming back from injury alike.
---
WHAT'S NEXT:
- Ready to start a training plan of your own? Sign up for the OrthoCarolina Classic 10k or the Around the Crown 10k and use one of our physical therapist-authored plans to get going.
- Hear more from Carrie about the training plans she designed and helpful tips and tricks to get your running your best through our video Q&A.
- Pain or a nagging injury keeping you from getting started? Find an orthopedist or an OrthoCarolina location near you.
---
Back