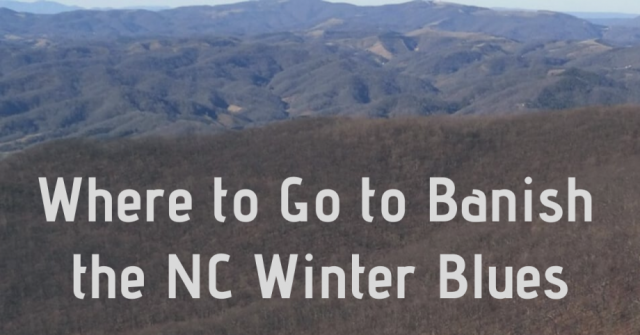 The pallor of winter can cast a dismal tone over the mountains of Western North Carolina. With rainy days, freezing nights, and a dearth of sunlight, you might feel immersed in the fog of seasonal blues. Thankfully, the Asheville area is well equipped with warmth, cheer, and rejuvenation- as long as you know where to look. Here are some recommendations on where to go to lift your spirits and buoy your mood.
Hike
Ryan Lubbers, author of A Hiker's Guide to Hickory Nut Gorge , recommends Bear Wallow Mountain in Gerton for a peaceful winter hike. At 4,200 feet, Bear Wallow is the highest peak in the gorge, offering a panoramic view of rolling mountains in deepening shades of blue. "You can see all the way to South Carolina," says Lubbers, "with epic views of the Pisgah National Forest and the Black Mountains to the North." Free-ranging cattle keep the trail free of underbrush, creating an unusually sparse winter landscape, laced with frozen streams and boulders thick with hanging icicles.
Once on top, check out the old fire tower and enjoy a thermos of hot coffee on the wide-open bald. The hike is three miles roundtrip, with the option of looping back on a gravel road, the perfect length for a morning trail run or a leisurely afternoon jaunt. On your drive back to town, make sure and stop in for some strawberry leaf tea at Mountain Mojo.
Explore
If you're looking to escape the rain and chill of an Asheville winter, why not head underground? Swap icicles for stalagmites and frozen streams for flowing underground pools. Just an hour and twenty minutes away in Bluff City, Tennessee, Worley's Cave offers a brand new world to explore—a world that's never cold. "Caving is the best thing to do in the winter because it's always 55 degrees and it never rains- it's guaranteed good weather!" Says David Clarke, who has guided trips through this natural labyrinth.
With over 4,000 feet of tunnels and caverns, exploring Worley's Cave is an authentic adventure; don't expect handrails, lights, or ladders to ease your journey. In fact, a guide is required for your first visit: besides keeping you safe, they will tell you about the draperies, columns, stalactites, and other geological formations that surround you, and explain the astounding processes that create them. If you're looking to amp up your underground experience, you can even camp in the cave overnight—no tents necessary.
Whether you're in it for a few days or just a few hours, spelunking is a fun and fascinating way to break up your winter routine. Look at it this way—after exploring the underworld with only a lantern to light the way, perhaps an overcast January day won't seem so dark after all.
Relax
There is no better time than winter to check out the Asheville Therapeutic Salt Cave . All five senses will be nourished and engaged inside this soothing den. Pink salt rock walls and crushed salt floors that massage your feet like sand on the beach, together with soft music and warm light provide a healing sanctuary from everyday stress. Salt therapy has been known to benefit the treatment of many common winter ailments such as depression, dry skin, viral infections, and respiratory conditions.
"We all long for rest, solitude, and a peaceful moment of seclusion from time to time—but especially on these cold, dreary days," says Kimberly Drye, a certified yoga instructor with HereNowYoga who leads classes in the salt caves. "Not allowing yourself to have this extra time for solitude can often leave you feeling drained and cranky."
Treat yourself to a salt therapy session after a frigid weekend on the slopes, or indulge in a yoga class, meditation, or sound concert in the cave after a long week at the office.
Drink
The glowing warmth and friendly atmosphere of Urban Orchards offers respite from dreary winter evenings. At this West Asheville cider house and eatery, the rotating ciders are as delicious as they are innovative, from the habanero and vanilla infused Cidre de Diablo to sweet potato hot cider with cinnamon and nutmeg—served with a toasted marshmallow. Keep it dry and spicy with the kicky ginger champagne cider, or recall the sweet tang of summer with blackberry cider, which will be on tap later this month.
You'll be surprised at how bright and uplifting this traditional English drink can be, especially when it's made from local apples and fermented right downstairs. "Cider isn't heavy and it won't make you sleepy, the way beer can," says owner Josie Mielke. "And spice has a warming effect."
Urban Orchards sources their ingredients from local vendors such as Hickory Nut Gap Farm, Looking Glass Creamery, and the West End Bakery, creating a compelling menu of entrees, small plates, and cheese boards. And selection of beers from local breweries are on tap as well. Cards and board games are kept on deck, or you can sit at the bar and chat about local events with the server. Says Mielke, "We have a super friendly staff- it can feel a little bit like Cheers in here!"
Written by Melina Coogan for RootsRated and legally licensed through the Matcha publisher network. Please direct all licensing questions to legal@getmatcha.com.
---
Back