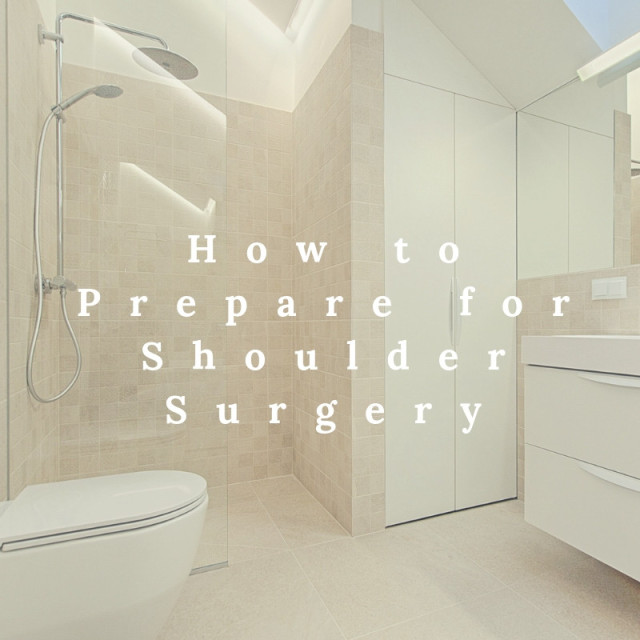 Tips for At-Home Success
Debra Myhr, PT
Having surgery is never easy, but being ready at home can help reduce anxiety for the post-op experience and make you more comfortable after shoulder surgery. Here are a few tips for how to prepare for after shoulder surgery:
Consider the arm
Which arm are you having surgery on? If it's your dominant arm, you'll need to think about how you use it every day and how the surgery may impact and challenge those needs. Simple tasks such as using the bathroom, eating, opening the refrigerator, doors, shaving and brushing your teeth may be more difficult because humans are not usually ambidextrous. If you are able to practice these tasks with the other arm prior to surgery you will be more confident.
Prepare for Dressing
Post-surgery, the best type of shirts are button-down or oversized t-shirts. You may also purchase post-surgical shirts online made specifically for shoulder surgery patients. In order to get dressed, focus on putting the surgical arm in first. For females, it may help to purchase a bra that has a front closure.
Maximizing Sleep
It can be challenging to sleep after shoulder surgery, and most patients find that a recliner or couch are the most comfortable places to sleep. Another option is to purchase a pillow wedge to use for the upper body and extra pillows to prop the surgical arm. It is usually best to ice prior to sleep in order to help with pain control and also advised to wear your sling until instructed otherwise by your doctor, as it helps support the injured and recovering tissue.
Other Tips
They may not seem like much, but small, everyday items can make a big difference when it comes to ease in recovering from your surgery. Food, toiletries and bath equipment are examples of items you may want to consider purchasing to make your transition easier. Here is a longer list of post-surgical items that will be helpful:
1. Button-down, oversized and post-surgical shirts and front closure bra for females
2. Long handled back washer
3. Detachable shower head
4. Pillow wedge for sleeping
5. Medicine box to keep necessary medications close by
6. Shower chair if you are unsteady
7. Pre-made or frozen meals
Debra Myhr, PT, is a physical therapist with OrthoCarolina Monroe.

More From Physical & Hand Therapy
Comments
Leave a Comment