Dr. David O'Brien (OrthoCarolina Winston) recently traveled to China on behalf the North American Spine Society, in conjunction with the Chinese Association of Orthopaedic Surgeons (CAOS), with a small group of experts from the United States. On May 19 he taught China's first-ever cadaver spinal injection course in Shanghai. Dr. O'Brien served as course moderator for a distinguished group of faculty from both the United States and China. Due to the high demand and the limited amount of space, this day-long cadaver course was broadcast from the teaching facility to thousands of orthopedic surgeons. The courses were presented in both English and Mandarin Chinese.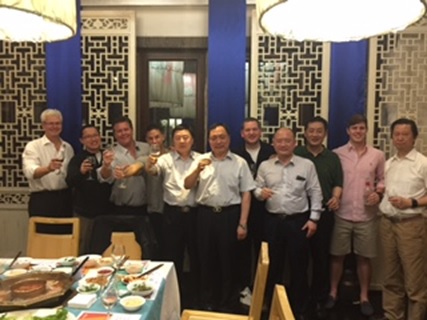 While in China he also went to Chengdu to participate in the 9th Annual Congress of the CAOS. This was truly an international event with faculty from Europe, Taiwan, Hong Kong, China and the United States. There were approximately 8,000 attendees on-site during this three-day event, which was broadcasted to over 100,000 orthopedic surgeons. Dr. O'Brien interviewed numerous Chinese surgeons seeking a spine fellowship in the United States and gave numerous symposia presentations, participated in an expert forum and met with the Editorial Board for the Chinese version of The Spine Journal (TSJ). He subsequently was invited to present at the Shijitan Hospital in Beijing on May 26 by Professor Ding, Chief Physician and Director of the Spine Department.
"I was inspired and amazed at their interest in learning not only advanced surgical techniques but also their interests in non-surgical care and minimally invasive treatments including injections. They are truly dedicated to comprehensive patient care," says Dr. O'Brien.
---
Back