Working on a NASCAR pit crew isn't an easy job. Fast-paced, physically demanding working conditions mean pit crew members must be in top physical shape. There's almost an art to the role; for a team to be competitive they must be cohesive and work together meticulously. Those who go "over-the-wall" perform position-specific maneuvers on the car in a matter of seconds. They leap back over the wall just in time for the car to head off down pit road back into the race.
NASCAR pit crew jobs can be competitive, with many coming from college or pro sports. Like any sport, being on a pit crew takes training, practice, and dedication. The risk for injury is prevalent, but so are the rewards.
Chuck Efaw, co-owner of Xcalibur Pit School, runs a premier pit crew training school alongside his father-in-law and co-owner Jeff Rudd. Offering instruction and coaching for people with an eye on a pit crew career, their tutelage covers pit basics all the way to highly skilled. What most people refer to as NASCAR is the well-known Monster Energy Cup series, but there is a market and need for pit crews in other tiers of the sport as well. In the lower series of Camping World Truck Series, Xfinity, and ARCA racing, also sanctioned by NASCAR, up and coming pit crew members hone their skills. Many of them come through Xcalibur Pit School, which also puts together pit teams for NASCAR's lower level series.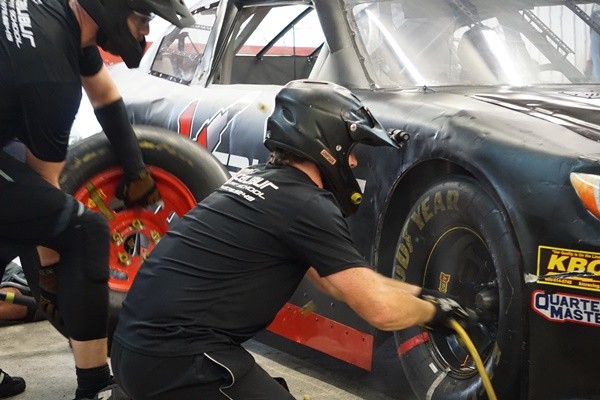 Efaw answered some high-speed questions about how his athletes train for a career in the fast lane:
As someone who's been involved with NASCAR for many years including as a pit crew member yourself, how would you describe Xcalibur Pit School?
Xcalibur Pit School is an opportunity for young students or college athletes to train to get into pitting race cars for NASCAR. We have all the same tools and equipment used in ARCA and NASCAR for pit road pit stops. We also have an indoor pit stop facility for rainy or cold winter days. We probably have give or take about 60 people as students at any one time. Beyond that, we put together pit crews for ARCA, Truck, and Xfinity Series; we typically have 60-70 more that are pitting on pit road on weekends.
At any given ARCA race, Xcalibur Pit School puts together anywhere from 11-16 pit crew teams to work the race. You also put together pit crews for the Camping World Truck and Xfinity series. How does that work?
Some of the people we place on pit crews are current students in our school; usually, the better they are the more of a chance they'll pit a race. Many of them are trying to work their way up to the top Monster Energy Cup series. Some are graduates of the school or guys who have pitted for a number of years and still want to pit for extra money and the fun of it; usually truck and Xfinity races. If a Cup team has a Xfinity affiliation generally their crew will pit those cars, but we manage many other Truck and Xfinity teams that don't have an alliance with a Cup team.
We are a one-stop shop; we take care of contacting pit crew members, booking rental cars, flights, and hotel, emailing team rosters to the teams, distributing itineraries.
Pit crews follow a rigorous schedule, don't they?
Many people know that Monster Energy Cup pit crews travel from race to race every weekend, which can wear on you, but in the lower tier series, the travel can be even more draining. Our crews travel mostly by vans; sometimes flight but usually in a vehicle on the road. Once last year, we had a team pit a XFINITY race in Iowa, then a truck race in Kentucky, then they flew or drove home to North Carolina. The next day at 1:00 pm they got on a plane and flew to Des Moines. They drove back that night and got home at 2:00 am. They were gone 13 hours. That's not even the toughest weekend they'll have.
How does that travel wear on the pit crews?
Besides the normal chronic and acute injuries that pit crews can face, so much travel can take a toll too. Just sitting in a car or van for hours, or on a plane, can be rough on their backs or cause muscle fatigue. We don't see as many injuries early in the season (which runs February to November) but as we move into the busy part of the season in early June we see more injuries. Muscles are fatigued; we see sprains, strains, and bruises.
We have a contract with OrthoCarolina who provides service to us once or twice weekly during our practice sessions onsite. Athletes who understand how a racing career affects them are usually involved with taking care of their bodies. They take the initiative to workout, stretch, work with OrthoCarolina's athletic trainer. They take advantage of having an athletic trainer on site, which really helps between grueling weeks of travel especially when it comes to injury prevention.
OrthoCarolina has also started to travel some with us to races; sending an athletic trainer to ARCA races. It really helps to have a medical provider on site to care for our teams; stretching them, treating any ongoing issues and mitigating needs that come up mid-race.
---
Back