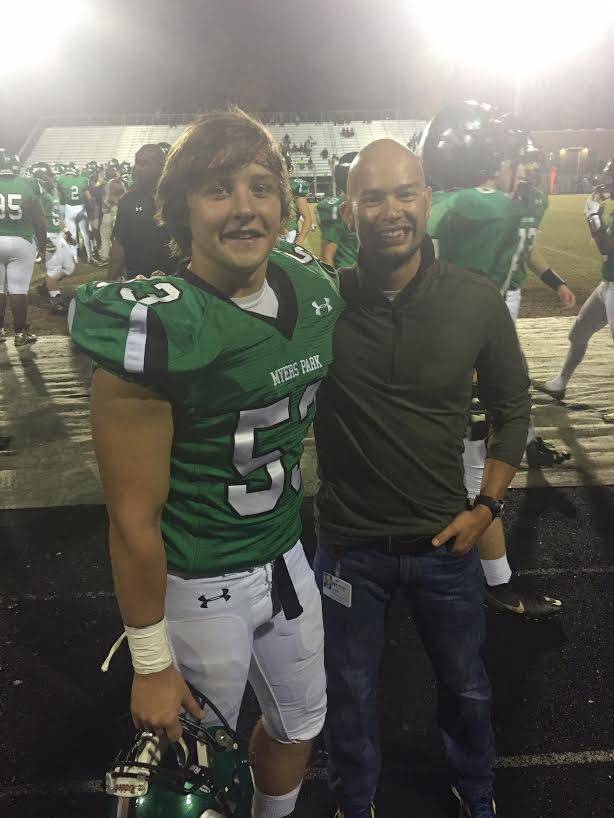 When an athlete gets injured, we tend to focus on the physical aspects: What was hurt, the surgery, and when can the athlete get back on the field or court. The truth is that someone recovering from an injury will face a mental struggle as much as physical.
Warren Layne, a linebacker on the Myers Park High School football team, demonstrated this when he tore an ACL in his junior season, and then the other ACL in his first game back during his senior season.
The doctors and staff at OrthoCarolina know that a patient's attitude is key in healing, and in Warren's case, getting stronger as a result.
But dealing with the frustration of back-to-back ACL tears for a young man in the prime of his high school playing days presented a unique challenge.
The First Setback
Midway through his junior season, Warren knew something was wrong. It was the first series of the third quarter when he thought he had just banged his knee. He was having one of his best games, and the adrenaline was pumping.
"I started noticing something was wrong when I went to the sideline and I couldn't do a normal squat," he said.
The following Monday, Warren visited Dr. Fleischli, a Sports Medicine Surgeon at OrthoCarolina, who determined that it was an ACL tear. He performed the surgery soon after.
Warren's junior season had come to a screeching halt. His greatest fear--having surgery--had become a reality. And while he was in great hands at OrthoCarolina, his biggest test was yet to come.
"The hardest part was the first week after surgery – it was my first injury and surgery--I had no idea what was going to happen," Warren said. "The doctors said I would be up and moving but I was convinced I would be lying around. It became more of a mental thing."
Wanting to return for his senior season, Warren stayed motivated. The doctors and rehab specialists at OrthoCarolina knew that recovering from a season-ending injury would be as much a psychological barrier as physical.
Warren found mental strength during his rehab with OrthoCarolina Sports Medicine Physician Assistant Aaron Hewitt, who works closely with Dr. Fleischli.
"I love Aaron," Warren said. "He has a great personality and is very positive. Every time I came in for a checkup he told me I was doing good throughout the process."
Setback #2
Warren had one goal after the injury his junior season: Work hard on rehab so he could play his senior season. This meant remaining optimistic when faced with adversity.
"I was feeling really good about being a senior on the team," he said. "That feeling walking on the field that night was the best experience."
The first game of the season against Country Day was played at Memorial Stadium in Uptown Charlotte and broadcast on local TV.
Warren had started the game and had already recorded a quarterback sack when he went down.
"The minute it happened, I looked at my trainer and I said, 'it's my other knee.' It was devastating."
After coming off the field, Dr. Fleischli performed a test on his ACL and determined Warren had torn it--this time the opposite knee.
Dr. Fleischli encouraged him to get the surgery, noting that it would pay off in the long-run.
"He was so sorry but there are things in life that you can't control," Warren said.
The one thing he could control was staying mentally strong and knowing that the only way to recover was to have a positive outlook.
Looking Forward
Warren admits that recovering from the second injury was easier than the first. After listening to his doctors and physical therapists the first time, and then seeing the results of maintaining the right frame of mind, he was able to get the most out of his recovery.
"He was dealt a tough hand when he tore his other ACL after working so hard to get back for his senior season," said Dr. Fleischli. "To his credit, he never got down for long and just focused on getting better. He's been a great patient and has worked hard in rehab."
Recovery went so well he was able to represent the team on senior night midway through the season, walking out with the team and being chosen as speaking captain.
Warren attends practices doing whatever he can to help and doesn't miss a game. Being on the field with his teammates has helped, Warren's mother, Paige, said.
He hopes to be far enough along in his recovery to play rugby in the spring. As an unintended expert at recovering from ACL tears in both knees, Warren has some advice:
"It's going to stink at first because it feels like the end of the world, but once you come to the realization that so much worse could have happened to you, it becomes something you can recover and grow stronger from."
It helps to be supported by a great team like OrthoCarolina. Said mom, Paige:
"OrthoCarolina has been with us every step of the way through both surgeries. We feel like they are family, not just helping us with the medical part but mental stuff as well."
More From News Room
Leave a Comment