What makes winter such a great time to take the family day-tripping in Winston-Salem? It's the perfect time to explore at your own pace and make the most of this family-friendly city. On winter days in Winston-Salem you can learn about the area's rich Moravian heritage, hike the Saura Mountains, and have an urban adventure in the parks and greenways of the downtown arts district. While some people think winter is a time to huddle indoors and wait for spring, those willing to step out and explore Winston-Salem will find a season's worth of outdoor activities.
Living History in Old Salem
When you spend a day visiting the homes, gardens, and shops of Old Salem you'll feel like you've time-traveled to 1766, when Moravian missionaries first settled the community called Wachovia. In Old Salem you can tour more than 20 buildings, mostly original structures staffed by guides in period costume who demonstrate trades like ceramics, gunsmithing, and furniture-making, along with cooking techniques and other activities typical of 18th- and 19th-Century life. If you have kids, they'll love exploring the restored gardens and fruit orchards and then strolling down Main Street to Winkler Bakery to sample Moravian ginger cookies, sugar cakes, and American heritage chocolate. From the bakery you can head to T. Bagge Merchant, a community store built in 1775 that now sells merchandise like Moravian star ornaments, beeswax candles, and pottery, all crafted by tradespeople on site.
Horseback Riding in Tanglewood Park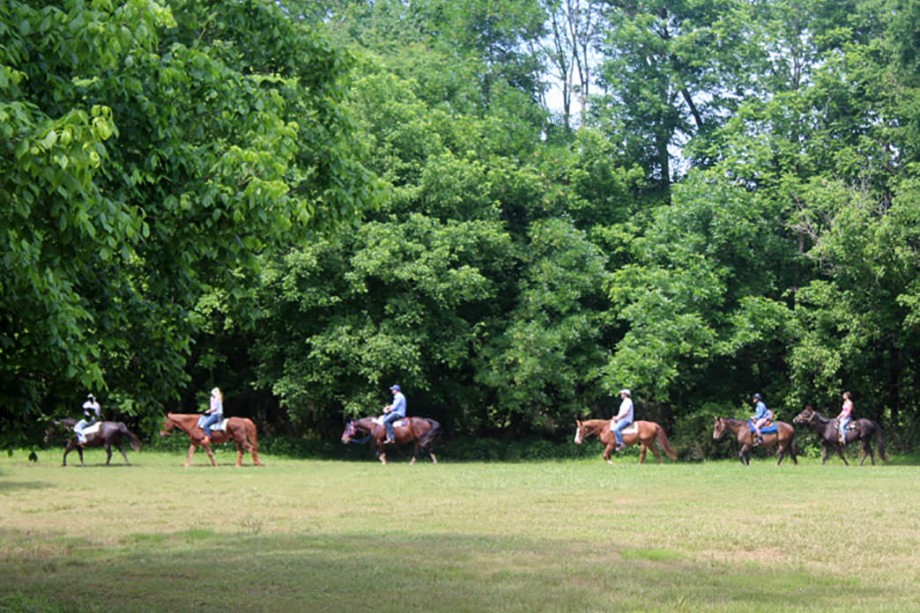 One of the best ways to explore 385-acre Tanglewood Park, located 15 miles southwest of downtown, is by horseback. You can reserve a spot on a guided trail ride with Tanglewood Stables to explore forested areas, open meadows, and the banks of the Yadkin River. To participate in this hour-long trip, riders must be at least 6 years old, but families with younger children can sign up for pony rides, horse-drawn wagon rides, and hayrides during holidays and special events.
Training for a Fun Run or 5K
Join up with Winston-Salem's enthusiastic running community at We Run Winston. These weekly evening runs emphasize fun for all ages and levels of runners, walkers, and stroller-pushers. Families can train together for two runs that kick off the race season every year and benefit local causes. The 23rd annual Run Leo Road Race & Pasta Dinner on March 16 and 17 benefits St. Leo's Catholic Church children's programs, and the New Hope Run & Picnic at Bailey Park on April 14 brings the running community out to support Winston's Hospice & Palliative Care Center.
Biking to Salem Lake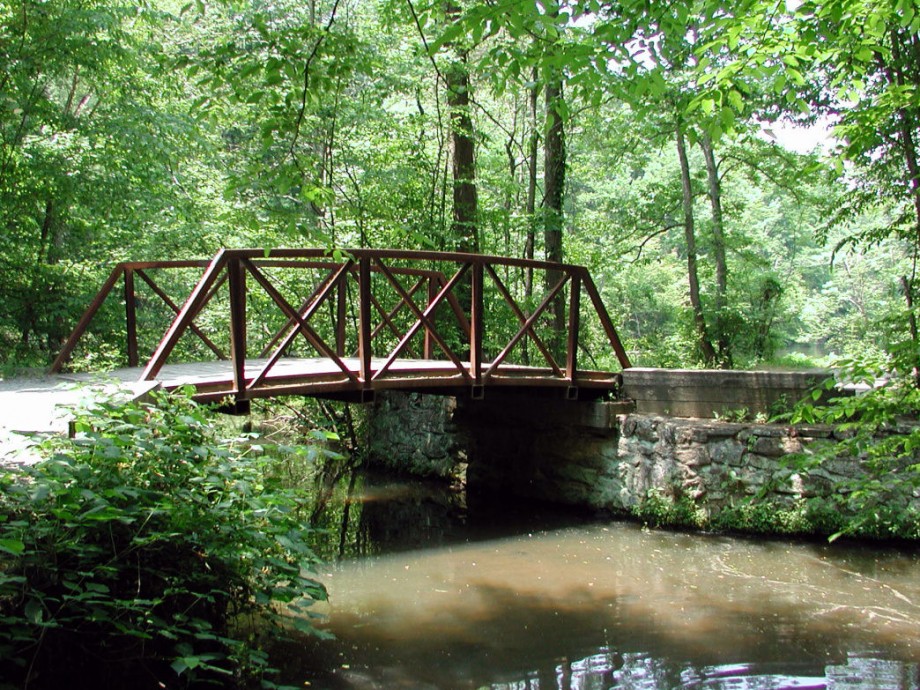 Take advantage of Winston-Salem's new bike-sharing program to enjoy the paved Salem Creek Greenway and connected trails that are making it easier than ever to get around downtown on foot and by bike. It's a scenic and mostly flat ride out to Salem Lake, and you can circle the lake on the 7-mile, natural-surface Salem Lake Loop Trail for even more distance. Or, connect with the new, 1.5-mile Long Branch Trail to explore Innovation Quarter. In Winston-Salem, bike share stations are centrally located off Main Street. near the YMCA and on the Salem Lake Trail at Salem Lake Road.
Hiking the Saura Mountains
Shake off the winter blahs and get your family moving on miles of hiking trails in the Saura Mountain range. Two state parks north of Winston-Salem offer elevations and distances for all ages and abilities. Pilot Mountain State Park serves upriver and mountain terrain, with a corridor trail joining the two. Don't miss the 0.8-mile Jomeokee Trail that crosses the gap between Pilot's dramatic knobs to circle the base of Big Pinnacle. The TRACK Trail at Pilot's summit is a half-mile trip lined with activities for kids, and the half-mile Bean Shoals Canal Trail connects to the path to Horne Creek Farm, a living history site representing Piedmont farming life in the early 20th Century.
Hanging Rock State Park offers up amazingly diverse features, including waterfalls, craggy overlooks, a lake, and even a mountain cave. Depending on the ages and abilities of your group, you can cover up to 18 miles of trails, with short and long-distance options to some of the best vantage points in the Saura range. An easy 0.2-mile trek from the parking lot off Hooker Farm Road takes you to the cave and falls at Tory's Den. During your visit you can linger at the park's many scenic overlooks to watch climbers scaling some of the best quartzite routes in the southeast.
Touring the North Carolina Zoo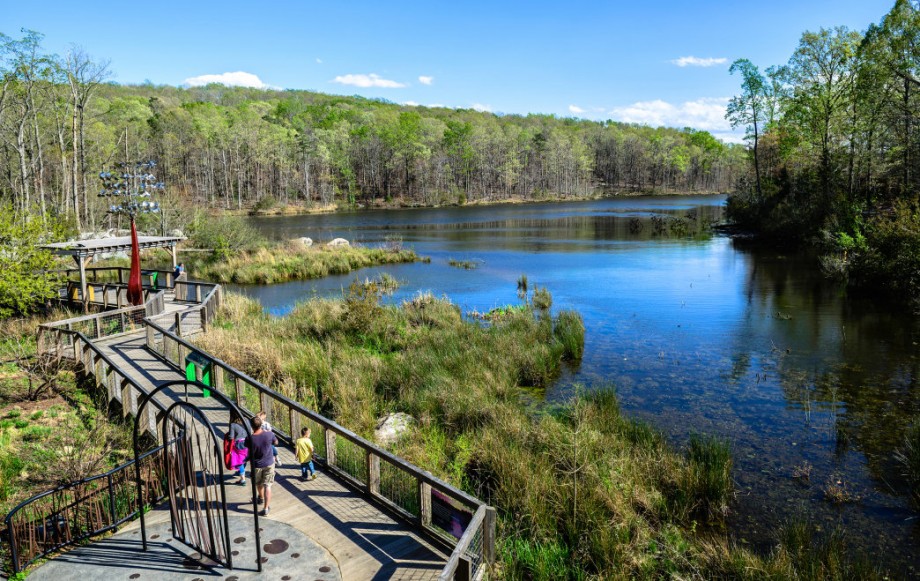 Just under an hour southeast of downtown, the largest natural habitat zoo in the country makes a great day trip for the whole family. The North Carolina Zoo's oversized enclosures allow animals to roam much like they would in the wild. Plan for a full day to take in exhibits clustered by geography: cypress swamp, marsh, rocky coast, prairie, and stream in the North America area of the zoo; and grasslands, river, and aviary in the Africa section. Each section requires several hours of walking, and park shuttles don't run in the winter, so make sure you bring walking shoes, strollers, and supplies to keep the troops happy.
Shopping at Mast General Store
Stocking up for your winter adventures can be as much fun as being outdoors with a stop at Mast General Store in downtown Winston-Salem. Mast stocks an overwhelming and eclectic mix of quality home goods, outdoor gear and clothing, food, toys, personal care products, and more. You'll find major outdoor clothiers like Patagonia and Columbia, Yeti coolers, a full line of Burt's Bee toiletries, and upscale pottery and furniture in the same room with kitchen gadgets and locally-made jellies, baking mixes, coffees and teas. Kids will be dazzled by the huge toy section, full of games and playthings that parents will remember from their childhood. Grab a bag and fill it with old-time candies like cow-tails, fireballs, sugar sticks, and malt balls at the Mast Candy Barrel. Parents will enjoy the retro confection selection, while kids can mix and match from the rows of candy barrels for a great ending to any outdoor adventure.
Originally written by RootsRated for OrthoCarolina.
---
Back