Up in the Appalachian Mountains, we love cycling. I ride with High Country Development, a group of cyclists all under the age of 25 who are full-time college students. We promote a healthy and active lifestyle, help our team members achieve their goals, and simply just love to ride.
I was home in New York on spring break this year and decided to race the Grants Tomb Criterium in New York City, when on the second to last lap another cyclist brushed wheels with me. I went flying into the metal barriers along the course. As an athlete, it's one of those really scary moments that you're not sure really happened, but you know you'll remember for the rest of your life.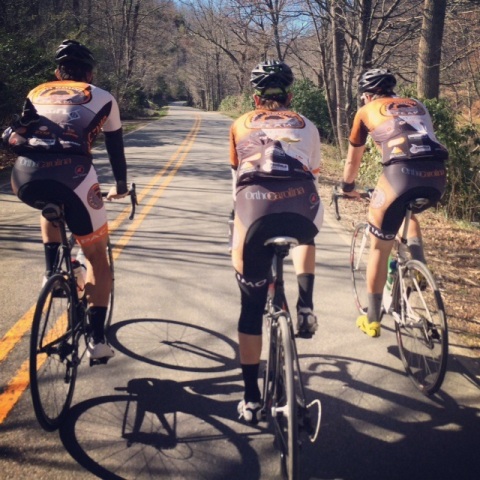 I went to the hospital for knee and hand pain and found out I had broken my hand in 4 places; 3 breaks on the 5th metacarpal (knuckle) and one break on my 4th metacarpal (below the knuckle). I ended up in a splint with an expected healing time of 4-6 weeks, with no outdoor cycling allowed. Back in Boone, OrthoCarolina hand specialist Dr. Fleming oversaw my X-rays and recovery. To say I was eager to be back on the bike is an understatement – but he recognized my urgency to return to competition and was able to balance it well with my injury care.
Unfortunately, crashes are part of cycling. But in the event of an accident, it's great to know that we are in good hands, and I mean it – I had also previously been to OrthoCarolina Boone for a broken wrist in 2012! I'm now back on the bike with a need for speed and excited about the season…and our team takes comfort in knowing that OrthoCarolina will have our backs. You can find more information about High Country Development at www.highcountrydevo.com.
Brandon Freyer, High Country Development
---
Back