My name is Adam Smith and I am the Head Athletic Trainer at Belmont Abbey College in Belmont, NC. The athletic training department has used OrthoCarolina physicians for our sports medicine needs for over ten years now and we could not be more pleased with the service that they provide to the college.
At Belmont Abbey, we strive to educate our students in three areas: body, mind, and spirit. In athletics, we focus a little more on the body area and work to keep our athletes in optimal physical condition both to prevent injury and to compete at a high level. The four athletic trainers on staff work closely with Dr. Ranjan Maitra, our medical director from OrthoCarolina Gastonia, to provide athletic training services to over 350 student-athletes across 20+ athletic teams. He collaborates with us on our emergency plans and other sports medicine related policies to ensure that top notch care is being provided to the athletes. We have also have dozens of athletes successfully return to competition after having surgery from Dr. Maitra and a few other OrthoCarolina surgeons. The sports medicine/orthopedic specialty service we receive from them help us to know that our athlete's bodies are receiving the best care possible.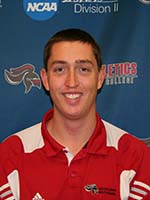 The other hallmark of Belmont Abbey College is the sense of community that one feels when on campus. The kind service and friendly staff at OrthoCarolina really help us to feel like we are a part of their community and in turn, we hope that they feel connected to the Abbey community. The office staff at the Gastonia location is very accommodating when it comes to helping us schedule our athletes for visits and Dr. Maitra often makes visits to campus to check up on some of the athletes and see how everything is doing.
We are so grateful for the presence of OrthoCarolina in the sports medicine operations at Belmont Abbey College and love the work they do in helping us keep the bodies, minds, and spirits of our student-athletes in top form!
More about Belmont Abbey Athletics
More about OrthoCarolina Gastonia
---
Back