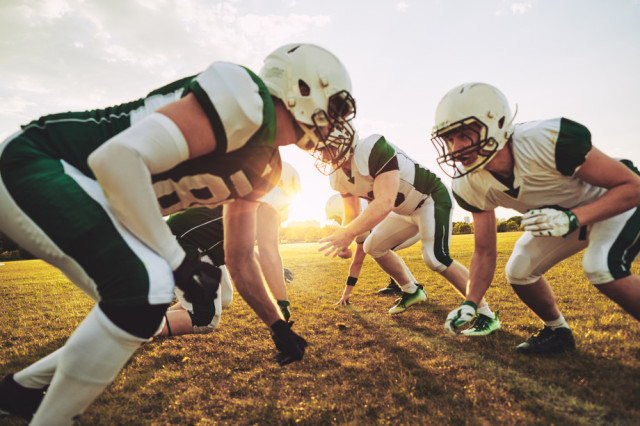 While it seems like only yesterday that Tom Brady was hoisting yet another Lombardi Trophy, another football season is upon us.
With the constant barrage of info through television and social media, we are more aware than ever about injures that surround football. From concussions to ACL tears, it seems like there is always some drama and controversy surrounding how best to prevent and manage these issues. For those of us who have children playing sports, these issues are much more important than just making sure our fantasy football lineups are competitive each week.
Overall, sports are a wonderful way to promote a healthy lifestyle, learn about teamwork, sportsmanship, and discipline. Injuries will always be part of sports, but it helps to understand the true risk of initial injury, repeat injury rates, as well as know some techniques to minimize injury risk.
A 2017 article in The American Journal of Sports Medicine looked at patterns of initial and subsequent injuries in college football athletes. They looked at data gathered from college football players at two Division I universities from 2007-2011. The overall injury rate was 35.2 per 10,000 athletic exposures (an athletic exposure is defined as on player engaging in one game or practice session). Although the total number of initial injuries was greater, the rate of subsequent injuries was 1.4 x greater than the initial injury rate. Lower extremity was the most common site of initial injury (52.2%), followed by upper extremity, then head and neck. Lower extremity was also the highest area of subsequent injury (37.3%). Running backs and defensive backs had the highest injury rates. Despite lower initial injury rates, subsequent injuries to the head and neck nearly doubled the initial injury rates, 63% of which were concussions.
Obviously good data is not very helpful unless we know what to do with it. Given the high re-injury rate, it is crucial that we prevent the injury in the first place.
---
Keeping a few basic principles in mind can go a long way in helping to minimize injury risk:
Heads Up: Advances in equipment and safe tacking programs can be helpful. Communicate with coaches and training staff to ensure proper fit and technique.
Fuel Up: Proper nutrition and hydration are keys to minimize the risk of heat related injuries, and can also cut down on muscle strains as well.
Speak up: Athletes should communicate with coaches and training staff if something does not feel right and report injuries immediately. Playing through and ankle sprain is a much different animal than ignoring concussion symptoms.
Warm-Up: Proper warm-up is crucial, regardless of the level of competition. Pro and college programs will have solid programs in place, but sometimes more recreational leagues leave the players on their own. Jogging, skipping, dynamic stretching etc, are important to prepare the body for higher-level movements.
Reference: Williams JZ et al. Epidemiological patterns of initial and subsequent injuries in collegiate football athletes. The American Journal of Sports Medicine. 2017; 45(5): 1171-1178.
Chris Gabriel, OCS (Board Certified Orthopedic Specialist), CSCS (Certified Strength and Conditioning Specialist), practices physical therapy with OrthoCarolina Sports and Wellness. Chris and his team treat a range of patients for orthopedic and sports medicine needs. He enjoys working with various local high school, college, and professional sports teams.
Comments
---
Back