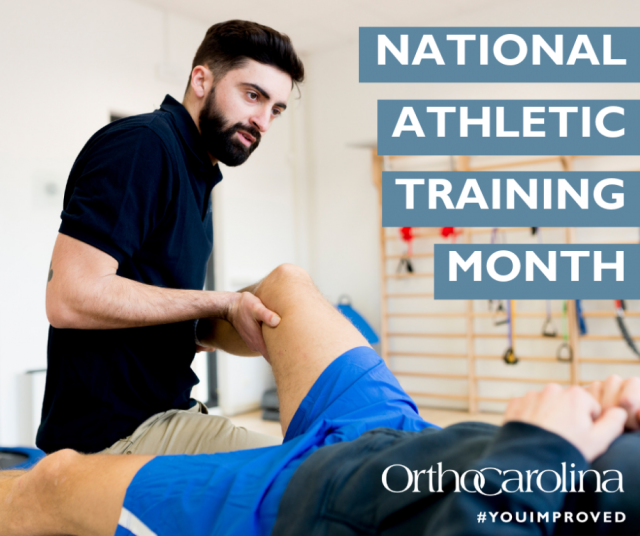 We often think of athletic trainers for their role on the sidelines as we see them tending to athletes and athletic injuries during sports events. The true role of an athletic trainer encompasses much more than this familiar moment.
As part of National Athletic Training Month, observed each March, OrthoCarolina celebrates the dedicated, talented trainers on our staff. As health care providers, their role is vast including injury prevention and education, emergency care and rehabilitation.
"ATCs are often selfless, very dedicated and hard-working," says Rebecca Strycharz, an athletic trainer at OrthoCarolina Rock Hill. "An ATC's training prepares them for roles in the field in a variety of ways essentially from the time we enter a program. Patient care is at the core of athletic training."
---
---
On and Off the Field: A Day in the Life
At OrthoCarolina, athletic trainers can be found both in clinics and doing outreach working closely with a supervising physician says Benjamin Paul, an AT at OrthoCarolina University Physical Therapy. Outreach makes up the more of the role ATs are traditionally known for, serving in secondary school, collegiate and professional sports settings.
They are not just on the sidelines for practices and games but available during conditioning and weight training activities. Here they're working to prevent injuries from happening in the first place but, when they do, serving as first responders, rehabilitators and helping athletes return to play.
In health care clinics, athletic trainers are part of the patient's overall care team.
"My role in the clinic as an athletic trainer is very similar to a medical assistant," Strycharz said. "We triage the patient and prepare them to be seen by the provider and help answer any questions they may have."
An AT's background in biomechanics, technical movements and sports movement can make them a great fit for those conducted rehab from an athletic injury, Paul says. ATs can bring a real sports medicine perspective to the table.
It's in both of these settings that OrthoCarolina ATs shine.
Starting his day at 7 AM, Athletic Trainer Ray Beltz works with a variety of patients at OrthoCarolina Huntersville Physical Therapy. In the afternoons, he's traveling to provide sports medicine and event coverage with athletes at either W.A. Hough High School or Stewart-Haas Racing.
---
---
Getting Athletes of All Levels Back in the Game
Whether keeping athletes healthy and injury free on the field or helping patients recover from everything from ankle sprains to total shoulder replacements in the clinic, OrthoCarolina athletic trainers are making lives better throughout our communities. And at each turn, they create memorable experiences for those around them.
"The best part about being an athletic trainer is the relationships formed," says Matthew Hancock, an AT at OrthoCarolina Sports Medicine Physical Therapy. "For a lot of injuries/surgeries, the recovery process is a few months to upwards of a year so we get to know patients well."
The culmination of that relationship is seeing athletes get back to doing the things they love.
"It's amazing watching my patients complete their prescribed rehab programs and return to their previous activity level, whether it be the normal activities of daily living, recreational activities or formal sports participation," Beltz said. "That is truly the reward, knowing that you helped give someone another chance."
---
What's Next
- Don't put off rehabbing that nagging athletic injury of your own. Find an OrthoCarolina location near you.
- Physician Assistant Tony Connot (also OrthoCarolina's 2018 Employee of the Year) tells us why being on the sidelines at his local high school football games keeps him young.
- Work Out With Us – ATs keep athletes safe and on the field. Another great way to stay active is by joining a class at the OrthoCarolina Wellness Center.
More From Fitness & Training
Leave a Comment