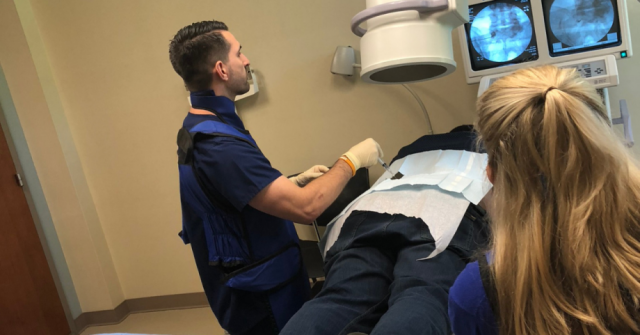 By Dr. David Ciaccia
OrthoCarolina recently went into an exam room where Dr. David Ciaccia, a physiatrist at OrthoCarolina Gastonia, performed an epidural steroid injection. OrthoCarolina live-streamed the injection process and Dr. Ciaccia walked us through the entire procedure.
---
WATCH THE PROCEDURE | EPIDURAL STEROID INJECTIONS

---
YOUR QUESTIONS ANSWERED FOR EPIDURAL STEROID INJECTIONS
Dr. Ciaccia answered some of the frequently asked questions he receives about the injection, as well as the questions you asked during the live-stream.
1.) What is an epidural steroid injection and how does it work?
An epidural steroid injection helps reduce inflammation and pain associated with nerve roots. In this patient's case, we're injecting nerves that come off his back in the epidural space, the outer layer surrounding the spinal cord. The steroid is injected within that space, along with numbing medication around that nerve.

2.) What patients are good candidates for this procedure?
Patients that are good candidates have back and buttock pain that shoots down the leg, otherwise known as sciatica.

3.) Why get an injection as opposed to surgery?
Usually, the nerve is just inflamed and the steroid can help to bring down that inflammation. This is a good minimally invasive first step.


4.) Can you be completely sedated to receive these injections?
You cannot be completely sedated to receive this injection with OrthoCarolina. There is too much risk with general anesthesia given the nature of the procedure.
5.) Is there a lot of radiation exposure in the room?
There is not a lot of radiation exposure. The X-ray machine takes a few pictures as the needle is guided carefully to your spinal nerve. Care is taken to reduce the amount of radiation that you are exposed to as a patient. You receive more radiation exposure being outside in the sun over a span of time or being up in an airplane.

6.) Does this work for hip pain and arthritis?
These injections can be helpful for spinal nerve buttock and hip pain and can be related to sciatica without going down the leg. You would need to see one of our hip/spine specialists to determine if your hip pain is related to sciatica. There are injections for joints (i.e. shoulder, hip, knee, etc.) with arthritis and should be evaluated first by our orthopedic specialists to determine if this would be helpful for you.

7.) Do I have to be referred to receive this treatment?
You would need to be seen by one of our spine specialists to determine if this injection is appropriate.

8.) If the shots only last 2-3 months, is there a limit as to how many shots you can get?
You can receive these shots typically up to every 3 months at the earliest. Some patients have only 1-2 injections and do not need any further injections. Others might need maintenance injections throughout the year if their symptoms return. This would need to be discussed with your ordering physician.

9.) Can you get this shot for trigger finger or carpal tunnel?
The one seen on video is different where it is treating spinal nerve-related pain. You can get steroid injections for trigger finger and carpal tunnel. These are usually performed by our hand specialist or general orthopedics physicians.

---
WHAT'S NEXT
- Learn more about Dr. Ciaccia by visiting his biography page and get to know why he became a doctor.
- Consider making an appointment
Comments
---
Back