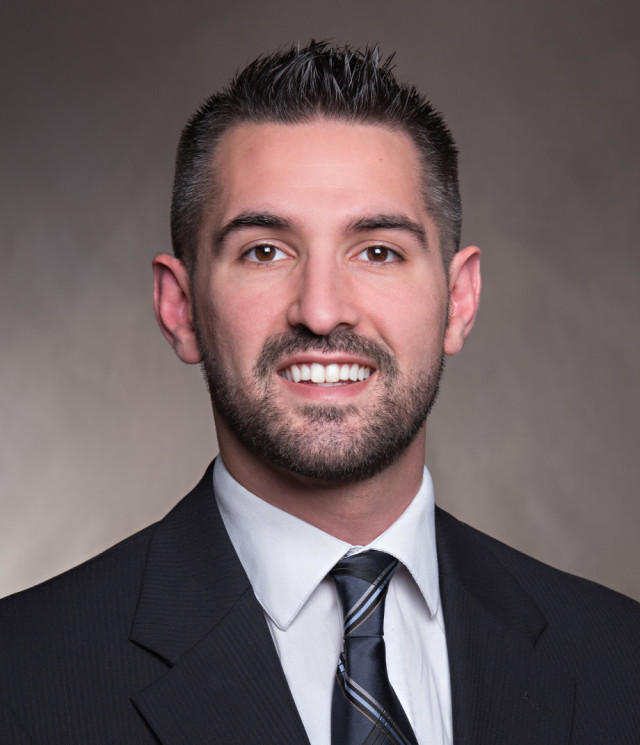 Specialties:
Physiatry
Fellowship Trained:
Physiatry
Biography
Dr. Ciaccia is an osteopathic (DO) board-certified Physiatrist (Physical Medicine and Rehabilitation) that specializes in non-surgical spine and musculoskeletal care. His practice focuses on helping patients deal with pain related to the neck, low back, sciatica, pinched nerves, bulging/herniated disks, shoulder, hip, and knee. He starts this with a thorough patient history, hands-on exam, and use of MRI and electrodiagnostic testing to help confirm the diagnosis.
Dr. Ciaccia than works with the patient to find the best customized treatment plan. This includes exercise medicine, physical therapy with hands-on manual therapy and modalities, oral medications, and therapeutic steroid injections. Dr. Ciaccia performs a variety of image guided minimally invasive interventions including epidural steroid injections, various joint injections including the facet joints, and trigger point soft tissue injections. If needed, Dr. Ciaccia can consult the group's large consortium of orthopedic surgeons to provide excellent surgical care. His ultimate goal is to help his patient's move and feel better in life.
When Dr. Ciaccia is not treating patients, he enjoys spending time serving with his church, exploring the outdoors, and experiencing the local community's events with his wife. He also practices what he preaches and exercises most days of the week with either weight lifting or cardiovascular activity to keep his body healthy and fit.
Temple University - B.S. in Biology, Minor in Public Health
Philadelphia College of Osteopathic Medicine - Doctor of Osteopathic Medicine
University of South Florida - Residency in Physical Medicine & Rehabilitation
OrthoCarolina Spine Center - Fellowship in Interventional Spine
Member of The American Academy of Physical Medicine and Rehabilitation
I would highly recommend Dr. Ciaccia and OrthoCarolina to anyone experiencing any kind of back pain or sciatica. The support staff there are great as well.